For Family and College, International Science Fair Becomes Tradition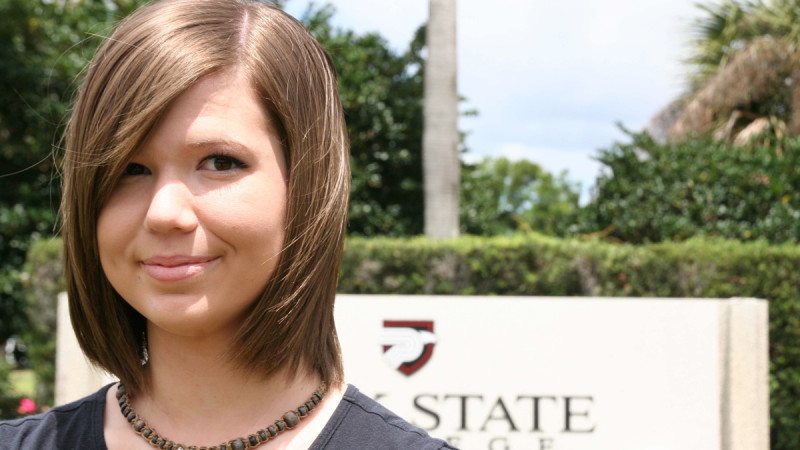 When it comes to families and their traditions, the Monroes of Lakeland are way beyond weekly game nights or holiday dinners.
Next month, Summer Monroe, a senior at Polk State Lakeland Collegiate High School, will compete in the Intel International Science and Engineering Fair, just two years after her brother, Trevor, then a student at Polk State Chain of Lakes Collegiate, competed in the same event.
"I think it's awesome. It shows we put a lot of hard work into our projects. It's pretty crazy that we've both made it (to the Intel competition)," Summer said.
Summer, 18, may be following her brother to the international science stage, but she certainly isn't in his shadow.
Late last month, she won second place in the microbiology category of the State Science and Engineering Fair of Florida, as well as a pair of other top prizes and scholarships.
Her state-level success came after she won first place and best of show in the senior division at the Polk Regional Science and Engineering Fair earlier this year; her first-place finish captured a spot at the Intel fair, which will take place May 12-17 in Phoenix.
The project that has earned Summer so many accolades is certainly impressive — in fact, it could change the way soldiers fighting all over the world are treated for injuries.
Back when she was in middle school, Summer competed in a history fair and chose to do her project on her great-grandfather, a physician who served overseas during World War I.
Her great-grandfather wrote a book about his experiences, in which he described how common it was for battlefield wounds to become infected. At the time, her great-grandfather wrote, physicians simply used gauze to protect injuries as they healed.
"She got curious if that had changed," said Summer's father, Blake Monroe. "She did her research and found that infections are even more of a problem because of IEDs (improvised explosive devices), which have increased the number of projectile injuries. But the standard trauma bandage is still basically just gauze.
"She wondered if she could improve on a battlefield combat bandage."
As she delved into that question, Summer learned about the emerging antimicrobial uses of copper. In 2008, she learned, the Environmental Protection Agency approved antimicrobial copper for public health uses; one study showed that copper alloy surfaces kill 99.9 percent MRSA "superbugs" — those that are resistant to antibiotics — within two hours.
She also learned of Sharklet, a material discovered by Anthony Brennan, a researcher at the University of Florida. Sharklet mimics the shape and pattern of sharkskin, which is resistant to algae and barnacles — unlike the skin of manatees and whales and other underwater creatures. Sharklet is being used in medical devices and other consumer goods to inhibit bacterial growth.
Summer hypothesized that a bandage that incorporated copper and Sharklet would advance the treatment of battlefield wounds.
After months of testing at the University of South Florida, her hypothesis proved correct. The copper mesh and foil in her bandage did indeed kill more than 99 percent of the bacteria it came into contact within two hours, and the Sharklet prevented bacterial growth.
"I call it a sword and shield approach," she said.
In addition, Summer explained, the bandage doesn't promote resistance to antibiotics.
Summer's project has received interest from military medics and even NASA, for its potential uses in space missions.
She is now working on patenting her bandage, and exploring other uses, including a version for open chest wounds.
Polk State Lakeland Collegiate Director Sallie Brisbane said Summer's success and bid to Intel is a huge accomplishment not only for her but for the school as a whole. Summer, she said, exemplifies the curiosity and work ethic Polk State Lakeland Collegiate seeks to instill in all of its students.
"Summer is a focused but very well rounded student who exemplifies the excellence of the Collegiate High School program," Brisbane said. "She has taken advantage of the opportunity to choose the best options for her educational goals. I am confident that her tenacity and talent will take her very far in life."
In these final weeks before she will compete at the Intel event — which draws more than 1,500 high school students from 70 countries — Summer said it certainly doesn't hurt to have a brother on hand to help with her preparation.
"I think the biggest thing he's told me is to be confident," Summer said.
Trevor, who won fourth place in the electrical and mechanical engineering category at Intel for his project, "Boosting Central Heat/Air Conditioning Efficiency Through Evaporative Cooling," is now studying at the University of South Florida. He plans to eventually become a physician.
"Since I've been in her shoes, I've been giving her advice on how to answer questions and being able to think outside the box when a pop question comes up, and to not stutter," said Trevor.
"It's been a while since she did the experiment, and things escape your mind after a while. I've been quizzing her to help her remember."
As for the Monroe parents — Blake, a lieutenant with the Lakeland Fire Department, and Kim, a dental hygienist, they are, of course, beaming with pride these days.
"I feel like both kids have gone to the Super Bowl," Blake said.
"Both kids worked very hard for many months and I'm very proud of all they learned about scientific research and principle.
"But the lessons they've learned about life are a whole lot more important. They've learned how to persevere and to keep asking questions."
While their family Intel tradition is coming to an end — Summer is the youngest of the three children — Blake said he hopes the College's is just beginning.
In addition to his children, Polk State Chain of Lakes student Kirstie Tandberg in 2012 competed in Intel's environmental science category.
"I'm hoping, and my wish is, that more students will be inspired to compete," Blake Monroe said. "There are so many opportunities in science and in science fairs."
Polk State College operates two public, charter high schools, Polk State Lakeland Collegiate and Polk State Chain of Lakes Collegiate in Winter Haven. A third high school, Polk State Lakeland Gateway to College, will enroll its first class of students later this year. The schools serve juniors and seniors, allowing them to fulfill requirements for their high school diplomas while also earning college credit — all at no cost. In many cases, students graduate with both their diplomas and associate's degrees.