Students Soar In First-Year Experience (FYE)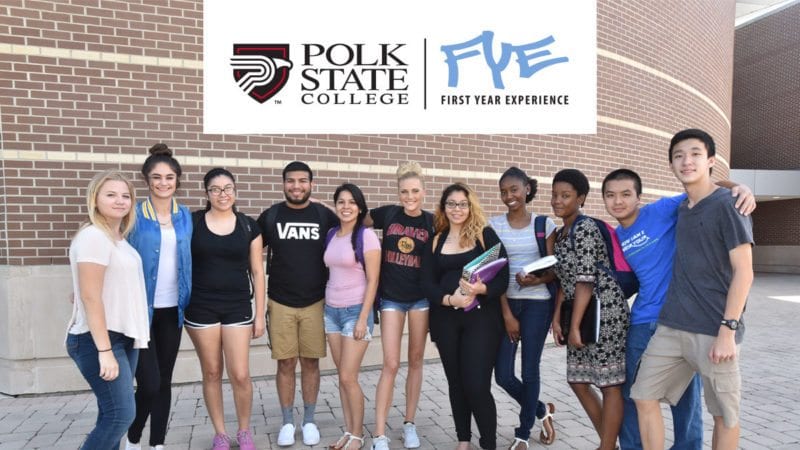 Classes officially began Monday, August 21, and Polk State's staff, faculty, and students have been gearing up for a fantastic year. An integral part of the Academic Year's commencement is the First-Year Experience, commonly known as FYE.
"The College has a long history of providing supportive programs for incoming freshmen," said Director of Academic Success Initiatives Cate Igo. "In the fall of 2014, Polk State launched the first freshman convocation to orient students to the college environment, and also introduced peer mentoring," Igo recalled. "When the program began, full-time freshmen had a one-year retention rate of 58%. Introducing these elements into the First-Year Experience has proven successful–the program now boasts an almost 70% retention rate for full-time freshmen who participate in FYE," Igo explained.
College is a major life event, and often, the first year can be difficult to navigate. The FYE Program is designed to help students adjust to the campus environment, learn about student resources, and gather the tools they need to be academically successful and manage obstacles as they arise.
"I enjoyed FYE," says student Ivan Tapanes-Nodarse, who completed the program last year. "FYE really helped to get me comfortable with the school and how things work. Being from another country, I found it very beneficial to understand the College's procedures and learn about the school's resources and degree pathways. Not only did I make new friends and get to know the College community, it gave me a blueprint for my future classes and helped me set my own expectations."
The First-Year Experience begins with the Polk State application process and supports a student through the entire first year. It includes many elements, such as:
• Pre-advising sessions are provided to help freshmen explore the degree programs offered, create their Education Plans, and register for the first term.
• The First Flight Welcome, a student convocation event, allows incoming freshmen to meet the College's President and marks the beginning of the student's college career. Each individual receives a free t-shirt and supportive gear from the College and hears inspirational messages from motivational speakers from the collegiate community.
• All Polk State Associate in Arts degree-seeking, first-time-in-college (FTIC) students take the First-Year Seminar course (SLS 1122). During the Seminar, the student meets with a faculty coach, builds strong relationships with members of the class, practices success skills, and learns how to get engaged socially and academically on campus.
• The Freshman Read Program encourages the entire freshman class to collectively read a book that gives students common ground for intellectual discussion, critical thinking, and exploration of social issues. This year the selected book is The Other Wes Moore, by Wes Moore.
• Designed by faculty and staff, SOAR (Student Orientation Academic Readiness) is a highly interactive educational series offered during the first weeks of the term. SOAR workshops cover a variety of success themes and tools for students who are entering the college environment.
• Regular events establish ongoing community building and academic success. For example, this year's Fall Flight event celebrates the diverse student body, while the Spring Flight develops professional goals through exploration of career and internship opportunities.
• At the end of the first year, the freshman class is invited to a Registration Celebration. Each student who attends is offered early enrollment during the priority registration period, enabling the individual to produce an optimal schedule for the demands of his or her busy life.
Along with these interactive elements, this year marks the introduction of Success Coaching to the program, further supporting college-wide academic progress. Success coaches encourage students to explore goals, strengths, challenges, and resources.
"I am very excited to serve as a success coach for Polk State students," said Melissa Bennett, Success Coach for the Winter Haven Campus. "Success Coaching is a mixture of advising, teaching, and mentoring. We help students explore non-cognitive skills such as incorporating time management, responding to personal challenges, creating work-life balance, and setting financial and educational goals. Our purpose is to help students overcome the obstacles that can hinder academic endeavors."
On the Winter Haven Campus, Bennett plans to use one-to-one mentoring as well as faculty engagement to help keep students on track. As well, she has several study groups planned for courses such as MAT 1033 Intermediate Algebra, MAT 1100 Introduction to College Mathematics, SLS 1122 First-Year Seminar, and ENC 1101 College Composition.
"One important priority for me is to ensure a strong connection between students and the faculty," Bennett says. "I have seen students shy away from discussions or meetings with faculty members, and this is a strong component of college success. I want to bridge that for students."
Niqui Pringle-Brown, Success Coach at the Lakeland Campus, is also gearing up for a successful year.
"I am passionate about building relationships with students that are long-term and meaningful," Pringle-Brown says. "I want to serve as a mentor to students and show them that we, as a college, have their best interests at heart. We want to give them guidance that guarantees future success."
In Lakeland, Pringle-Brown hopes to bridge the gap between the resources available to students and the students themselves.
"Students do not always realize what services are available," she states. "We want to help them before they become overwhelmed and counsel them on the challenges that could impact success. We do this by opening doors and initiating thoughtful programs that make an impact."
Students on the Lakeland Campus can expect to see writing workshops to help with composition and grammar, "pop-up sessions" to assist with basic, yet necessary, grammar skills, and study "jams" where students can gain an edge on fundamental concepts, specifically in math.
"Working closely with faculty, success coaches ensure that the College is providing students with resources for the skills they need," Pringle-Brown states. "Where there is a need, we plan to ensure that the need is filled, through short workshops or one-to-one connections."
Success coaches are available on each campus. Individuals may elect to visit or may be referred to a coach for support by a faculty member. While success coaches are being introduced as part of the First-Year Experience, they are available to any student attending Polk State.
"All freshmen are encouraged and invited to attend FYE activities and events," said Igo. "Students may visit the Polk State website for registration information or learn more about events from a First-Year Seminar instructor. The FYE Office is committed to providing the information, programs, and support that freshmen need to be successful at Polk State and beyond. Students should feel encouraged to reach out to the Office at any time."
"I would definitely recommend FYE to any student," Tapanes-Nodarse said. "It is extremely helpful as you consider your future college success plans."
More information about the FYE Program is available at: polk.edu/first-year-experience/.