Students can participate in Virtual Student Center and small campus events this fall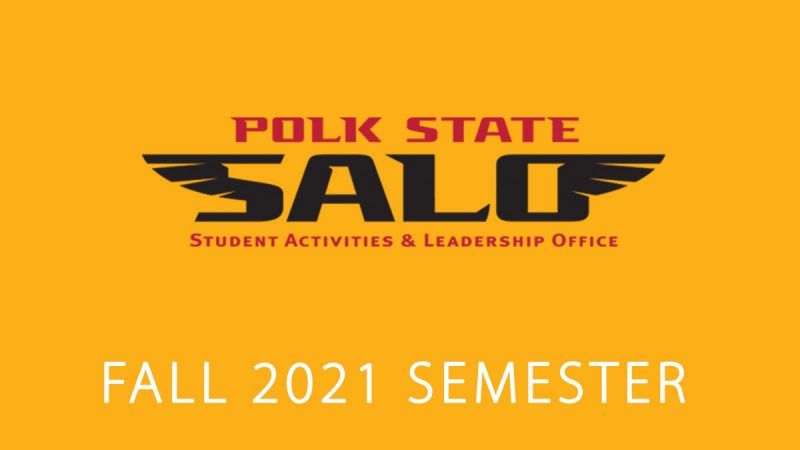 Polk State College's Student Activities and Leadership Office, better known as SALO, has a diverse and exciting calendar of events for the Fall 2021 Semester, including a wide selection of activities through the Virtual Student Center on Canvas, and some opportunities for small gatherings on campus.
SALO continues to follow the College's Return to Campus Plan and Centers for Disease Control and Prevention (CDC) guidelines closely and is monitoring local health data to determine if activities can increase on campus later in the semester. Masks and cloth face coverings are strongly recommended for all individuals, vaccinated and unvaccinated, while indoors on campus. More information about the Return to Campus Plan and CDC guidelines is available at www.polk.edu/covid19.
"Events will be 60 percent online and 40 percent on campus, and campus events will be small, socially distanced drop-in activities," SALO Director Melvin Thompson said. "Helping to keep students safe and healthy is our No. 1 priority while providing them with a variety of opportunities to connect with their peers and remain engaged in the full college experience."
SALO is encouraging student clubs and organizations to hold larger meetings by telephone or video conferencing. Additionally, on-campus events are being scheduled seven to 10 days in advance so that SALO and students can make decisions about in-person activities based on the latest COVID-19 data and CDC guidance.
To kick off on-campus activities, SALO's Student Government Associations plan to hold meet and greets in the student centers on August 25 on the Lakeland Campus and August 26 on the Winter Haven Campus. Specific times are to be announced.
Welcome week will take place from August 23 through August 26 with a number of virtual events, and the semester will be filled with activities including leadership seminars, Hispanic Heritage Month celebrations, Madden and NBA 2K tournaments, contests, giveaways, and more.
A full schedule of events, Zoom links, and updates are available by enrolling in the SALO Canvas course at canvas.polk.edu/enroll/M3NAHT. The "course" is free and joining makes students eligible to win gift cards and prizes.
Students can also stay connected with SALO on social media by following the Polk State College SALO Facebook page and the polkstatesalolk and pscwhsalo Instagram pages.