State Senator Speaks at Two Polk State Nursing Events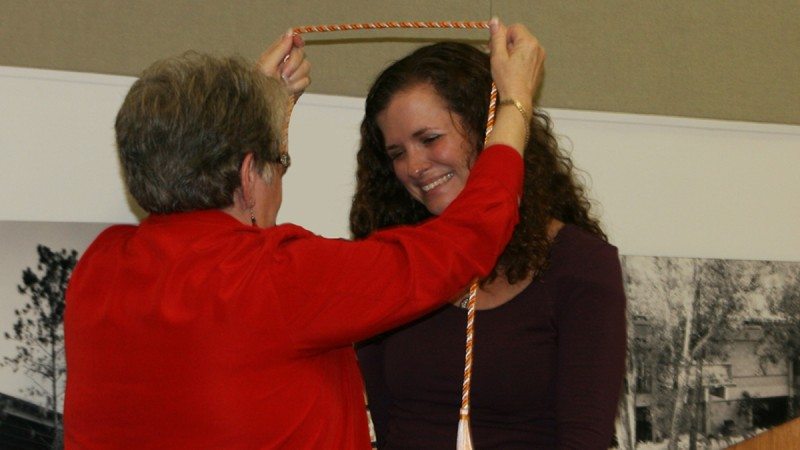 Sen. Denise Grimsley visited Polk State Winter Haven on Monday, where she spoke to area nurses about legislative issues impacting their profession and congratulated the first inductees into the College's nursing honor society.
Grimsley, R-Sebring, is herself an alumna of Polk State Nursing, having graduated in 1983. In addition to her role in the state Legislature, she is also now an administrator at Florida Hospital Wauchula.
On Monday, she spoke to about two-dozen area nurses at Polk State Winter Haven's Learning Resources Building, discussing issues she'll focus on during the upcoming legislative session, including broadening the scope of practice for nurse practitioners and requiring national accreditation for nursing education programs.
Polk State Nursing is nationally accredited through the Accreditation Commission for Education in Nursing.
During the hour-long Nursing Town Hall meeting — the first such meeting Polk State Nursing has ever hosted — Grimsley also fielded a variety of questions from attendees, who said they appreciated the chance to speak informally with the senator.
"To have an added opportunity to speak with her and ask her the questions that are on our minds, it was excellent," said Donna Lester, legislative chair of the Polk County Advanced Practice Nurses Association.
In addition to Polk State, sponsors of the Town Hall included the Polk County Organization of Nurse Executives and the local chapter of Sigma Theta Tau, the honor society for baccalaureate-level nurses.
Grimsley followed the Town Hall by speaking at the first induction ceremony of Polk State College's chapter of the Alpha Delta Nu Nursing Honor Society, the national honor society for associate-degree-level nurses.
To become a member of the society, students must have at least a 3.0 grade-point average, must have earned at least a B in all their nursing classes, and must complete a community service project related to nursing. Polk's students completed projects such as educating elementary school students about proper hand-washing techniques and teaching cardiovascular patients about the link between periodontal disease and heart disease.
Polk State's chapter of Alpha Delta Nu became active this fall, and on Monday it inducted its first 18 members.
Grimsley praised the students on their academic achievements and decision to pursue careers in nursing.
"I congratulate you and welcome you into a profession that has given me the bulk of my adult experience," she said. "Nursing eventually led me to public policy and to think about the greater good.
"Florida needs you, the expertise you are developing at Polk State College, and the productivity and innovation with which you will approach the field.
"I wish you the best in the most rewarding profession there is. You will be proud Polk State alums, and one day you will come back and say, 'We are Polk.'"
Inducted into the society on Monday were:
Farah Ali, Dundee
Tara Bent, Winter Haven
Ashley Brandon, Tampa
Morgan Brooks, Bartow
Sarah Clayton, Lakeland
Peter Conrad, Winter Haven
Brandy Dalton, Lake Alfred
Edlin Garcia, Frostproof
Carla Howarth, Lakeland
Eden Ortiz, Winter Haven
Jennifer Potwin, Winter Haven
Kaley Puckett, Winter Haven
Jacquie Raczynski, Lake Wales
Alison Richards, Lakeland
Christina Stephens, Lakeland
Azam Syed, Winter Haven
Adam Thorp, Winter Haven
Gwyn Turner, Lake Alfred
Brooks also received a $1,200 scholarship toward her Bachelor of Science in Nursing from Polk State.
Polk State's Nursing Program is one of several Health Sciences programs offered by the College. The Nursing Program offers Associate in Science and Bachelor of Science degrees. Other Polk State Health Sciences programs include Cardiovascular Technology, Diagnostic Medical Sonography, Emergency Medical Services, Occupational Therapy Assistant, Physical Therapist Assistant, Radiography and Respiratory Care.