Rep. Seth McKeel Visits Polk State, Takes Students' Questions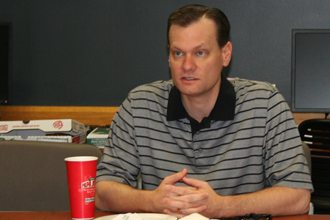 State Rep. Seth McKeel spent part of the afternoon on Tuesday at Polk State Winter Haven, where he took students' questions on everything from the fiscal cliff to his priorities for education in the state.
McKeel, R-Lakeland and chairman of the Florida House Appropriations Committee, was the featured guest at Pizza and Politics, a new series sponsored by Polk State Winter Haven's Student Activities and Leadership Office (SALO).
"Through Pizza and Politics, we are exposing our students to their political leaders and helping them to understand governance in Florida," said Polk State Winter Haven SALO Director Carlos Parra.
About two-dozen students and College employees gathered in a conference room at the Polk State Winter Haven Student Center to share lunch with McKeel and gain insight to his role in the state Legislature.
McKeel began with a broad overview of the state's budget, explaining that a constant challenge is paying the state's expanding bill for Medicaid while also meeting the state's education, pubic safety and transit needs — as just a few examples.
McKeel, who as House Appropriations Committee chairman is the budget chief for the state's House of Representatives, added that the past several years have been especially difficult financially for the state.
"We have just finished the fifth year of declining revenues. We're finally seeing some revenue come back," said McKeel, who was first elected to the House of Representatives in 2006 and whose public-service resume also includes time on the Lakeland City Commission.
With his introduction complete, McKeel took questions from the students.
Among those was what his goals are for education in the state. McKeel responded that he has different aspirations for each tier of education — K-12, the Florida College System and the State University System. For the Florida College System, which includes Polk State, McKeel said it is most important to maintain an open-access model.
"The Florida College System is the backbone of access to higher education in the state," he said.
Winter Haven resident and student Brittnie Dickson asked why her mom, a public school teacher in Polk County, hasn't had a pay raise in several years.
McKeel pointed back to the state's declining revenues in recent years, but said much of the onus for teacher pay raises falls to individual school districts, which receive funding through local property taxes and must negotiate contracts with their employees.
Dickson appreciated his candor.
"I learned that things are definitely hard all around and (state lawmakers) are doing the best job they can do," she said.
Student Edward Kemp, also a Winter Haven resident, asked for McKeel's perspective on the Patient Protection and Affordable Care Act, also known as ObamaCare.
McKeel said the long-term effects of ObamaCare on state budgets are unknown and complicated as states grapple with how to expand Medicaid under the law.
"In the short-term, (ObamaCare) doesn't cost a lot. The concern policymakers are talking about is the 20-year horizon," McKeel said.
Kemp said McKeel's response was enlightening.
"He made some good points. I didn't know the states had any control. He helped put the whole thing into perspective and he put it in simple, easy-to-understand terms," he said.