Professor's debut album tops charts, gets ideas across beyond the classroom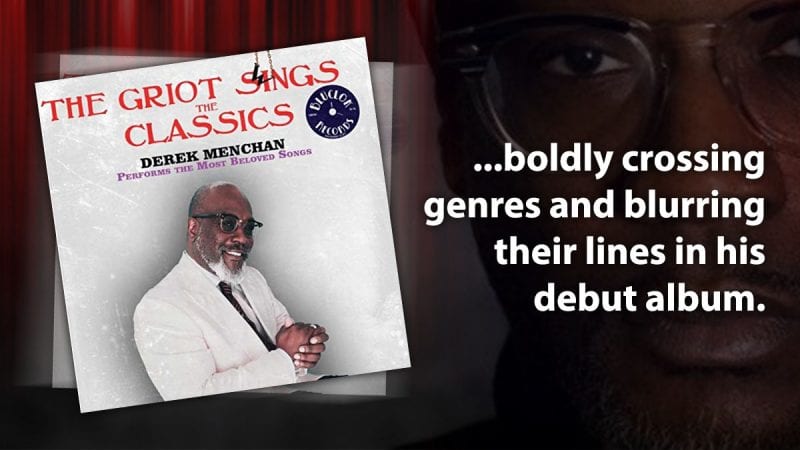 Derek Menchan, Polk State College Professor of the Humanities and Music, never knows what he's going to do next. By the time he figures it out, his hands are already creating, and his art is coming to life.
As a result of his desire to communicate ideas, close encounters with high-profile artists and producers, and his reading of a fiery interview with Quincy Jones, Menchan released his debut album "The Griot Swings the Classics" in November 2018.
"I identify more with the energy that animates my body than the body that it animates," Menchan said. "I figured the most valuable gift I have is getting what's in my mind down on paper and composed for posterity, and that's partly how this project came to be."
Menchan made this realization while reading the interview with Jones, who said he is most proud of his ability to notate musically anything that he feels.
"We composers use the voice or voices we have innately to get our ideas across. As a professor, I do this from behind a lectern. As a multi-instrumentalist, I do this through music," Menchan explained. "Most students only know me as a professor, but I'm decidedly an artist first, and those who are interested will get a glimpse into who I really am by listening to this album."
On Amazon, the album climbed to No. 2 on the "Hot New Releases" chart, No. 4 on "Digital Contemporary R&B," and No. 5 on "Best Sellers in Contemporary R&B" in December.
The album features big names, including producer Mike Dean who is best known for his Grammy-winning work with Kanye West, in addition to work with Beyoncé, Jay-Z, Drake, and more. Dean is featured on Menchan's single "Fly Me to the Moon" – a "fresh, new re-imagining" of Frank Sinatra's hit song, adding a "dance-mix feel" to the Quincy Jones arrangement. The single sets the tone for the rest of the album, which offers hip takes on classic songs.
Menchan, a Polk State Distinguished Alumnus, credits his superstar connections to his "nomadic life," which has included time in Houston, Texas, New York, California, and performing around the world.
In addition to Dean, "The Griot Swings the Classics" also features drummer Marty Morell, who spent seven years in the famed Bill Evans Trio; guitarist Ed Vitale, who performed with Dizzy Gillespie and Charlie Parker; and Winter Haven's Gerry Williams, who has created remixes for Jennifer Lopez, among others.
A Polk State alum even had his hands on the project. Damion Weller designed the cover art for the "Fly Me to the Moon" single as well the album's cover.
"I am constantly inspired by my students," Menchan said. "I'm an intellectual loner who doesn't always keep up with trends, but as a professor, I am able to learn what students are into and that helps me abreast of the idioms within which I may be working."
There are many layers to Menchan's debut album, which he started in 2006.
"With old-time hymns, big band, and club beats, the album represents the musical influences that I, as a black man from the south, grew up around, and is also a sonic representation of my personality," Menchan explained. "It is a rather complete psychological profile of who I am as an artist, a thinker, and as a man."
In addition to listening to his album, students, faculty, staff, and community members can get a better idea of Menchan through his Voices of the People chamber music series, which he organizes annually at the College.
Like his album, the seventh season of the series, "The Year of the Cat," is genre-straddling and brings together a variety of world-renowned, multi-talented performers for listeners to enjoy.
The next performance in the series is "Viva Viola!" featuring Michael Klotz, which will take place Jan. 18 at the Lakeland Campus LTB Atrium at 7 p.m.
Menchan's "The Griot Swings the Classics" is available on Amazon, iTunes, Spotify, and Google Play.