Voices of the People introduces genre-straddling seventh season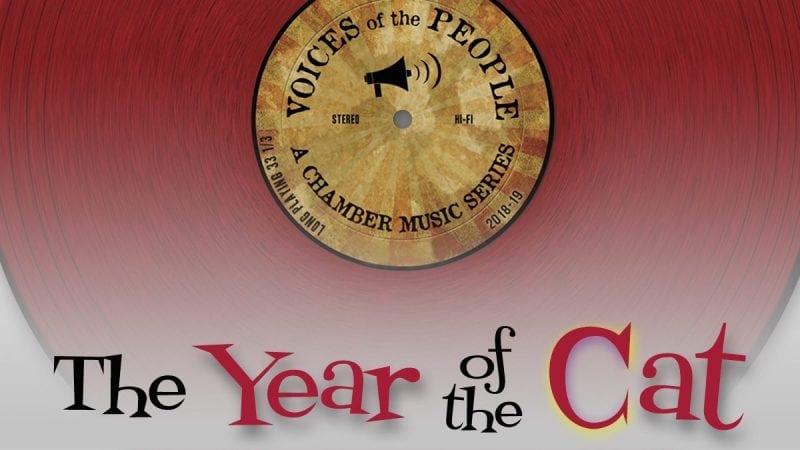 Polk State College's Voices of the People chamber music series is entering its seventh year, "The Year of the Cat" – a no boundaries, genre-straddling season that will bring a variety of multi-talented performers to the Winter Haven and Lakeland campuses for students, faculty, staff, and community members to enjoy.
Derek Menchan, Professor of Humanities and Music who founded Voices of the People, called the upcoming season a unique compilation of world-renowned, multi-faceted musicians who will enlighten listeners with their "multiple musical languages."
"I don't want to let too many cats out of the bag, but this season will feature a musical vision that has never been done before in this series or in any nearby area," Menchan explained. "For the level of programs Voices brings, people used to have to travel to South Florida or out of the state to experience this caliber of music, but now this opportunity is right here in Polk County via Polk State College."
The season will kick off Friday, Sept. 7, with "'Cello: Two Point? Oh!" featuring a host of cellists who boast a host of talents. Menchan and Cremaine Booker – also known as That Cello-Guy – will showcase a postmodern approach to music-making and sound that covers and crosses many boundaries.
"Cremaine Booker is a classically-trained cellist with a lush, warm, romantic approach to his musical arrangements and compositions," Menchan said, "while I have a weird, eclectic vision of music-making that informs my work. Together, we're going to perform some really fun, different arrangements with the goal of stretching and tickling our audiences' ears."
The event will also feature legendary musician Marty Morell, a drummer, percussionist, vibraphonist, and producer who played with the Bill Evans Trio; Matthew Davis, Director of Strings at the Lois Cowles Harrison Center for the Visual and Performing Arts; Edevaldo Mulla, a 'cellist who has performed with multiple orchestras across the U.S. and Europe; as well as 'cellists Mikel Thomas and Michael Amos, and keyboard player Jason Bontrager.
"The mission is to create the next audience for classical music by giving them a news lens to look at music," Menchan explained. "This season will invoke a cool, hip vibe that highlights 'cats,' who are both the individuals who wrote the works and those who will be performing them. The old school euphemism for a cool person will here refer to all our esteemed artistic guests who each can boast of a panoply of talents."
Voices of the People will also integrate visual arts with "The Mutable Element: Fire," featuring Professor of Art Holly Scoggins
"Professor Scoggins will perform an on-site creation inspired by music," Menchan explained. "The sounds will inform what she creates."
Menchan touts "The Year of the Cat" as a quality, one-of-a-kind opportunity for students, faculty, staff, and members of the community to experience music and the arts.
"Voices of the People is a world-class series featuring international artists who are eager to interact and collaborate with our students and faculty to bring an innovative and engaging ensemble of music to Polk State and greater Polk County," he said. "We have access to one of the best musical opportunities in the state – in the southeast – right here in our county at Polk State College."
The full season schedule is as follows.
'Cello: Two Point? Oh!
Featuring Cremaine Booker, Derek Menchan, Mikel Thomas, Matthew Davis, Michael Amos, Edevaldo Mulla, Jason Bontrager, and Marty Morell
Friday, Sept. 7, 7 p.m. | LTB Atrium, Lakeland Campus, 3425 Winter Lake Road | $5 donation suggested
The Mutable Element: Fire
Featuring Holly Scoggins and Derek Menchan
Saturday, Oct. 27, 7 p.m. | Polk State Winter Haven Fine Arts Theatre, 999 Ave. H  N.E. | $5 donation suggested
Homo Synestheticus: Artistic Intersections Between Man and the Cosmos
A lecture recital by Derek Menchan
Thursday, Nov. 8, 6 p.m. | Polk Museum of Art, 800 E. Palmetto St., Lakeland | Free admission
Genre-Hopping with Derek Reeves, Violin, and Friends
Saturday, Dec. 8, 7 p.m. | Polk State Winter Haven Fine Arts Theatre, 999 Ave. H  N.E. | $5 donation suggested
Viva Viola!
Featuring Michael Klotz
Friday, Jan. 18, 7 p.m. | LTB Atrium, Lakeland Campus, 3425 Winter Lake Road | $5 donation suggested
Rochelle School of the Arts Celebratory Music Concert
Featuring Dr. Isrea Butler
Friday, Feb. 8, 7 p.m. | Rochelle School of the Arts, 1501 Martin Luther King, Jr. Ave., Lakeland
What Mingus Means to Me
Featuring Derek Menchan and Polk State students
Thursday, April 4, 6 p.m. | | Polk Museum of Art, 800 E. Palmetto St., Lakeland | Free admission