Polk's Summer Monroe Finishes Third at International Science Fair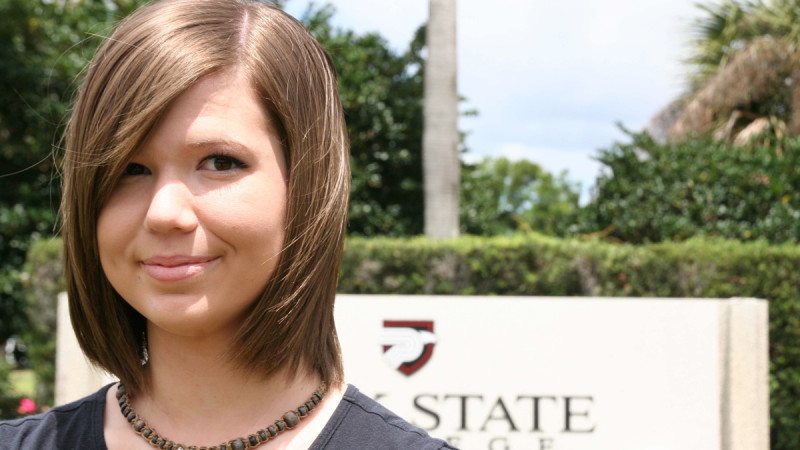 Polk State College has another international science fair winner to its name.
Summer Monroe, a senior at Polk State Lakeland Collegiate High School, recently placed third in the microbiology category of the Intel International Science and Engineering Fair.
The Intel International Science and Engineering Fair is the world's largest international pre-college science competition drawing more than 1,500 high school students from more than 70 countries, regions and territories.
Monroe's project, Advanced Design Field Combat and Burn Bandage Using Antimicrobial Copper and Bio Inhibitor Film, earlier this year also won second place in the state science fair and first place at the county-level competition.
The project actually originated in a middle-school history fair, for which Monroe studied her great-grandfather, a physician who served overseas during World War I.
Her great-grandfather wrote a book about his experiences, in which he described how common it was for battlefield wounds to become infected. At the time, her great-grandfather wrote, physicians simply used gauze to protect injuries as they healed.
Monroe began to research battlefield bandages to learn what progress they had made during the decades, only to find that standard trauma bandages are still basically just gauze.
Monroe aims to improve the way battlefield injuries are treated with her bandage, which incorporates antimicrobial copper and a material called Sharklet, which mimics the shape and pattern of sharkskin. The copper kills more than 99 percent of bacteria it comes into contact with within two hours, and the Sharklet prevents bacterial growth.
"I call it a sword and shield approach," she said.
Monroe is now working on patenting the bandage and exploring other uses, such as a version for open chest wounds.
For her third-place finish, Monroe earned $1,000 — and bragging rights, of course, both in general and within her family. By coming in third, Monroe outdid her brother, Trevor, who finished fourth in the electrical and mechanical engineering competition at Intel in 2011, when he was a student at Polk State Chain of Lakes Collegiate.
Polk State College operates two public, charter high schools, Polk State Lakeland Collegiate and Polk State Chain of Lakes Collegiate in Winter Haven. A third high school, Polk State Lakeland Gateway to College, will enroll its first class of students later this year. The schools serve juniors and seniors, allowing them to fulfill requirements for their high school diplomas while also earning college credit — all at no cost. In many cases, students graduate with both their diplomas and associate's degrees.