Polk State's Woolery Recognized for "6 Trumps" Workshop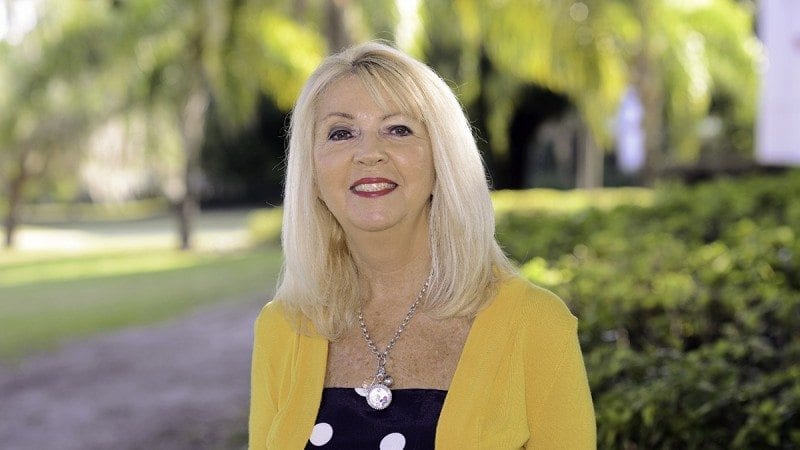 Polk State Educator Preparation Institute Director Beverly Woolery is garnering kudos from her colleagues around the country for her efforts to help teachers create more engaging and effective lessons.
Woolery was recently featured on bowperson.com, a website operated by Sharon Bowman, president of Nevada-based Bowperson Publishing & Training Inc. Bowman is a professional speaker, author, teacher and trainer who works with businesses and educational institutions to offer in-house training and professional development sessions.
Earlier this month, Bowman featured Woolery on her blog.
Bowman explained that Woolery and Polk State Education Professor Rebecca Pugh helped to create the "6 Trumps: workshop that is included in her book, "Using Brain Science to Make Training Stick."
Bowman wrote:
"Those of you familiar with my book know that the six trumps are six learning principles based on brain science: 1) Movement trumps sitting; 2) Talking trumps listening; 3) Images trump words; 4) Writing trumps reading; 5) Shorter trumps longer; 6) Different trumps the same."
Using the "6 Trumps," Woolery has created a workshop called "6 Trumps: Brain Science to Make Teaching Stick." The workshop helps teachers identify ways in which they can incorporate the "6 Trumps" into their classrooms. To aid teachers in the process, Woolery developed a worksheet, agenda and self-assessment instrument.
Late last year, Bowman wrote, Woolery presented the workshop to 60 educators from Lighthouse Christian School in Jacksonville.
She went on to write:
"Fast forward to today: The academic dean of Lighthouse Christian School, Cindy Norton, now requires teachers to use Beverly's '6 Trumps Self-Assessment Wheel' during the first two weeks of school, while they create lesson plans that help them connect with students and increase participation in the classroom."
Woolery said she appreciates the recognition from the well-respected Bowman, and she's excited that word of the "6 Trumps" is spreading.
"The '6 Trumps' make teachers think of different ways to engage their students. We all learn in different ways, and as teachers, we need to provide a variety of ways for our students to learn," Woolery said.
Woolery added that students in Polk State's Educator Preparation Institute are taught to incorporate the "6 Trumps" in their own lesson plans.
Polk State College offers an associate's degree in Early Childhood Education and Management, as well as the Educator Preparation Institute, an accelerated training option for anyone who has a non-education bachelor's degree and wants to become a teacher.