Polk State's Shea Receives Sheriff's Office Service Medal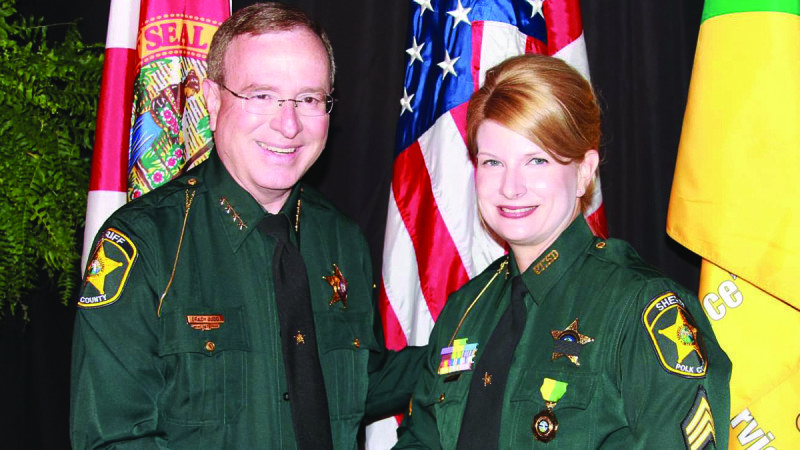 Polk State's Criminal Justice Program Director Sgt. Christen Shea has received the Meritorious Service Medal from Polk County Sheriff Grady Judd for her work to expand the College's Criminal Justice degree programs.
The Meritorious Service Medal is given to those who perform exceptional service to the Sheriff's Office, resulting in cost savings, increased efficiency or effectiveness, enhanced public image, improved safety of members, or technical innovation.
In Shea's case, the Medal was awarded based on her work to expand the College's criminal justice degree programs, which directly address area law enforcement agencies' needs for a more highly trained workforce.
Shea joined the College in 2008 as program director of the Associate in Science in Criminal Justice Technology program. At the time, there were approximately 65 students in the program.
Under Shea's leadership, the program has been revamped to offer options for not only sworn law enforcement officers and corrections officers, but also civilians working in law enforcement and high school graduates.
She was also instrumental to the development and initiation of an entirely online Criminal Justice program.
As a result, the associate's degree program now has more than 400 students.
Shea also played a pivotal role in the 2012 launch of Polk's Bachelor of Science in Criminal Justice degree. The bachelor's degree provides area law enforcement professionals with an accessible, affordable option for attaining the education their agencies increasingly demand.
"The PCSO Meritorious Service Medal is given to those agency members who demonstrate exceptional performance of duty in an area of great responsibility," said Polk County Sheriff Grady Judd. "In her role as the director of the Criminal Justice degree programs at Polk State College, Sgt. Shea has gone above and beyond our greatest expectations.  We are so proud to have such a fine representative of our agency helping educate others and shaping the future of law enforcement officers in Polk County."
Shea said she is honored and humbled by the Medal, and proud to be part of the educational initiatives for which she received it.
"I'm very appreciative of this recognition, and excited about all the new opportunities that Polk State is offering the law enforcement community. With our associate's and bachelor's degrees, and the public safety institute, we are truly a one-stop shop for higher education in the field of criminal justice."
Polk State President Eileen Holden added her congratulations.
"Sgt. Shea has used her real-world experience and expertise, and her deep understanding of the needs of law enforcement agencies, to help the College better serve its criminal justice partners. We're proud that, in addition to being a valued member of the Polk County Sheriff's Office, she's also an Eagle," she said.
In addition to its associate's and bachelor's degrees in Criminal Justice, Polk State Public Safety includes the Kenneth C. Thompson Institute of Public Safety, the first public safety institute of its kind in the nation to receive Accreditation with Excellence from the Commission on Accreditation for Law Enforcement Agencies Inc. (CALEA), as well as programs in Emergency Medical Services and Fire Safety.