Polk State's Phi Theta Kappa chapters combine for more than 20 awards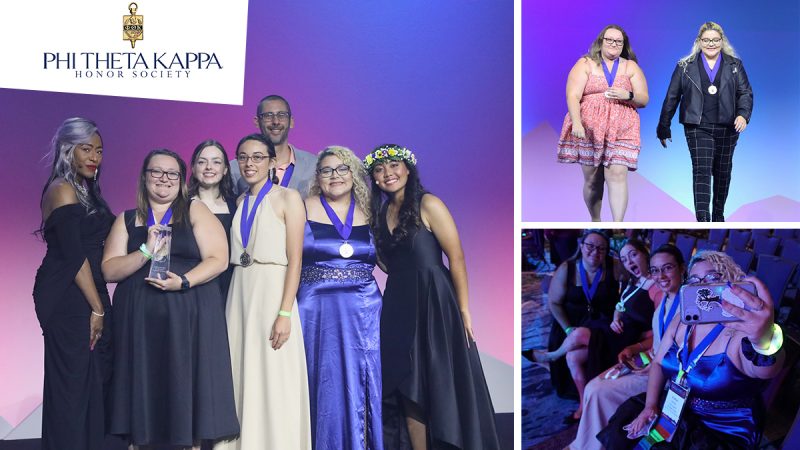 Recognitions were not hard to come by for Polk State College's Phi Theta Kappa chapters this academic year.
The Xi Pi and Beta Upsilon Upsilon chapters combined to earn more than 20 recognitions statewide and internationally. The regional winners were recognized in Jacksonville in March. International winners were honored in Denver in April.
"I am proud of the progress that has been made by both chapters," said Penny Morris, Advisor for the Beta Upsilon Upsilon chapter. "The Polk State PTK chapters have done so much to make the Florida Region a Five-Star Region."
For the fifth time in six years, Xi Pi, comprised mostly of students from the Winter Haven Campus, was named the top chapter in Florida and among the top 30 in the world. Beta Upsilon Upsilon, the Lakeland campus chapter, ranked in the top 10 in Florida for Distinguished Chapter. With Xi Pi named as the Regional Fellowship chapter, Bailey Campbell was selected to serve as the Vice President of Fellowship. Beta Upsilon Upsilon was named the Regional Leadership Chapter for the sixth time.
"There's so much that PTK can offer – from scholarships to greater academic goals," said Melodie Rose Joubert, Public Relations Officer for the Xi Pi chapter. "It will help you become a better leader and achieve your goals."
Joubert and Molly-Grace Moore, Xi Pi's Chapter President, were each honored with the Distinguished Officer Award – both regionally and at the international ceremony known as "Catalyst."
"I think it's the highest award I've ever received," Moore said. "It's not about academics or athletics or any competition. It's more about leadership and personality. It's so awesome I was honored for just being myself."
Both Polk State chapters were recognized as Five-Star Chapters. Advisor Paula Celestey was installed into the International Alumni Hall of Fame for the Beta Upsilon Upsilon chapter. Xi Pi's Marissa Tarango received the Distinguished Member Award – both regionally and nationally. Professor Anthony Cornett, Xi Pi Chapter Advisor, was also recognized regionally and internationally with his fourth Continued Excellence in Advising Award.
"He's helped me a lot with becoming a better communicator," Moore said of Cornett. "He's very open and honest and always looking out for what's in our best interest."
The Florida Region won the Regional Award for Excellence for Transfer Readiness. That was due in part to the Beta Upsilon Upsilon's College Fair at the regional convention. As many as 30 colleges and universities from across the country participated in the event to help students learn more about transfer opportunities.
"PTK is one of our most decorated and hardest working organizations," said Melvin Thompson, Director of the Student Activities & Leadership Office. "They are always implementing community service projects and ideas that help students become successful in and outside of the classroom."
The Xi Pi chapter was recognized regionally and internationally with the Distinguished College Project Award and Distinguished Honors in Action Award. For the first time, the chapter ranked in the top three internationally for the Honors in Action Theme.
For this year's Honors in Action project, the chapter worked with Kim Pearsall, Director of Disability and Counseling Services at Polk State, to provide Crisis Preparation and Recovery (CPR) mental health training to students. CPR mental health training addresses substance abuse, suicide prevention, and mental health disorders.
"Substance abuse and suicide rates have skyrocketed since the COVID-19 pandemic started," Moore said. "The after-effects on mental health have been very severe."
Xi Pi worked with AdventHealth for its Honors in Action project to administer QPR (Question, Persuade, Refer) suicide prevention training. More than 20 doctors, front line nurses, and hospital administrators took part in the training at AdventHealth Sebring.
"It was a great experience," Joubert said. "We hope to continue to work with AdventHealth in the future."
For Beta Upsilon Upsilon's Honors in Action project, it worked with the College's Quality Enhancement Plan Committee. The committee and chapter co-hosted a weekend workshop for all Polk State students to see what their interests were and to conduct a Career Focus survey.
"After all attendees had completed this, there was a discussion about each person's findings," Morris said. "Some of our group gave testimonials about the process which were recorded to possibly be used for the marketing of the Quality Enhancement Plan for the College: 'Explore to Complete.'"
Phi Theta Kappa is an international honor society founded in Missouri in 1918. It currently has 87 chapters in Florida and more than 1,200 in 15 countries across the globe.
"I feel honored and privileged to see our students get recognized for their hard work and achievements on an international level," Thompson added. "When you say you are with Polk State, it carries weight because our chapters are some of the best in the country."
Beta Upsilon Upsilon wasn't chartered until 2013 while Xi Pi was chartered in 1966. The two Polk State chapters combine for nearly 500 members. To be eligible to join Phi Theta Kappa, students must maintain a 3.5 grade-point average and have completed at least 12 hours of coursework toward an Associate or bachelor's degree or six hours toward a one-year certificate.
"When I joined, I wasn't exactly sure what it was," Moore said. "If you have time to get involved, I would say to join. It strengthens you as a person, builds camaraderie, and you make lifetime friends. You're surrounded by likeminded people, and it's been a stress reliever for me."