Polk State's Halverson Participates in Public Health Leadership Seminar in Washington, D.C.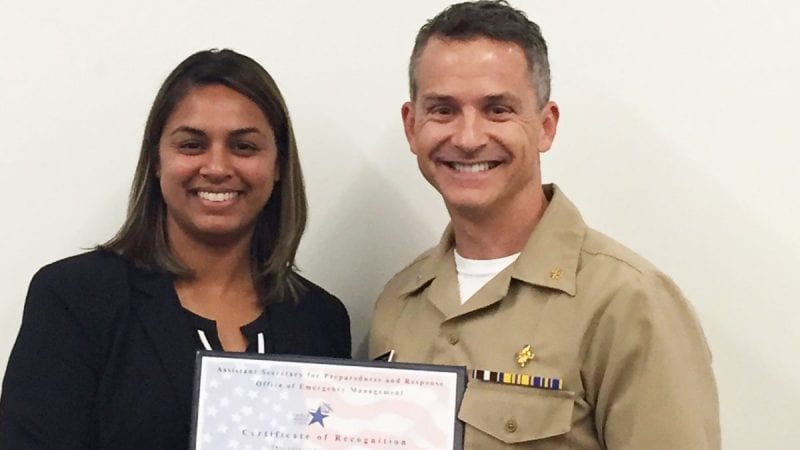 Polk State Professor Suzanne Ramjattan Halverson recently attended the Public Health Leadership Seminar (PHLS) in Washington, D.C., presented by HOSA-Future Health Professionals, formerly referred to as Health Occupations Students of America.
The U.S. Department of Health and Human Services' (HHS) Office of the Assistant Secretary for Preparedness and Response hosted the seminar.
Only two HOSA advisers, six students, and two alumni from across the country were selected to attend the event.
"I completed an intense application, which consisted of four to five short essays focused on public health, education, leadership, and my personal and career experiences," said Halverson, who teaches anatomy and physiology and advises the HOSA chapter at Polk State Chain of Lakes Collegiate High School.
During the five-day event, Halverson and other participants interacted with public health professionals, visited members of Congress, and toured various sites, including the HHS secretary's Operations Center and the Uniformed Services University. Participants also had the opportunity to hear from keynote speakers on topics including forensic medicine, veterinary service, substance abuse and mental health service administration. U.S.Surgeon General Dr. Vivek Murthy and HOSA Washington Office Director George Sifakis also addressed seminar participants.
Halverson said the seminar was not only personally enlightening, but she will also use the experiences from the seminar in her classes at Polk State and with members of Polk State Chain of Lakes Collegiate's HOSA chapter.
"The PHLS offered many unique opportunities. I also gained a better understanding of how to use my leadership skills to benefit others, such as serving as a mentor to students. I also was inspired to integrate various aspects of public health into my classes," Halverson said.
"The speakers shared that there are many pathways to get where you need to be, especially in the medical field."
Another highlight of the seminar, Halverson said, was learning the important role of the Medical Reserve Corps, a network of community-based health units created to respond to public health needs.
Halverson, who holds advanced degrees in exercise physiology, health science and biology, said she is interested in lending her expertise to the Medical Reserve Corps, and will encourage her students to get involved as well.
"My goal is to bring real-world aspects into the classroom setting and integrate leadership skills into the HOSA executive board," she said.
Halverson said her experiences during the seminar are best expressed through a quote from President John Quincy Adams: "If your actions inspire others to dream more, learn more, do more and become more, you are a leader."
Polk State College operates three public charter high schools, including Polk State Chain of Lakes Collegiate in Winter Haven, Polk State Lakeland Gateway to College Collegiate, and Polk State Lakeland Collegiate. All three high schools allow students to fulfill requirements for their diplomas while also earning college credits.