Polk State's 114th Commencement Ceremony Is May 5; Class Includes First Bachelor of Science in Aerospace Science Graduates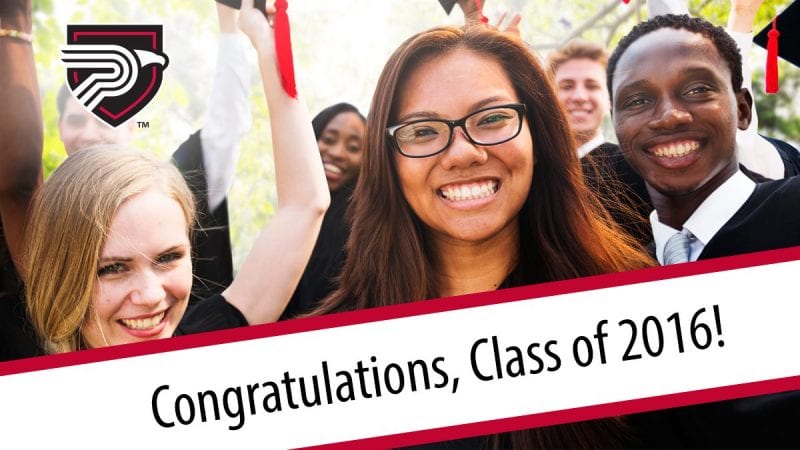 Polk State College's 114th commencement ceremony will take place at 6:30 p.m. on May 5 at The Lakeland Center.
Among those earning degrees will be the first two graduates of Polk State's Bachelor of Science in Aerospace Sciences program, which launched in fall 2014.
The ceremony will feature remarks by Christine Stephens Samuel, who will receive the College's Distinguished Alumnus Award. A 1980 graduate, Stephens Samuel is the director of human resources for the Agricultural and Labor Program, Inc. Established in 1968 to benefit migrant workers, ALPI provides emergency assistance and school training, operates the Head Start Program in St. Lucie County, and manages a Polk County Early Start Program that serves nearly 800 children.
She is also the incoming president of Girls Inc. of Winter Haven and a 2011 recipient of the organization's She Knows Where She's Going Award.
Including the two Bachelor of Science in Aerospace Sciences graduates, a total of 1,084 graduates qualify to march in the commencement ceremony.
Of those, 150 will receive the Bachelor of Applied Science in Supervision and Management, a degree that prepares students for advancement in a variety of business-related fields, including Business Administration, Business Information Technology, Healthcare Administration, Public Administration and Public Safety Management.
Another 29 students will receive the Bachelor of Science in Nursing, and 24 will receive the Bachelor of Science in Criminal Justice.
The majority of graduates — 702, or 65 percent — will receive the Associate in Arts degree, which is parallel and fully transferable to the State University System. Another 171 students, or 16 percent — will receive the Associate in Science degree, which is designed to lead directly to the workforce.
The remainder of the graduates will receive Associate in Applied Science degrees or workforce certificates.
Of the graduates, 33 will receive the College's Honors Program distinction on their diplomas. Honors Program graduates must complete a minimum of 18 credit hours with the Honors designation.
Here is a more detailed look at this semester's graduating class:
Approximately 643 students plan to march in the ceremony.
149 students have earned the academic distinction of summa cum laude, with a grade-point average of 3.9 or higher; 63 have earned magna cum laude, with a GPA of 3.75-3.89; and 35 have earned cum laude, with a GPA of 3.5-3.74.
Sixteen students have a 4.0 GPA.
The age range of the graduates is 16 to 64.
In addition to Florida, graduates represent Alaska, Georgia, Maryland, Michigan, New Jersey, Ohio, Pennsylvania, Texas, Vermont, Canada and Norway.
Polk State College, an open-access institution, was established in 1964, and serves more than 24,000 students annually. For more information, visit polk.edu.