Polk State, Winter Haven Leadership Development in Public Administration partnership celebrates first class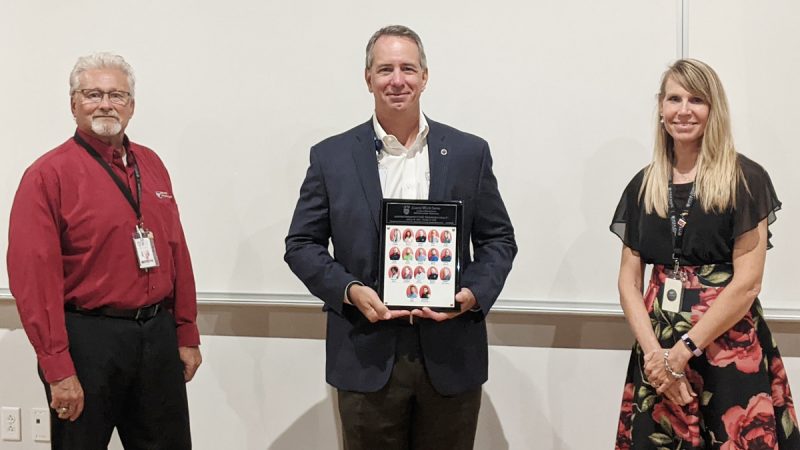 Polk State College and the City of Winter Haven are celebrating the first class of city employees who have completed the Leadership Development in Public Administration (LDPA) Program.
Launched this year, LDPA provides quality professional development and leadership training through the Polk State Corporate College. Seventeen employees across the city's departments and disciplines completed the five-month program in October.
"Being the best you are is settling in our opinion. We want all employees to be the best that can be, which means investing in themselves to improve their skills, knowledge, and insight in every way possible," Winter Haven Assistant City Manager T. Michael Stavres said.
"The LDPA Program was created to help our employees fulfill that challenge and we are already seeing a return on our collective investment," he added. "Moreover, our employees have positioned themselves for upward mobility within our organization."
Participants included members of the City's police, utilities, planning, and human resources departments.
Training covered teambuilding, communication, diversity and inclusion, project management, and more.
"I am particularly interested to see how you will leverage the tools you have learned in this program… they run the gamut regarding communication skills, presenting skills, and generally how you navigate the waters of leadership," Orathai Northern, Polk State Vice President for Workforce Education and Economic Development, shared with the class. "I know you will do great things with what you have learned – congratulations!"
The College is proud to partner with the City of Winter Haven to enhance the city's workforce and thus, services and quality of life for Winter Haven's residents who benefit from the hard work and dedication of employees.
"I am positive that the knowledge gained through this program has made you even stronger leaders, and I am thrilled to see your hard work benefit the City of Winter Haven and the residents of Polk County," Polk State President Angela Garcia Falconetti said. "Together, you are enriching lives through exceptional service, and for that, I extend my sincerest thanks to you for making Winter Haven the perfect place for education, business, and living an exceptional quality of life."
Falconetti thanked City Manager Mike Herr, Mayor Brad Dantzler, and staff for their support.
"Polk State College is proud to partner with the City of Winter Haven and I am honored that the City trusts our College to provide high-quality professional development and leadership training," she shared.
Jose Vega, Winter Haven Traffic Operations Crew Leader, reflected on his LDPA experience.
"I have learned so much in this program. I have learned to become more of a mentor and a coach," Vega said. "I have learned to listen more closely to staff and to practice the '80-20' rule – 80 percent listening and asking questions, and 20 percent dictating. Overall, I feel that our relationship as a team has improved."
"There is more work to be done and there is always room for improvement," he added. "Let's change the culture, together!"