Polk State Welcomes Incoming Freshmen at First-Ever Convocation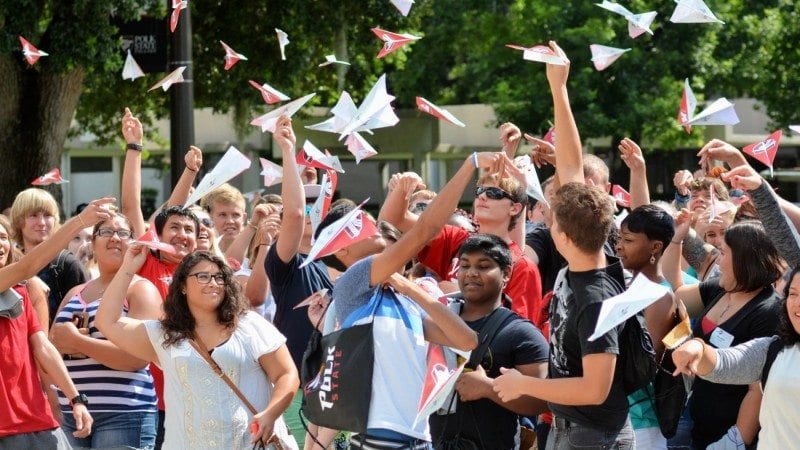 Before the hustle and bustle of classes could begin, before the stress of final exams could set in, Polk State College gathered more than 800 new freshmen for its inaugural First Flight Fall Convocation.
The message of the Aug. 14 event: The first year of college is tough, but don't give up.
The incoming freshmen gathered at the Polk State Winter Haven Health Center, where they heard inspirational messages from members of the College administration and faculty. They were also paired with upperclassmen who volunteered to serve as their first-year mentors, and met with faculty members at the campus they planned to attend.
In her address to the freshmen Polk State President Eileen Holden encouraged the freshmen to remember the number 30,000.
"That's the number of Polk State alumni since the College started 50 years ago," she said. "They sat where you are. We're all here to help you. Let's work together to make you alumni too."
Vice President of Student Services Reggie Webb, playing off the "first flight" theme of convocation, encouraged the students to create a "flight plan" by writing down their academic and professional goals, and to enlist the help of others in reaching those objectives.
"Your destiny is in your control," he said. "Use your flight plan and take advantage of your 'co-pilots' — the advisors, tutors, faculty members and peer mentors who are here to help you succeed."
Polk State Lakeland Student Government Association President Chris Ly welcomed the incoming class, encouraging them to "launch your college career with courage and determination." He then led students in reading the Student Pledge, whereby they committed to taking the steps necessary to reach their academic goals.
Humanities Professor Aaron Morgan echoed that theme.
"It's your choice now," he said. "Choose your own destiny. Choose to succeed. Let's go far together."
Kimberly Myers, Polk State Winter Haven Student Government Association president, urged the freshmen to persevere — even on their most difficult days.
"Impossible is not an option at Polk," she told the crowd.
Josh Austin, a Polk State graduate who now attends the University of Central Florida, told the students that he got off to a slow start academically. It was when he became involved in student-life opportunities that he to more fully engaged in his education.
"I did it, and so can you," he said. "I encourage you to use all the resources around you."
The freshmen then wrote words of encouragement and support to one another on paper airplanes printed with the Polk State shield. They headed outside and launched the planes into the air.
Then, the students caught the planes as they flew, unfolded them, and read the message written by their fellow freshmen.
They scattered, each ready to begin their own personal paths to graduation, but each filled with the knowledge that they wouldn't do so alone.
Polk State Academic Success Counselor Cate Igo organized the convocation as her project for the College's ELITE Educational Leadership Enhancement Program.