Polk State Symphonic Band to Perform March 15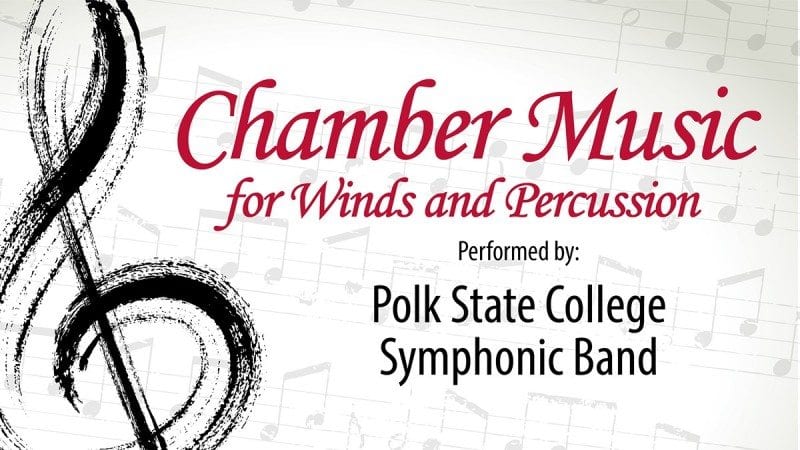 Polk State College's Symphonic Band will present a chamber music concert at 7 p.m. on March 15 at the Polk State Winter Haven Fine Arts Theatre, 999 Ave. H N.E.
Directed by Don West, the concert will feature the following:
Woodwind choir performing Mozart's Overture from Il Re Pastore
Brass quintet performing Sonata from Die Bänkelsängerlieder
Saxophone ensemble performing Antonín Dvořák's First Movement from Serenade, Op. 44
Flute trio performing James Hook's Sonata for Three Flutes, Op. 83/4
Marimba Duet performing Ivan Trevino's 2+1
Brass Quintet performing Jean Joseph Mouret's Rondeau
Saxophone Ensemble performing Ragtime Suite, transcribed by Arthur Frackenpohl, which includes Tom Turpin's Pan-Am Rag, and Scott Hayden and Scott Joplin's Something Doing
Saxophone Ensemble performing Chicago by Fred Fisher, arranged by Paul Nagle
Clarinet Quartet performing Eliott Carter's Canonic Suite
Brass Choir performing Giovanni Gabrieli's Canzona per Sonare No. 4
For more information or to purchase tickets, visit polk.edu/boxoffice.
In addition to Music, Polk State Fine Arts includes Theatre and Visual Arts, all of which enjoy outstanding statewide reputations.