Polk State Students Travel to Oxford, England to Present at International Conference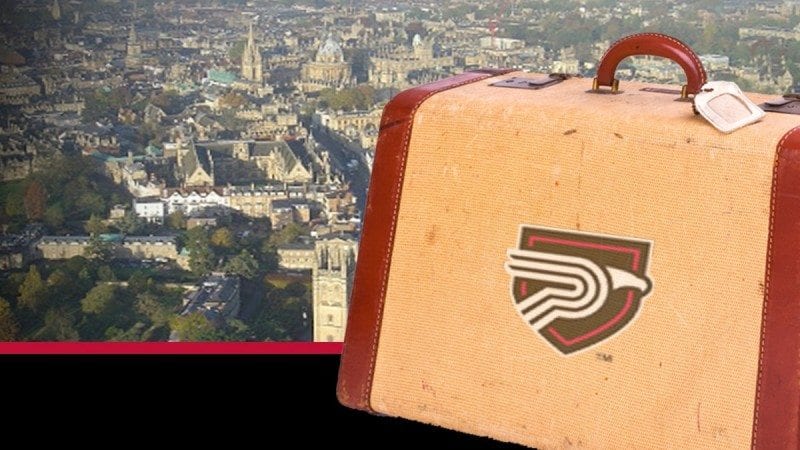 Three Polk State students recently had the chance not only to travel outside the country for the first time but also to present their research on workforce diversity to an international audience.
Danielle Godwin, Rosemary Gorman and Thi-Anna Hunter, all studying in the College's Bachelor of Applied Science in Supervision and Management degree program, traveled to England's University of Oxford last month to attend the International Conference on Knowledge, Culture and Change in Organizations.
The conference, now in its 15th year, is organized by Common Ground, an independent publishing company based in Illinois. In addition to the conference, Common Ground also produces a book series and academic journals, all looking at topics such as culture and change in organizations, and knowledge management.
Speakers at this year's conference included professors from universities such as Rey Juan Carlos University in Spain, Oxford Brookes University in the United Kingdom, and Aarhus University in Denmark.
Godwin, Gorman and Hunter attended the event as Graduate Scholars, an honor given to outstanding students with a sincere interest in the conference subject matter. Their eight fellow Graduate Scholars all hold at least a master's degree.
While at the conference, the Polk State contingent presented its paper on diversity in the workplace. Godwin, Gorman and Hunter analyzed a wide range of articles in coming to their conclusion that diversity is a huge intangible advantage for businesses and organizations of all kinds.
"Organizations can create an environment for employees to share their tacit knowledge, which is all the knowledge that people have in the background of their minds," said Gorman, a Lakeland resident who works as an office manager for an electrical contractor.
"We all have different experiences that come from being of different ages, different parts of the world, different backgrounds, therefore the way we view things is very different. Organizations should value the diversity that each person brings. Research shows that it is a benefit."
Gorman said she and her Polk State colleagues grew from the experience of speaking in front of scholars from around the world, as well as the opportunities to network with the attendees. Gorman estimates she interacted with attendees from 46 countries, including Australia, Denmark and Iran.
"It was a little intimidating. In terms of academics and business experience, we were the young pups," she said. "It was very challenging to engage in knowledgeable, intellectual conversations with people on such a broad variety of subjects."
Gorman, who came to Polk State to further her education after being laid off four times in three years is now in the last semester of work toward her BAS degree. After her trip to England — the first time she's traveled abroad — she is looking into international internships and other foreign study opportunities.
"It was so enlightening to really learn about what is going on in the world," said Gorman. "I now have this incredible desire and passion for the bigger whole. My big picture is so much bigger."
Gorman, Godwin and Hunter learned about the opportunity to attend the conference through Polk State's chapter of the international honor society Golden Key. Polk State's chapter was chartered in 2011 and membership is limited to high academic performers studying in the College's bachelor's programs. The adviser is Business Professor Herb Nold.
Not only did the Polk State Golden Key members travel to England in August, the same month, the chapter was named Chapter of the Month for Region 3, which encompasses Alabama, the Bahamas, Florida, Georgia, Puerto Rico and the U.S. Virgin Islands.
Polk State College's bachelor's degrees include the Bachelor of Applied Science in Supervision and Management, Bachelor of Science in Nursing, Bachelor of Science in Criminal Justice and Bachelor of Science in Aerospace Sciences.
Through its Institute for Global Initiatives, Polk State College offers a growing selection of study-abroad and international internship opportunities.
Golden Key is one of more than 50 clubs and organizations offered through the College's Student Activities and Leadership Office (SALO).