Polk State student's D.C. internship with Congressman Soto 'solidifies' her path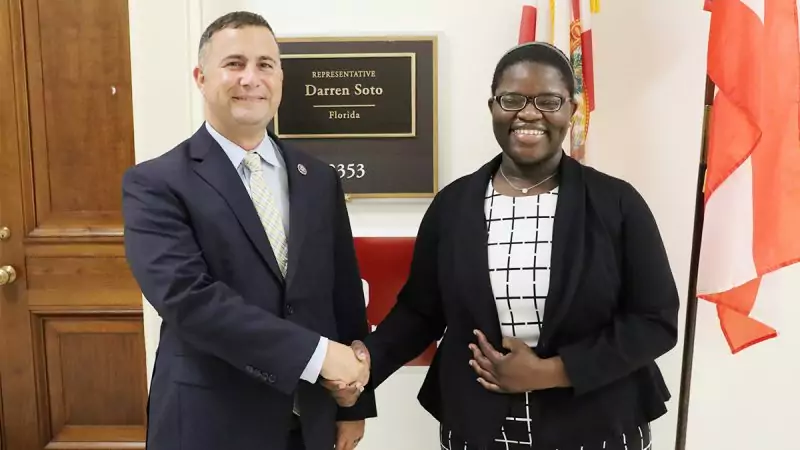 Polk State College student A'Lysha Neloms returned from her summer internship on Capitol Hill with a wealth of knowledge, real-world experience, and perhaps most valuable, the reassurance that she is on the right path to achieving her goals and dreams.
Neloms interned with U.S. Congressman Darren Soto's office in D.C., where she traveled to for the first time and received a "behind-the-scenes look at how a congressional office works," she exclaimed with excitement. Neloms is pursuing an Associate in Arts degree and plans to transfer to a university to double major in Political Science and Finance.
"This internship experience was incredibly valuable to me because when you're doing internships, it gives you insight into whether or not you're on the path that is right for you," Neloms explained. "You may think you want to go into a field and then when you actually get into it, you may realize it's not for you. Or, like me, it solidifies that you actually want to be here doing what you are doing. Either way, it's extremely valuable for students to participate in internships and gain that experience."
As one of five interns, Neloms was part of the day-to-day operations of the congressman's office, including answering phone calls from constituents, responding to letters, and researching legislation.
While this internship was more tailored to her Political Science aspirations, Neloms shared that she also had the opportunity to sit in on a finance meeting when it was her turn to shadow Congressman Soto for a day.
Her internship was a paid, full-time position, she said, with Polk State providing support for her flights, housing, and groceries. During the internship, she also maintained a full-time courseload of online classes. This taught Neloms time management and boosted her confidence as she continues toward her education and career goals.
"I realized that anything is manageable if you put your mind to it," she said. "It taught me not to doubt myself so much – to be confident in the abilities I have and to hone those that are not as developed yet."
She has already developed life-long friendships from the experience. In fact, she and a fellow intern are planning a trip to Paris.
With plans to graduate in the spring, Neloms is looking forward to landing an internship that will provide her with more experience in finance now that she has delved into the political world.
"I want as much experience as I can get because not only is it eye-opening for me, but it is also a valuable experience I can put on my resume, which shows that I'm committed to getting into the career I'm interested in," Neloms said.
She expressed thanks to Polk State for connecting her to the opportunity with Congressman Soto's office and for continuing to support her in her endeavors.
"There are so many people at Polk State who have helped me get to this place and who have congratulated me and shared that they are super proud of me," she added. "At Polk State, there is a team of people rooting for you and here to support you, and I am thankful to them for helping me get this opportunity."
Students who are interested in internship opportunities may email internships@polk.edu to get started.