Polk State Student Wins Scholarship, One of Only 85 Recipients Nationwide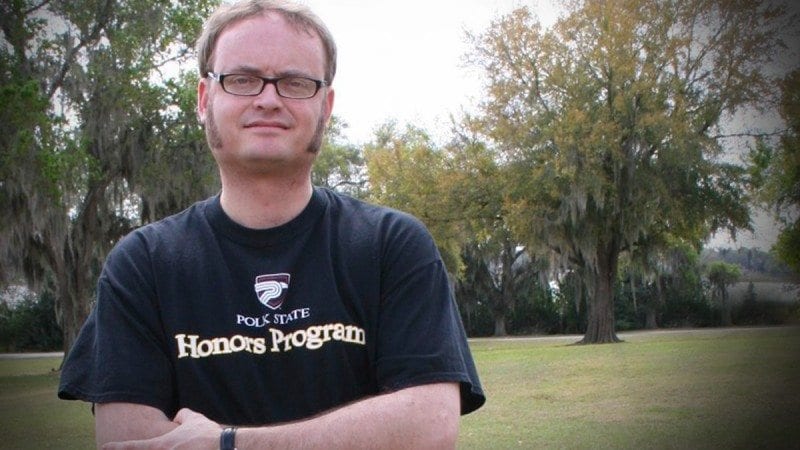 Polk State College student Daniel Roper has received a Jack Kent Cooke Foundation Undergraduate Transfer Scholarship, worth up to $30,000 per year as he pursues a bachelor's degree.
Roper is just one of 85 scholars in the nation to receive the award this year. He was selected from among 3,705 applicants representing 737 two-year colleges.
"It's hard to say how I feel," said Roper, 37, a resident of Bartow.
"I feel like I was just one of 85 people out of more than 3,700 to win $30,000. That's how I feel."
The Jack Kent Cooke Foundation Undergraduate Transfer Scholarship is the nation's largest private scholarship program for students at two-year colleges. The Foundation provides up to $30,000 a year for up to three years as recipients pursue their bachelor's degrees.
Recipients are selected based on high academic ability and achievements, persistence, leadership and financial need. The average GPA of this year's class is 3.98, and scholars come from families with an adjusted gross income of approximately $25,000. Recipients plan on studying at institutions including Georgetown, Cornell, Stanford and Columbia.
Roper plans on using his scholarship to double-major in Computer Science and Electrical Engineering at the University of Central Florida — a course of study that will finally lead him to a dream he's held for decades.
"I've always wanted to be an electrical engineer," Roper said. "I got close, but not quite."
After graduating from Bartow High School, Roper went to work as an electrician. He also got married to his wife, Misty, also a Polk State student, and became a father of two children, now ages 2 and 4.
A few years ago, he was injured while working, an event he calls "the best thing that ever happened to me."
The Ropers reworked their schedule and household duties to make room for Daniel to come to Polk State. Since then he's thrived, participating in the College's rigorous Honors Program, and by the end of the summer he'll graduate with his Associate in Arts degree.
"The Honors Program wouldn't allow me to function as a spectator. It's more engaging and personal," he said. "And scholarships I've received from the Polk State Foundation allowed me to earn my AA."
With his bachelor's degree now a matter of time, not money, and with the career he'd always dreamed of more in reach every day, Roper said he looks forward to the difference it will all mean for his family.
"We will be able to help our kids, so they don't have to struggle as much as we have to go to college and get an education," he said.
The Polk State Honors Program offers smaller, more rigorous classes, field trips, priority registration, and numerous scholarship opportunities. To qualify for the program, students must meet certain GPA requirements and score highly on tests such as the ACT or SAT.