Polk State Student Helps Develop Energy Alternatives in China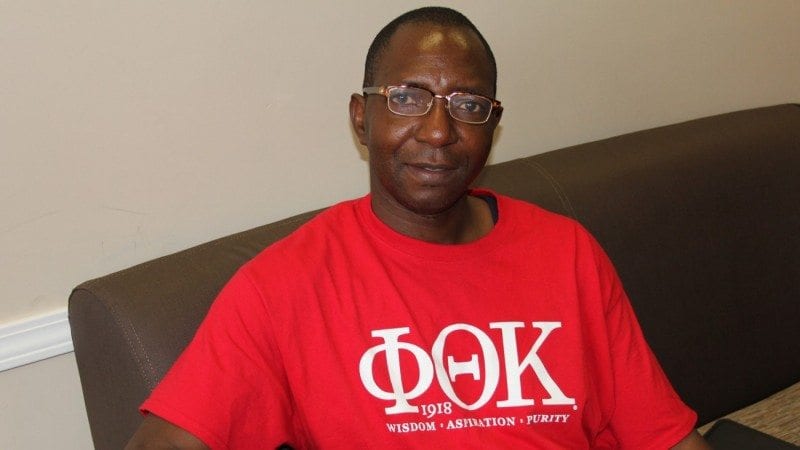 A Polk State student who plans to dedicate his career to helping the environment recently traveled to China, where he toured a controversial dam and brainstormed energy alternatives with like-minded students from around the world.
Johnson Olaitan, a Winter Haven resident and student in Polk State's Associate in Science in Engineering Technology Program, made the trip to China through the International Scholar Laureate Program.
Each year, ISLP selects students who have demonstrated academic excellence and leadership potential to participate in delegations that travel abroad to study business, medicine, nursing and health care, engineering, technology, international relations and diplomacy.
One of ISLP's partner organizations is Phi Theta Kappa Honor Society. Olaitan is a member of Polk State Winter Haven's Phi Theta Kappa Xi Pi chapter, and it was through that organization that he learned of ISLP.
Olaitan was one of 176 delegates from eight countries selected for the China delegation. While there, he and his fellow delegates toured the controversial Three Gorges Dam, located in Yichang City.
The Three Gorges Dam, located on the Yangtze River in Hubei Province, took 17 years to construct. It generates enough hydroelectricity to power entire countries, but it also caused the flooding of dozens of cities and towns, the relocation of more than 1 million residents, and the destruction of numerous natural treasures.
During their visit, Olaitan and his fellow delegates brainstormed alternatives to future dam construction. Their proposal: wind turbines that not only generate power but also purify the air. Olaitan said the proposed wind turbine would include technology similar to an automobile's catalytic converter, which turns carbon monoxide and other pollutants into less harmful emissions.
Olaitan said an environmental science class he took through the College's Honors Program last spring helped him during his activities in China.
"The class gave me vast knowledge about environmental pollution," he said.
"In China, I learned more about what I had learned about in class. I wouldn't have gotten anything meaningful from China if not for that class. "
Now that he is back home, Olaitan said he is more inspired than ever to make a difference for the world's environment.
"Global warming is real, but people are not taking it seriously," he said. "The recent heat wave in Pakistan has been terrifying. It is real. I wish to do something to protect our environment."
After graduating from Polk, Olaitan plans to pursue his bachelor's degree in engineering, and ultimately obtain a master's degree. As he has discovered, however, no matter where his education and career take him, he will always be building on what he's learned at Polk State.
"I underestimated myself at the initial stage," Olaitan said of his China trip. "But later discovered that I matched every student from the various universities and colleges in terms of academics and leadership. I am proud to be Polk."
For others interested in taking their classroom learning abroad, Polk State offers an increasing number of international study opportunities. Learn more about the Institute for Global Initiatives at polk.edu/institute-for-global-initiatives.