Polk State Speech & Debate Team earns top awards from state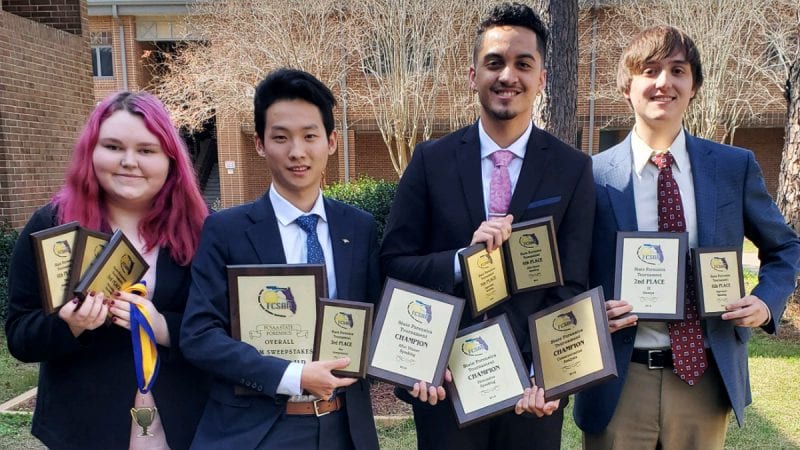 Polk State College's Speech and Debate Team is celebrating several wins from the Florida College System Activities Association's (FCSAA) 2019 Forensics State Tournament.
In individual wins, Alberto Camargo placed first, winning state champion in the Communication Analysis and Persuasion categories, and new team member, Yo Han (John) Kim, placed first in the After Dinner Speaking category.  Angel Green, FCSAA Student of the Month for November, placed third in Persuasion and Kim and Green placed third in Duo Interpretation.
The team placed second overall in the tournament as well as in the individual event sweepstakes category. The team was runner up for team sweepstakes and Professor of Speech and Director of Forensics Christina Gesmundo was named Coach of the Year for the second time.
The Speech and Debate Team enjoyed a successful 2018, placing second overall in the Capital City Classic tournament in the state college division, reaching finals at multiple tournament events, winning a number of awards at the Star Invitational, and participating at the national level in the Phi Rho Pi tournament.  Polk State College will host its first Speech and Debate tournament in fall 2019.
"The Speech and Debate Team is having a phenomenal year," Gesmundo said. "I am so proud of the team and excited for our continued growth."
The team is heading into the Florida Intercollegiate Forensics Association finals.
Students who are interested in joining the Speech and Debate Team should contact Gesmundo at 863.669.4950 or cgesmundo@polk.edu. Scholarships are available.
The team also accepts donations through the Polk State College Foundation to support the development of students as world-class speakers and leaders. Funds are used to assist students with competing at the state and national levels. Donations can be made online at foundation.polk.edu/forensics.