Polk State SGA secretary overcomes sickle cell to serve College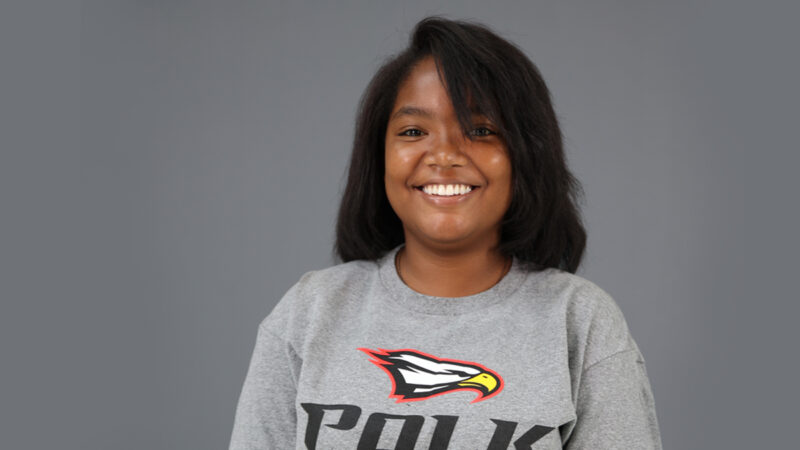 Born with sickle cell disease, even the smallest tasks can be big ones for Analicia Williams. Polk State College, however, has been a place where Williams thrives.
Recently elected as the Secretary on the Winter Haven Campus for the Polk State Student Government Association (SGA), Williams, 19, was just two weeks old when she was diagnosed with sickle cell disease. With September being National Sickle Cell Awareness Month, Williams has organized a Winter Haven Campus event, in partnership with Soar Healthy Eagles, for Sept. 20 from 12 p.m. to 1 p.m. to raise awareness for the disease that affects one in every 365 Black births in the U.S.
"Sickle cell takes a physical toll, but it takes a mental toll as well," Williams explained. "It has caused me to develop restrictive lung disease. Taking tests can be stressful. With the stress, sometimes I struggle to breathe."
From the Queen City to Polk State
A native of Charlotte, N.C., Williams finished high school online. It wasn't until 2021 when she moved to Polk County. As she sought to attend college, the Advising and Admissions staff at Polk State made it clear that it was the place for her.
"When I met the people here, I knew this was my home," she said. "My instructors have been so helpful. They really care that the students succeed. It's a beautiful campus – I just love our campus."
As secretary, Williams will plan events, make sure students' voices are accounted for, manage the SGA budget, and process new applications, among other duties. Williams was introduced to the idea of SGA last academic year – her first at Polk State — when she served as a work-study student for Polk State's Student Activities & Leadership Office (SALO).
"After being in the field at so many events, I wanted to be part of it," Williams noted. "SGA has become another family for me."
Williams has also benefitted from the support of her professors who have honored her 504 Plan – a specialized plan that accommodates for her disease, allowing her to take extra restroom or water breaks or to miss classes as needed for appointments. In the past, she's worked with agencies that have raised support and awareness for sickle cell disease.
"Very few people know much about sickle cell," she explained. "They don't know the pain it causes or the mental health aspects. Hospitals often dismiss us as drug seekers. There are very few resources out there."
Living with sickle cell
Williams has one of the most common and most severe cases of sickle cell disease. Her condition can complicate her ability to walk and can lead to cases of depression. Williams receives a blood transfusion each month. The pain, she said, can be the equivalent of a gunshot wound.
"Sickle cell is a silent killer," she said. "As we get older, it deteriorates our organs. Even some of the treatments can cause complications. It can be a struggle to get up every day."
Williams has six siblings but is the only one of the seven children to have the disease. Her mother, Kisha Romero, has been her biggest supporter.
"She's always making sure I don't overexert myself," Williams added. "I also have to stay hydrated. I've had to make sure I stay up to date with my appointments."
Plans for the future
Now in her second year at Polk State, Williams plans to graduate with an Associate in Arts degree. After that, she aspires to a career in Diagnostic Medical Sonography. She is considering applying to the program at Polk State – one that boasts a perfect 100% licensure pass rate.
"I've always been interested in discovering new things," she added. "I like the idea of helping people find out what may be wrong with them. I also like looking at babies and seeing new life as it's being formed."
Sickle cell disease affects about 100,000 Americans, according to the U.S. Centers for Disease Control. Williams urged those with friends or family battling the disease to serve as pillars of support.
"Sickle cell is a daily struggle," Williams said. "If you know someone with it, check on them routinely and make sure they're OK."