Polk State Respiratory alum returns as Clinical Education Coordinator to train future RTs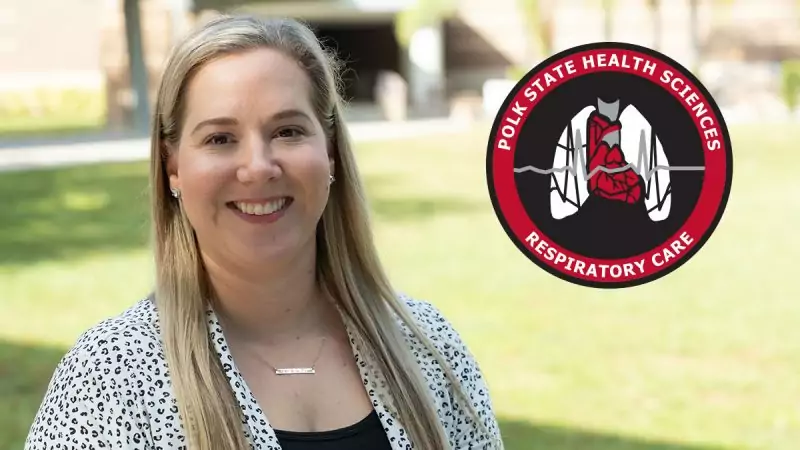 Jordan Emro is a proud alum of Polk State College's Respiratory Care Program and enjoyed nearly a decade working in the clinical setting before she felt called to return to the College full time.
Emro recently assumed the position of Clinical Education Coordinator, but she is no stranger to the academic realm, having served as a clinical instructor for Polk State since 2015 while she was working as a team leader at Lakeland Regional Health.
"Respiratory therapy is a really rewarding career. You play an important role in helping patients heal, sending them home, and not having them be sick anymore," Emro explained. "Now I get to play a role in sending students out to facilities to work alongside therapists as they gain the experience and knowledge they need to become skilled therapists themselves."
Emro first joined the Polk State family as an Associate in Arts student unsure of what career path she wanted to take. The Winter Haven native chose Polk State as it was the local and affordable option that allowed her the opportunity to explore different opportunities.
She learned through her stepsister, who was enrolled in the Respiratory Care Program, that respiratory therapists work with premature babies. That sparked a personal interest in the field.
"I didn't know that was a thing – I didn't have any healthcare background," she explained, "but I was born prematurely, and getting to work in the NICU with babies interested me a lot."
Emro enrolled in Polk State's Respiratory Care Program in 2011 and "hit the ground running. I loved it," she said. "My experience in the program was great. There was and still is a lot of support from the instructors and clinical partners."
"It's funny now to hear my students question why they have to do something a certain way or why we are so strict about things such as how they need to wear their uniforms," Emro added. "I tell them it is because Polk State holds its students to a high standard, and I enjoyed being in the program for that reason."
Polk State Respiratory Care 2020 graduates boast 100 percent pass rates on their entry-level (CRT) and registry level (RRT) certifications, exceeding national averages of approximately 80.5% percent and 67.2 % percent, respectively, illustrating the great level of preparedness and skill Polk State Respiratory Care graduates possess.
"Polk State has a reputation of producing professional, hardworking, excellent respiratory therapists," she said. "Managers from respiratory care units keep an eye on Polk State's students and I have heard in the field that they will hire our grads over those of other schools."
Emro was employed within a month of graduating from the program in 2013 and worked her way up to a team leader position in Lakeland Regional Health's respiratory care unit.
She also completed her Polk State Bachelor of Applied Science in Supervision and Management with a concentration in Healthcare Administration. She noted the program's quality, affordability, and flexibility as she completed courses online while working full time and completing her last semester of the Respiratory Care Program.
"Polk State has a reputation of producing professional, hardworking, excellent respiratory therapists."
She expressed excitement and gratitude about returning to the program in the Clinical Education Coordinator role.
"We need great respiratory therapists in the community, and I am excited to be a part of a program that is dedicated to training students properly," Emro said. "By holding our students to the highest standards and providing them with quality clinical education experiences, we will get the quality respiratory therapists our community needs."