Polk State Reeling Over Loss of Young Alumna, Colleague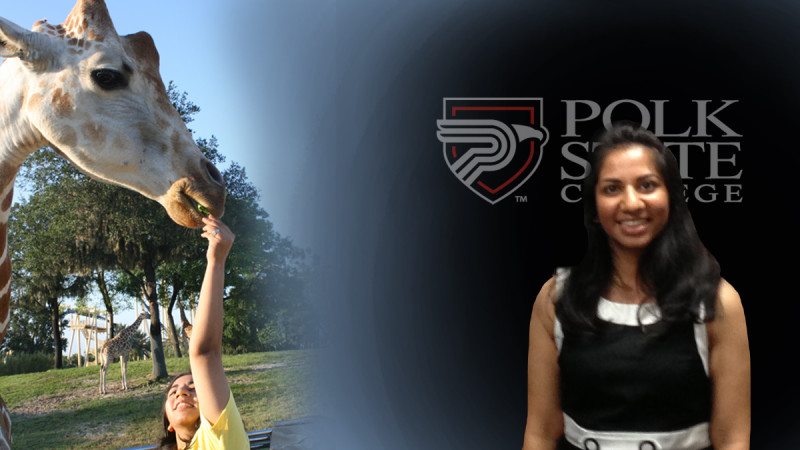 Polk State's Yati Patel was killed in a traffic accident on Saturday evening in Mulberry, bringing a bright, promising life to a tragic end.
The news of Patel's untimely death — she was just 24 — left the Polk State College community reeling. Everyone from her colleagues in Business Services to her regular lunch companions were trying to make sense of the loss of someone they described as kind, humble, funny and committed to her work.
"It's a testament to Yati that her loss is being felt across all College departments, campuses and centers," said Polk State President Eileen Holden.
"She was a tireless worker, infinitely dedicated to Polk State, and an emerging leader in higher education. She would have, I'm sure, played a huge role in the future of the College. She made a lasting, positive, inspiring impact on all who knew her. We are all trying to make sense of why Yati was taken from us so soon, but we are so thankful that we knew her at all, that she belonged to the Polk State family."
Patel, a resident of Bartow, received her Associate in Arts degree from Polk State in 2007, and continued on to the University of South Florida, where she earned a bachelor's degree in Accounting and was, among other things, a member of the prestigious Golden Key Honor Society. She was in the process of completing her Master of Business Administration at USF and was in the final stages of becoming a Certified Public Accountant (CPA).
Patel had worked at Polk State since 2006, first as an accounts payable clerk and most recently as an accountant. The consensus among those she worked with was that she was just getting started on what would surely have been an outstanding career.
"She was a rising star. We talked about putting her in (Vice President of Administration and CFO) Peter Elliott's seat one day," said Controller Teresa Vorous, Patel's supervisor.
"Just last Friday, she and I sat down together to work out a progression plan for her. She had so much forward momentum."
Elliott echoed those sentiments. "I've dedicated my career to the idea that what we do in what people sometimes call 'the back office' side of higher education really does make a difference for students. What we do and how we do it matters. Yati was an inspiration to me and to our entire team, because she shared that belief. She saw what she did as more than 'just a job,' and she made all of us better because of how she did what she did."
In her work toward her career goals, Patel had recently participated in the College's ELITE (Exceptional Leaders with Innovative Talents and Excellence) Leadership Enhancement Program. ELITE participants take part in 11 months of leadership training and professional development activities and develop a project of personal interest and widespread impact on the College.
Patel's project — in a fitting example of her interest in serving the students of Polk State — was a financial literacy program that would teach about debt, budgeting, and credit. She titled the project, Your Financial Footprints: The Legacy You Leave Behind.
"She worked in Business Services, which is not necessarily an area that always works with students," said Jessica Buchanan, who completed ELITE alongside Patel and is a coordinator of Career Development Services.
"But she still had a passion for students that went outside her daily job. She wanted to go above and beyond to help them learn about saving money and budgeting and credit. She was a visionary, and her passion for everything she did was contagious."
Patel presented her project earlier this year at a meeting of the state's Educational Leadership Enhancement Program, an event attended by participants of programs similar to ELITE at other Florida colleges.
Her work was so enthusiastically received that she had been invited to make the presentation to the next group of leadership participants; Patel was to make that presentation in September in Captiva Island, said Val Baker, Polk's director of Equity and Diversity and coordinator of the ELITE program.
"She was so excited about being invited back," Baker said. "I had a special surprise for her: All of her fellow participants from the sixth class of ELITE were going to be there to support her. It was going to be very special."
According to Baker, ELITE participants also take part in a mentoring relationship with a member of Polk State's administration. Winter Haven Provost Sharon Miller served as Patel's mentor.
"Yati was beginning to find her voice," Miller said. "I saw in her a young woman who had finally given herself permission to dream and act on those dreams."
In addition to her work at the College, Patel was a Junior Achievement instructor at Denison Middle School in Winter Haven, according to Internship Coordinator Lynn Chisholm.
"She invested not only in the Polk State community but the community at large," Chisholm said. "For a petite young woman, she is going to leave behind a great big void."
Patel's talents and potential were widely appreciated by the College, and in 2012 she represented Polk State in the Lakeland Economic Development Council's Summer Leadership Program, an eight-week program for young professionals in the community. She won the program's "Best Attendance" award for attending every event and social but also won admirers along the way.
"She was someone who was going to do great things," said Meg Bellamy, special programs coordinator for the LEDC who oversees the Summer Leadership Program. "She was one to watch. She had great leadership potential."
A short bio of Patel from the program gives glimpses into her personal and professional ambitions.
Patel named eliminating financial illiteracy as her ultimate career ambition, and the Pulitzer Prize as the award she'd most like to win.
In the bio, she also named tacos as her favorite food and said that if she were an animal, she'd most likely be a dolphin because they're social, playful, curious, and intelligent and like to have fun.
Those characteristics, beyond her commitment to the College and students, endeared her to so many who knew her.
"She was very bubbly. She always had a smile on her face," said administrative assistant Melissa LaRock. "She always had a smile on her face."
Assistant Controller John Sprenkle, who towered over the petite Patel by more than a foot, said he often teased her about her height, but she always took it as good fun.
"She and I had a similar sense of humor," he said. "She was quick-witted and could always say something to lighten the mood."
As one of Patel's colleagues said, "She brightened our days. Her smile was contagious, and her wit was engaging. She had a rare sort of ambition that drove her closer to those around her, rather than farther away."
And now, in her absence, Patel is bringing her colleagues closer together.
"She will not be forgotten," said Holden.
Polk State provides counseling services to students, faculty and staff in need. Those wishing to share a memory or sentiment via Facebook can do so at the Polk State Facebook page.
This story will be updated as information about potential memorial services for Patel becomes available.
UPDATE:
Patel's family is planning a funeral service for 2 p.m. on Thursday, Aug. 8, at Heath Funeral Home, 328 S. Ingraham Ave., Lakeland.
Per religious tradition, attendees should wear white or colorful clothing; no black or other dark colors.
Those wishing to send cards or flowers should address them to 1520 Harbor Way, Bartow, FL, 33830. The family asks that no food be given.