Polk State's ELITE Program Enters Sixth Year, Now Taking Applications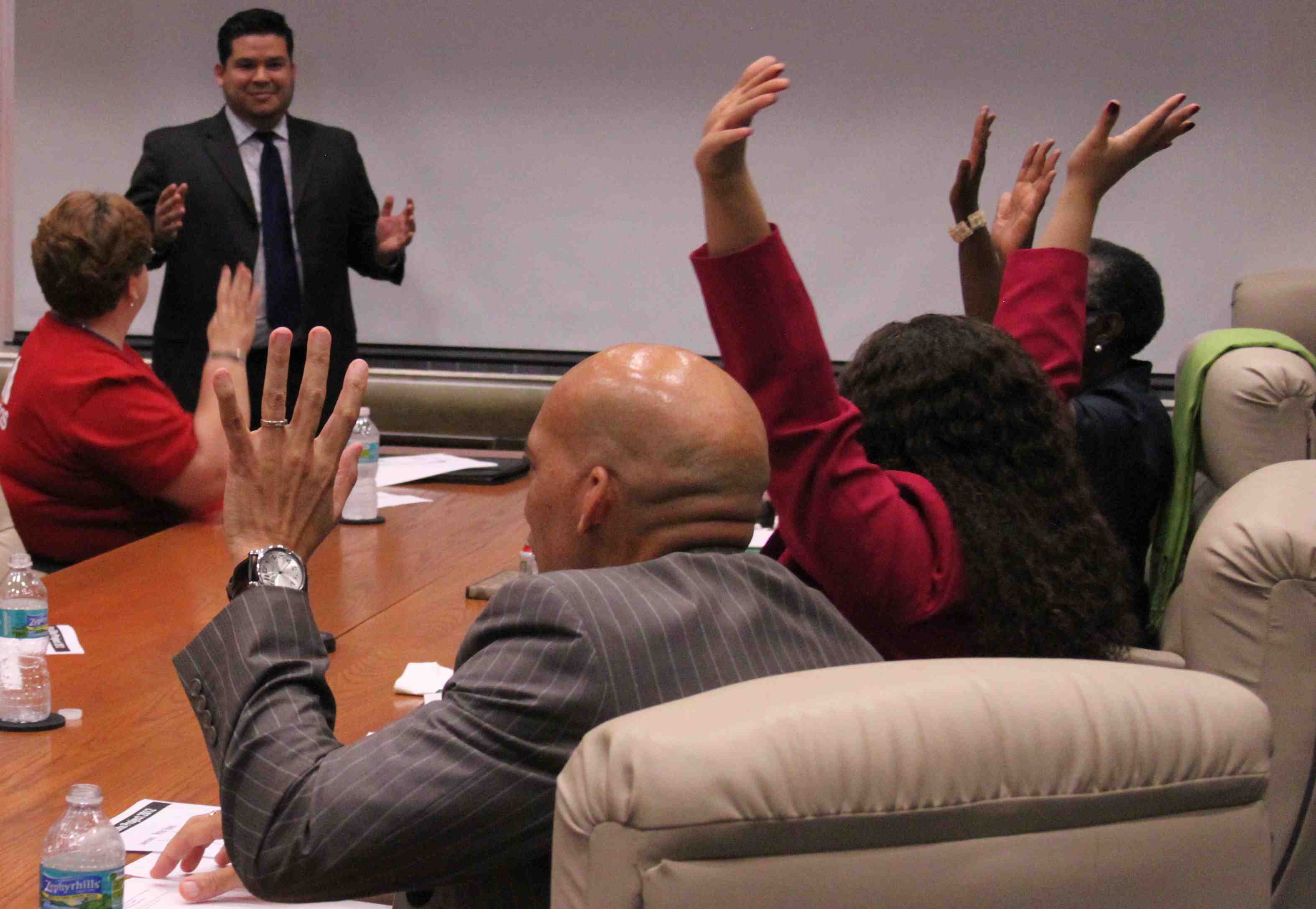 Polk State College is preparing for the sixth year of its ELITE Leadership Enhancement Program, an 11-month regimen of leadership training and professional development that prepares participants to advance their careers.
The program is modeled after a program from which Polk State President Eileen Holden graduated earlier in her own career.
"These opportunities are so valuable to our staff," she said. "I know that first-hand."
ELITE — Exceptional Leaders with Innovative Talents and Excellence — was established at the College in 2006 as part of a statewide initiative among colleges and universities to provide professional development and leadership opportunities for mid-level minority and female employees who aspire to take on higher-level positions.
Since ELITE began, 23 employees have participated, representing such diverse departments within the College as the collegiate high schools, Health Sciences, the Polk State College Foundation and more.
ELITE participants — or "ambassadors" as they're known around campus — begin their experience in October with a three-day professional development conference. Participants from similar programs at the College's partner institutions, including College of Central Florida, Hillsborough Community College, Lake-Sumter Community College, Pasco-Hernando Community College, and Florida International University, also attend the event.
At the conference, ELITE ambassadors hear from guest speakers who have taken part in leadership programs and have since ascended to higher-level positions. The event also serves as a valuable networking opportunity.
"ELITE participants get to network outside the realm of Polk State College and get to see firsthand all the innovative things our partner institutions are doing. Gaining that new perspective is beneficial for the ELITE participants," said Val Baker, director of equity and diversity at the College and coordinator of ELITE.
Following the fall's kickoff event, ELITE ambassadors return home to Polk State, where they commence monthly leadership sessions and a yearlong mentorship with a Polk State administrator. They also attend the College's District Board of Trustees meetings, meet with ELITE alumni to learn from their experiences and serve on a committee or task force in an area of personal interest. During the spring, ELITE ambassadors spend several days in Tallahassee, meeting with lawmakers and learning about the state's legislative process.
All the while, ELITE participants also develop and implement a project that will have a widespread impact on the College; participants are encouraged to focus their project on an area outside their daily work or department to better acquaint themselves with other facets of the College and to stretch their leadership skills.
Chris Fullerton, director of the TLCC and Learning Resources in Winter Haven, participated in ELITE during the 2008-09 academic year — and it surpassed all her expectations.
"The biggest plus was that it assembled, randomly, a collection of people from different areas, people who wouldn't necessarily make a connection with one another," said Fullerton, who was a reference librarian when she participated.
Fullerton explained that through ELITE she forged connections with other College departments and gained a better understanding of those departments. Likewise, her fellow participants came to better understand how the College's libraries work.
"Everyone here is trying to do the best that they can with what they have, and we can all do better if we are connected and have others' input," she said, adding that her project, to create a Library Advisory Board, is still in progress.
Fullerton maintains strong connections with ELITE, assisting with their events as needed.
"I see the value in connecting people from all different areas of the College," she said.
Polk State Lakeland Collegiate Director Sallie Brisbane also participated in ELITE during the 2008-09 academic year — she and Fullerton now share a connection they might not have had otherwise, they both agreed.
For her project, Brisbane developed training videos for the College's screening committees, which form each time there is a position to be filled. Prior to the videos, members of the College's Human Resources Office of Equity and Diversity staff and Baker would have to meet with each committee to explain the hiring process and committee members' roles and responsibilities.
"ELITE was one of the most beneficial professional development opportunities I have had at the College. It gave me the chance to pick a problem and put a solution into place, and the opportunity to explore different areas of leadership and enrichment," she said.
ELITE ends with a leadership conference that reconvenes participants from the various institutions. Participants not only hear from another slate of guest speakers but must also present their projects — overcoming any fears of public speaking in the process. However, Baker added that ELITE ambassadors are "always ELITE ambassadors," and have ongoing access to ELITE programs and information, and many continue to build their relationships with their mentors.
ELITE ambassadors are never quite the same after the program, said Holden.
In 1994, while working as division chair over the largest academic unit at Palm Beach Community College, she was selected to participate in the College's LEAP program — Leadership Enhancement Advancement Program.
"Participating in LEAP allowed me to interact with colleagues in similar and higher positions at neighboring colleges and to explore the leadership and management styles of successful leaders. My career goal at the time was to become a dean for academic affairs and I saw this professional development opportunity as a way to chart that course," she said.
"It was through LEAP that I was able to 'step away' from the daily operational aspects of my job to focus on examining the key characteristics that are aligned with good leaders. The program provided many opportunities for me to develop both professionally and personally. In 1997, I was promoted to dean for academic affairs at PBCC and was very grateful for the LEAP experience."
Potential ELITE participants must have at least a baccalaureate degree and must have worked at the College for at least two years, including one year in their current positions. Potential participants must also plan to remain at the College for at least one year after they complete ELITE. Applications for ELITE are available by contacting Baker at extension 5378 or vbaker@polk.edu. The application deadline is Sept. 12.