Polk State Radiography's "COVID class" passes at 100%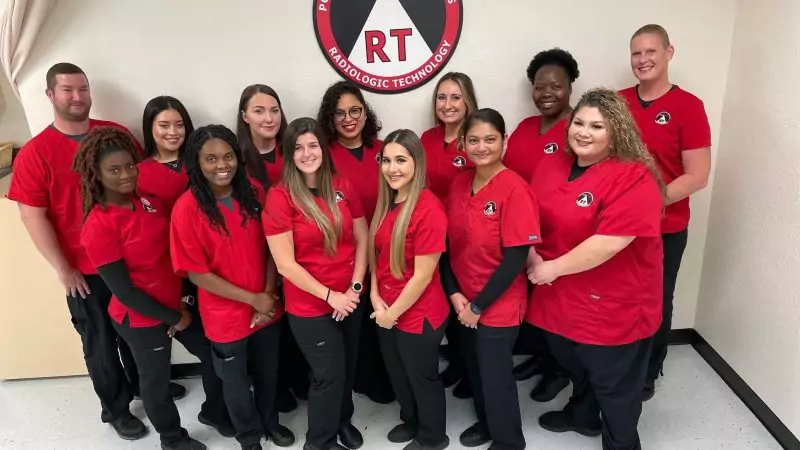 Known affectionately as the "COVID class", the Polk State College Radiography Program's December 2021 class spent almost the entirety of its program working through the COVID-19 pandemic. When all was said and done, the group of 13 overcame numerous challenges to pass the American Registry of Radiologic Technologists (ARRT) national certification examination at a 100% rate, exceeding state and national averages.
Students who complete the two-year program earn an Associate in Science in Radiologic Technology and are primed for a career in medical imaging. Over the course of the program, students spend nearly 2,000 hours working at local healthcare facilities.
"There was a time when I was terrified I wasn't going to make it through," said Gisselle Dominguez, a member of the 2021 class. "I'm a hands-on person and this is a hands-on career. I didn't know how I was going to do it."
The Pandemic Begins
With classes beginning in January 2020, students were in class for a little more than a month when the pandemic began. At the height of COVID-19, Polk State moved from in-person instruction to online. Students were not only unable to meet in person but getting their clinical time in was also off the table due to restrictions at clinical sites and uncertainty about the coronavirus.
"I told them that if they wanted to leave, no one would blame them," Program Director Beth Luckett said. "Every one of the students stayed. The College administration was extremely supportive."
For about five months, students were unable to do their clinical work. Luckett and Jaime Selph, Clinical Education Coordinator for the Radiography Program, were tasked with finding a way to continue moving forward.
"It was a challenge," Selph said. "The students really rose to the occasion. The clinical sites worked with us the best they could. For these students to graduate on time was amazing. For them to pass at 100% was the icing on the cake. They pushed as hard as any class I've ever seen."
Rather than force the students to postpone graduation, they worked with College administrators to fast-track a portion of the clinicals.
"They were losing time," Luckett said. "When the facilities allowed them, they were begging for an opportunity. They knew what they had to do."
Dominguez had previously worked as a restaurant manager, banker, and a zookeeper when her sister, a nurse, suggested she go into a healthcare profession. Despite the uncertainty of the situation and what lay ahead, Dominguez said she never wavered.
"It was a no-brainer for me," she said. "I changed careers several times and I was determined to stick with it."
Trials Along the Way
Kari Thompson is another member of the 2021 class and served as its tutor. When the pandemic began, she anticipated that the class's absence from in-person learning and clinicals would be short.
"None of us knew what we were getting into," she said. "Like the rest of the world, we thought it would only be two weeks. It turned into almost six months."
In addition to the struggles that students faced with their studies, most dealt with personal challenges as well. Seeing how hard they worked through the struggles gave the staff perspective and motivation to help in any way they could.
"No matter what we threw at them, no one flinched," Luckett said. "I'm proud of them for what they endured in the program and in their personal lives and to pass at 100% is remarkable. It was the most unique experience. They never balked. They cried, but they never balked."
At about the midway point in the program, in January 2021, Thompson was diagnosed with breast cancer. She began chemotherapy in May but stayed the course throughout.
"For me, I didn't want that to be a reason to step away," Thompson said. "I needed this (program) to get through my personal battle. At the same time, I knew everything happens for a reason."
Thompson's cancer is currently in remission. She was far from alone, however, when it came to facing challenges.
"Some of them lost loved ones to COVID," Selph said. "They had to battle just to stay afloat. We're very proud of them and happy for them for the way they continued to work through it."
Working through it, Thompson said, is part of what being a healthcare worker is all about.
"All of us truly enjoy helping people," Thompson said about her classmates. "We got into this business because we care. We knew COVID wasn't going away. If you're going to work in healthcare, you're going to encounter infectious diseases."
A Bond is Formed
During the pandemic, the class found ways to stay in touch. They put together a group chat to assist one another and met via Zoom. They were allowed to meet in person once a week in groups of four people or less.
"We didn't want anyone to get frustrated or quit," Thompson said. "We all started together and wanted to all finish together. We were all super motivated."
Over the course of the two years, classmates found an unusual bond despite spending very little time with one another physically. Thompson isn't sure that would have been the case under usual circumstances.
"I don't think people always realize what they have until it's taken away," Thompson said. "I don't think we'd have been as close without the pandemic. We all wanted to support one another and just be there for each other."
Luckett noted that the Radiography Program, which accepts as many as 20 students, tends to have a diverse student base. Students can be fresh out of high school, but many have worked in other fields. Despite that, the bond was noticeable.
"We all had the same goal," Dominguez said. "When I got a four-year degree, everyone kind of went their own way. Here, it was a single-minded focus. One of the things that brought us together was that we all had to rely on each other."
Although job placement rates for the 2021 class are currently unofficial, all 13 graduates are currently working in the field as radiologic technologists. Dominguez works full-time at Lakeland Regional Health Medical Center and part-time at South Florida Baptist Hospital in Plant City. Thompson works for Orlando Health at South Lake Hospital in Clermont. Many students from the class stay in touch.
"The bond – that's still very evident," Dominguez said. "A lot of us are in constant contact with one another. If we see or learn something (at work) different, exciting, or new, we share that with the group."
Why Polk State?
Founded in 1983, the Polk State Radiography Program has a job placement rate of 100% over the last five years. Luckett added that the program typically has pass rates above the national average.
The students say it's the staff that make it special. Thompson and Dominguez each sought to apply elsewhere before learning about the Polk State program.
"I had applied to a competitor previously and didn't get accepted and I tried to understand why," Thompson said. "It seemed like other programs didn't want to help or tell me what I needed to do to get into the program. I found Beth Luckett's email and she replied and asked if we could meet in person. I wasn't a Polk State student, but she was willing to take an hour out of her day to talk to me. She genuinely cared and she didn't have to."
Dominguez found out about Polk State's program less than two weeks before the deadline to apply. Dominguez made her way to the Airside West Center, met Luckett and was ultimately able to fill out the application, provide previous transcripts, and take all the preliminary steps necessary to be accepted.
"I was some random student who hadn't even applied to the school," Dominguez said. "For her to come out and talk to me in person, that stuck with me. That really made an impression."
For Dominguez, that strong first impression was just the beginning.
"Mrs. Luckett and Mrs. Selph busted their butts to figure out how to keep us going," Dominguez said. "They were phenomenal and just constantly available. We told Mrs. Luckett she was going to get her 100% (pass rate). We got it done."
With a median national salary of $61,000, according to the U.S. Bureau of Labor Statistics, radiologic technologists work in emergency rooms, operating rooms, and intensive care units. Completing the Radiography Program also opens up opportunities to move into other fields such as mammography, computerized tomography (CT), and magnetic resonance imaging (MRI). The need for radiologic technologists is expected to grow by 9% from 2020 to 2030, according to the Bureau of Labor Statistics.
Following her battle with cancer, Thompson plans to do mammography in the future. She is thankful for who she studied under.
"Mrs. Luckett and Mrs. Selph were great the whole time and just outstanding leaders. Throughout the pandemic, they cared how we were mentally and physically as people," Thompson said. "When I got sick, they did whatever they could to help. I couldn't speak more highly of them. I'm proud to say I'm a Polk State graduate and I'm even more proud to say I'm a Polk State Radiography graduate."