Polk State Radiography "is still here and still strong," preparing students for the frontline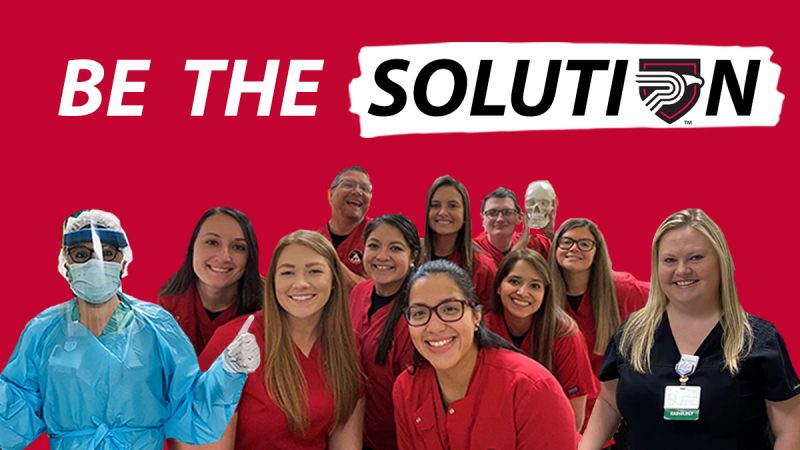 Polk State College's Health Sciences programs maintain longstanding reputations of excellence and have trained many of Polk County's healthcare professionals. This may be more critical than ever during the COVID-19 public health emergency, with Polk State alumni making a difference on the frontline with their quality skills and education.
Graduates from Polk State's Radiography Program are no exception, and those on the cusp of graduating in December are eager to assume roles in local facilities to begin serving the community.
"It has been scary but motivating," said Emily Alexander, a senior in the Associate in Science in Radiography Program. "Everyone in the healthcare system plays a critical role and we share the same goal of helping our patients on their roads to recovery."
Polk State provides education and training for a variety of critical healthcare roles, including Nursing, Respiratory Care, and Emergency Medical Services.
The College's Radiography Program boasts a 93 percent pass rate and a 100 percent employment rate, illustrating its rigor and success.
"Our graduates are frontline warriors – they are in the field conducting X-rays, CT scans, MRIs, and more," Program Director Beth Luckett explained. "In the hospital setting, they go where they are needed – the emergency room, the intensive care unit, or the operating room. They have close patient contact and are sometimes the second or third person to see the patient."
Amber Capra, who graduated with her Polk State Associate in Science in Radiography degree in 2017, shared that the COVID-19 crisis has brought new challenges. But she feels comfortable and confident in her job as a radiologic technologist at Lakeland Regional Health due to the support and preparedness of her employer, as well as the skills and knowledge she acquired at Polk State.
"I love what I do and this situation has allowed me to appreciate what I do even more," Capra said. "People are realizing our importance and the critical role we play – we don't just push a button and we don't just deal with broken bones."
She explained that COVID-19 patients need chest X-rays each day, illustrating the need for qualified radiographers.
"We're there on the frontline, up close and personal with these patients," Capra said.
Although no one expects a crisis like COVID-19, graduates of Polk State's Radiography and Health Sciences programs share that their education and training have not only given them the technical skills they need, but also the ability to think critically and adapt as needed.
Brandi Van Cour, Manager of Poinciana Medical Center's Radiography Department who graduated from Polk State's Radiography Program in 2013, said the skills she acquired in the program have allowed her to move up the ranks and are keeping her safe while responding to the COVID-19 crisis.
"Personal protective equipment and disinfecting techniques are important, as well as remembering to take our time," she said.
Van Cour shared that her favorite thing about Polk State's program is the amount and type of clinical experiences students are afforded. She noted that unlike other schools she considered, Polk State provides more clinical hours and time in hospitals, rather than strictly clinic settings.
"Now, as a manager who hires Polk State grads, I can say that it really makes a difference – that experience in the hospitals and the amount of clinical time the students get," she said. "It allows students to take everything they are learning in the textbooks and apply it that same week through hands-on experiences."
Alexander, who enrolled in the program in January 2019 and is on track to graduate in December 2020, already has a year of clinicals under her belt. At Winter Haven Hospital and Bartow Regional Medical Center, she has had the opportunity to experience different departments and healthcare roles.
"I've learned that patient care is the most important thing," she said. "Without the patient, we wouldn't have a job. If I can put a smile on their face in the short amount of time we have with them, then I feel like I have done my job to the best of my ability."
She does that while positioning patients precisely and operating machinery skillfully to get the best possible image.
"All patients are different," she explained. "It takes critical thinking to get the job done while making sure the patient is comfortable."
Due to COVID-19, Polk State students are not currently participating in clinicals but continue to receive quality education and simulation experiences through the online learning environment.
"Our professors and our program director have been great and continue to communicate with us about the changes," Alexander said. "We are a tight-knit family and everyone is there for each other. It reinforces the 'team' mentality that is critical in the healthcare system – everyone has an important place and plays a role in the success of the team."
That is a critical objective for Luckett and the program's instructors.
While courses have been moved online, lessons still require students to think critically and are directly related to patient care.
"Students will not miss out on valuable skills," Luckett said. "This time has also sparked some powerful discussion topics, including the question of whether students still want to pursue this profession."
She has received positive feedback from students, as she continues to share words of motivation with them.
"We will all make it and I hope it only strengthens your desire to enter this profession of caring for others," she recently wrote to her students. "As is being proven daily, it can be both the most thankless and rewarding profession there is. I am proud to be part of this team!"
With 35 years of experience in the field, she reflected on a similar time when she was working in the hospital setting during the HIV/AIDS pandemic.
"I remember the fear we had in the hospital before we knew how it was transmitted," she explained. "We were still X-raying every patient, doing everything we were taught, and doing it to the best of our ability."
"The same applies now," she added. "Polk State Radiography is still here and still strong. Radiography is a viable profession. I hope this situation allows people to see new heroes who have been here all along."