Polk State Radiography grad goes from clinical to career at Winter Haven Hospital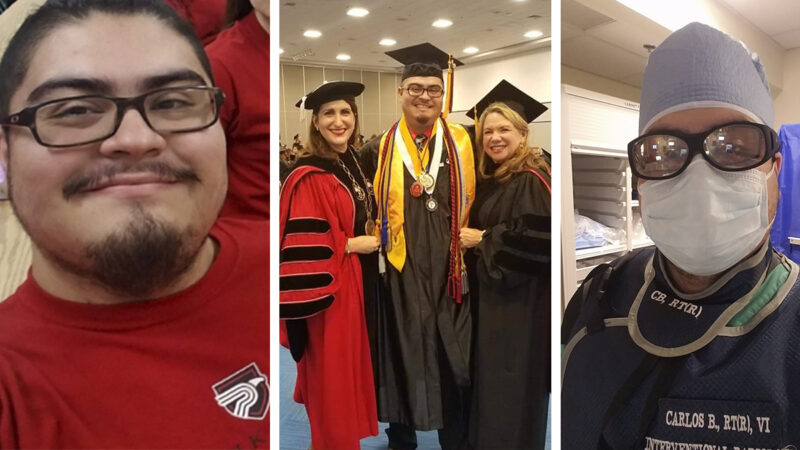 Carlos Buitrago enrolled at Polk State College unsure of what career path to take, until a broken arm introduced him to the discipline of medical imaging. In a sling for two years, he was unable to return to his restaurant job, but as he was in and out of doctor's offices undergoing extensive MRIs, X-rays, and CT scans, he became inspired to pursue a career in radiography.
Now Buitrago is an interventional radiographer at Winter Haven Hospital, where he completed some of his first clinical rotations when he was a student in the Polk State Radiography Program. He is also the creator of Lazy Bones Radiology, a YouTube channel he developed to help radiography students master their studies.
"Imaging was something I never even thought of until my accident. The Polk State Radiography Program was some of the best two years of my life. It opened many doors for me," Buitrago shared. "I used to work at Walmart, in restaurants, and in construction. After I graduated from the Radiography Program, I went straight into a job in interventional radiography, which is one of the top-tier areas in the field."
"That is one of my greatest accomplishments," he added, "and it all started at Polk State."
Buitrago graduated from high school in 2013 with a 4.0 grade-point average and scholarship offers from universities. However, it was still too costly for Buitrago to move out of the family home and away for school. The first in his family to go to college, Buitrago is from a low-income family that immigrated from Colombia.
In addition to being the local, affordable option, Polk State was also a quality choice for higher education, Buitrago explained.
"Polk State was the best choice for me because I got to learn in a small class setting and receive the same education as top-tier universities," he said. "I have friends who went to Ivy League schools, and I realized that the undergraduate education we were receiving was similar in a lot of ways."

Buitrago received his Polk State Associate in Arts degree in 2016 and then enrolled in the Radiography Program.
"One of the things I admired was the passion of the professors," Buitrago reflected. "Ms. [Jaime] Selph and Ms. [Beth] Luckett were passionate from day one, and one thing that they made clear was that you have to put forth the effort. You have a lot to learn in a two-year window, but if you put forth the effort, you will learn so much and receive a quality education."
"Their passion motivated you to do better," he added. "Every time they taught you something, you wanted to do it to the best of your ability. That's why we have the best certification [rates] in our program."
The Polk State Radiography Program's graduates boast a 100% licensure pass rate, far exceeding state and national pass rates.
In addition to their education and training at Polk State, students in the Radiography Program are required to complete clinical work in the field. Buitrago's first assignment was at Winter Haven Hospital.
"You get the opportunity to explore multiple areas of the hospital and the different modalities of working in radiography — from taking MRIs to working in interventional radiology," he explained. "Interventional radiology is where you assist the doctor during procedures, in real-time, such as the retrieval of a blood clot or fixing abnormalities of a stroke."
"It's a very hands-on position that typically requires five years of experience," Buitrago said. "Because of the training I received at Polk State and the opportunity I had as a student to work in interventional radiology during my clinical, I was hired on the spot when I graduated."
In his final two semesters, Buitrago's finances presented an obstacle between him and his completion of the Radiography Program. Thanks to the generosity of President Angela Garcia Falconetti and the Polk State College Foundation, Buitrago said, he was awarded a scholarship that paid for his last courses.
Buitrago received his Polk State Associate in Science in Radiography in 2018. He is now pursuing a Bachelor of Science in Biology from the University of South Florida with aspirations to enroll in medical school.

During his time at Polk State, he also served as a tutor, helping peers in anatomy, physiology, and biology. He has since developed his YouTube channel to provide a free, online tutoring resource. With more than 1,360 subscribers and nearly 67,500 views, Buitrago's videos are reaching students at Polk State and beyond.
"One of the best ways to test your skills is to teach them," he said. "That's something that professors Selph and Luckett promoted – that if you could explain it and others could then understand and explain it, then you know how to do it."
When recommending Polk State to others, Buitrago emphasizes the value of the College's small class sizes and tight-knit community.
"Polk State truly makes an impact on how students learn. The professors' passion for the field really shows. The class sizes are small, and the quality is top tier," Buitrago said. "You're able to learn with your professors right there with you. You don't have to worry about 200 people in a classroom and just being a number. Each professor takes the time to learn your name and go above and beyond for you."
"Polk State is one of the top programs in the U.S. We have the highest qualifications, and the degree of learning is phenomenal," he added. "When students graduate from Polk State Radiography, they know their stuff."