Polk State Phi Theta Kappa: Awards, Friends, Community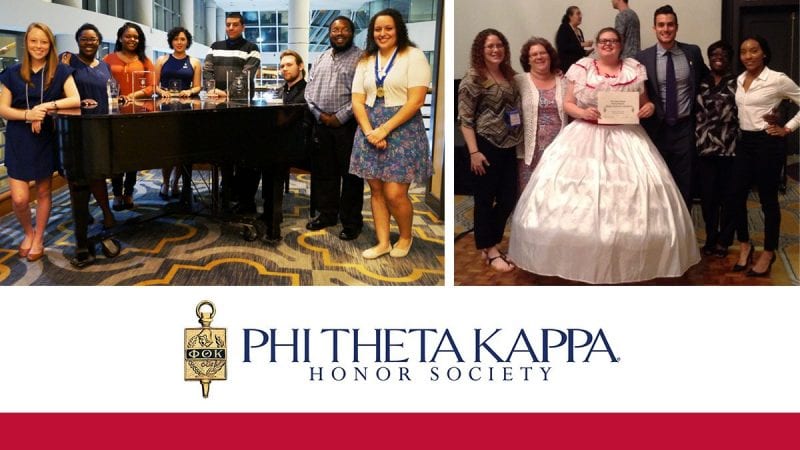 Phi Theta Kappa (PTK) is the international honor society for two-year colleges. Polk State College has two chapters of Phi Theta Kappa: Xi Pi on the Winter Haven Campus and Beta Upsilon Upsilon on the Lakeland Campus.
For the students, Phi Theta Kappa is much more than an honor society. Members have found a core group of friends who not only help one another, but act more like a community than a group of collegiate peers. For them, the organization is a network of new colleagues, friends, and yes– even family.
Yael Sykes, an Education baccalaureate student and this year's PTK Xi Pi President, is married with two children. Before venturing back to college, she naturally focused on her children and sometimes missed adult interaction. As well, she wanted to do more at Polk State than just attend classes; she wanted to contribute and belong. She found her place in PTK. After attending a meeting, she became more heavily involved in the group's day-to-day operations, eventually becoming the group's president.
"Joining forces with the leaders of the group helped me become more involved and more engaged, not only with PTK, but also with Polk State as a whole," she said.
Annually, the organization hosts regional leadership conventions that provide access to the best development training available. Workshops cover topics such as financial, interpersonal, and communication skills; successful interviewing tips; and other personal development subjects. As well, the conventions provide an environment in which members can recognize chapter work throughout the Florida region.
At last year's regional convention, Sykes was inspired to do even more. She challenged her group to focus on how they could top their 2016 achievement of being in the top 10 regional chapters.
"Last year we were in the top 10," she said. "I told our team, how do we get to be one of the top 5? How do we 'walk the stage' instead of just having our name flashed on the screen? We need to win."
As part of the recognition process at the regional conferences, each chapter can submit group-based projects for College Project or Honors-in-Action Project categories (among others), or individual projects featuring art, short stories, music, or poetry. The submissions are judged and chapters are awarded based on their impact. In the summer of 2016, the chapter's Vice President of Service, Mariannette Figueroa gathered the Xi Pi group together to determine the direction of the group's submissions.
For the College Project, the criteria stipulates that the project solve a college issue or problem. After considerable discussion, the Xi Pi Chapter determined that the Winter Haven College greenhouse, located on the Winter Haven Campus, had become neglected and could be utilized in a more intentional and deliberate manner. At the same time, Botany student, Lianna Mae Smith joined the group. Through synergistic discussion, the group determined the space could be used to grow sustainable, organic foods for the Polk State My Brother's Keeper pantry, which provides food for students in need. Lianna Mae loved the idea of cultivating her passion for plants to solve a campus issue.
"Phi Theta Kappa saved me," she said. "When I came to Polk State, I didn't know anyone, and it was hard for me to make friends. The greenhouse project was exactly what I needed to connect. It was my refuge and provided me with friends, an extended family, and new experiences. Even more wonderful, I could use my love of plant sciences in a purposeful way to make a real difference for my campus."
The greenhouse project involved hundreds of hours of removing soil, moving plants, adding new plants, building plant boxes, and more. Today, the greenhouse yields a variety of healthy foods for the pantry including more than four types of tomatoes, as well as varieties of carrots, broccoli, cabbage, and beans.
For the Honors-in-Action Project, the Xi Pi Chapter were inspired to do more work in food equity by joining with area restaurants, grocers, and convenience stores to minimize food waste by donating unused food to area shelters and community groups. The project is early in its conception, but was recognized for its unique community approach and potential impact.
This year, Yael Sykes got her wish when the Xi Pi Chapter was honored as a Regional Winner in both the College Project and Honors-In-Action Project categories, making Winter Haven's Phi Theta Kappa Chapter, Xi Pi, the Number One Chapter in Florida.
"This year was a big step for Xi Pi," said Chapter Advisor Anthony Cornett. "Previous years always built off of the year before, learning from mistakes and gaining experience, but this was a keystone year for us. Finishing at the top, as well as winning both major project awards, shows all future Xi Pi members what they can accomplish when they work hard, build relationships with fellow members and between chapters, and dedicate themselves to a goal that's bigger than all of us individually. I couldn't be more proud of these students as I am now."
The Lakeland Phi Theta Kappa Chapter, Beta Upsilon Upsilon, was also honored for its achievements and also served as the Executive Chapter for the regional conference.
"Beta Upsilon Upsilon, was the Executive Chapter for the year," said Chapter Advisor Penny Morris. "Our students were responsible for planning, organizing, and hosting the regional convention. The group handled all logistics from working with hotel staff to plan for the block of guest rooms, to coordinating the meeting rooms, and planning the awards banquet for 250 guests. As well, they were also in charge of the college fair, hosting 28 universities from Florida, Georgia, Mississippi, North Carolina, California, Texas, and New York. They did a great job managing the entire process."
Most importantly, the Beta Upsilon Upsilon Chapter wrote and submitted an essay nominating Dr. Donald Painter, Interim Vice-President of Academic Affairs, to be honored with the Florida Region's Distinguished Administrator Award.
"It is an honor to receive this award and be recognized by the students," he said. "Attending Phi Theta Kappa events and supporting our students is one of the best parts of my job. The PTK students represent the best of the best and it's always incredible to see what they accomplish. PTK provides a fantastic opportunity to engage with and recognize our high-achieving students. They are great representatives for Polk State College, and they truly embody what we mean when we say: We Are Polk."
The Beta Upsilon Upsilon Chapter also submitted to the Honors-in-Action Project and College Project categories and received a participation certificate, while also achieving the 5-Star Level for the Chapter (this is the highest level). This is a significant recognition for the chapter, as it is less than two years old.
Of the biggest accomplishments for both Phi Theta Kappa chapters at Polk State was nominating and submitting Dr. Eileen Holden for the Michael Bennett Lifetime Achievement Award. Retiring college presidents, campus chief executive officers, and state community college directors can be nominated by their respective chapters. Selections for the award are based on outstanding support provided to Phi Theta Kappa students over many years. Dr. Holden was announced as an award winner and will be honored at the international convention in Tennessee this April.
Polk State's other awards included:
Lianna Mae Smith, Distinguished Member Award
 Nick Moseley, Regional Music Composition Award
Stephie Jean, Regional Art Award
Breanna Eaton-Carlson, Best Short Story/Narrative, FIve-Star Competitive Edge Award
For the students at Polk State, Phi Theta Kappa represents a place to belong and truly leave an impact during their college experience. Phi Theta Kappa is one of more than 50 clubs and organizations offered through the College's Student Activities and Leadership Office (SALO). Activities and clubs such as PTK enhance students' learning experience, add to the community, provide enjoyment, and create more opportunities for success in the future.