Polk State Nursing Professors Earn National Publication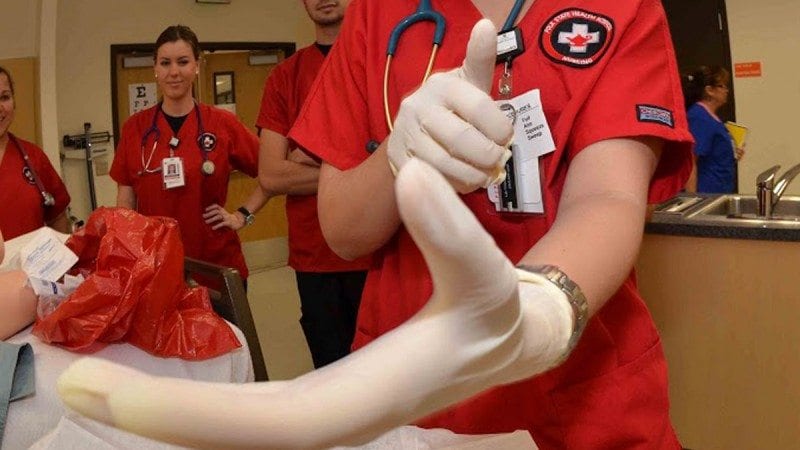 Two Polk State Nursing professors have recently had their work published, one in a professional journal, the other in a book edited by a world-renowned expert.
Mavra Kear, coordinator of the College's Bachelor of Science in Nursing and Lakeland Regional Medical Center Endowed Professor in Nursing, was the lead author of "Nursing Shared Governance: Leading a Journey to Excellence," which appeared in the June edition of the Journal of Nursing Administration. Her co-authors were Janet Fansler, senior vice president, chief nurse executive and chief operating officer at LRMC; Kathy Hunt, director of professional nursing practice at LRMC; and Pamela Duncan, formerly a clinical nurse specialist at LRMC who now works for Moffitt Cancer Center.
The article examines the process LRMC used in engaging its nursing staff in selecting a professional practice model for nursing at the hospital. A professional practice model is a framework for nurses, defining their goals and values in delivering patient care. As the article explains, involving the nursing staff in the process of adopting a professional practice model created a sense of excitement and ownership among the nurses.
Kear has previously published articles in the Journal of Nursing Education, Journal of Community Health Nursing, and The Florida Nurse.
Also recently published is Mimi Jenko, a professor in the College's BSN program, who wrote a chapter in the book Techniques of Grief Therapy, which was published in April. Jenko's chapter, "Life Review," focuses on practices that can be used to counsel individuals in bereavement after the death of a family member or other loss.
The book was edited by Robert Neimeyer, a professor in the psychotherapy research area of the Department of Psychology at the University of Memphis who has published 25 books and is the editor of two international journals.
Jenko's previously published articles include "Broken Hearts — Healing Hearts: The Development and Facilitation of a Grief Support Workshop for Hospital Employees," which was published in the Journal of Hospice and Palliative Nursing in 2011.
Kear and Jenko are both Registered Nurses. Kear has a doctorate in nursing. Jenko was recently accepted to the Doctor of Nursing Practice program at Duke University.
Polk State Nursing Director Annette Hutcherson congratulated Kear and Jenko on their published works.
"It shows their professionalism and dedication to the profession and maintaining a high quality of practice in the profession. It also shows their commitment to themselves from the standpoint of continuing to further their own professional development," she said.
Polk State's Nursing Program is one of several Health Sciences programs offered by the College. The Nursing Program offers Associate in Science and Bachelor of Science degrees, and serves approximately 400 students in any given term. Approximately 60 percent of Polk County's Registered Nurses graduated from Polk State.