Polk State Names Andy Oguntola Director of JD Alexander Center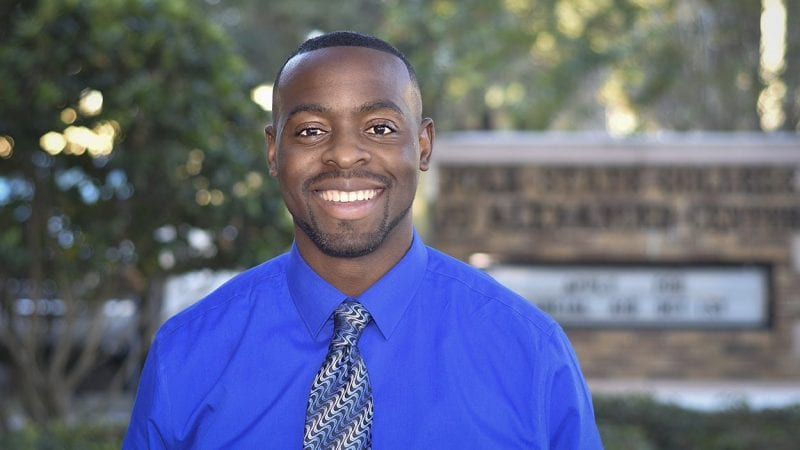 Polk State College has named Andy Oguntola as director of the Polk State JD Alexander Center in Lake Wales.
A Lake Wales resident, Oguntola comes to Polk State from Valencia College, where he served as director of admissions and registration and as adjunct professor.
Oguntola earned a bachelor's degree and a Master of Business Administration from Webber International University. He is working toward a doctorate in education  from Nova Southeastern University.
"Living in Lake Wales for the last 15 years, I've seen the ability of Polk State to grow," says Oguntola.
"I've seen what the Polk State JD Alexander Center does for the city of Lake Wales, and I want the Center to not only be in the city but also to become of the city.
"I believe I can bring my skills and talents to be strategic and create successful relationships for students at Polk State."
In his new position, Oguntola plans to focus on promoting higher education in general and Polk State in particular.
"One of my biggest goals is to make sure that every student in Lake Wales has a chance to go to college," he said.
"That's my main focus — to make sure we get in the community and show these kids that Polk State is right in their backyard."
Achieving that goal, said Oguntola, will require a team effort.
"I call it a team, but we're really a family. I want to inspire this group of individuals and these leaders to push ourselves to the maximum potential and to grow this campus to its fullest potential."
As a Lake Wales resident who is active in his community, Oguntola looks forward to partnering with local leaders.
"I have strategic relationships in the city and I know a lot of individuals and believe we can sit down and have conversations and really try to figure out ways that we can work together to create successful opportunities for students.
"I also want to focus on parents because as they learn what Polk State offers, they will encourage their kids to go to college and some of those adult learners will also come to college. We'll try to bring both students and parents to college."
Local leaders in Lake Wales also look forward to working with Oguntola.
"We are pleased to hear that Mr. Oguntola was selected as the new director for the Polk State JD Alexander Center," said Jesse Jackson, superintendent of the  Lake Wales Charter Schools.
"Since opening its doors, the Polk State JD Alexander Center has become an important higher education resource for the Lake Wales community. Those of us who have had the privilege of working with Mr. Oguntola know him as an extremely resourceful and passionate person when addressing the needs of students.
"We look forward to his passion and leadership as the new director for the Polk State JD Alexander Center."
Donna Dunson, principal of Lake Wales High School agrees.
"I am extremely happy over the appointment of Andy; he is one of the finest men I know," she said.
"His work with Lake Wales High School has helped us dramatically increase our college acceptance rate. This is excellent news for the Lake Wales community. Once again, Polk State President Eileen Holden is looking out for our students."
Reaction at Polk State is equally positive.
"We are excited for Andy to join our team," said Polk State Winter Haven Dean of Student Services Larry Pakowski.
"His enthusiasm and experience will make him an asset to the College, but it is his dedication and passion to serve the Lake Wales community that makes him the ideal candidate for this position.
"With Andy at the helm, I truly believe the Polk State JD Alexander Center will soar to new heights."