Polk State Again Named Best Workplace For Commuters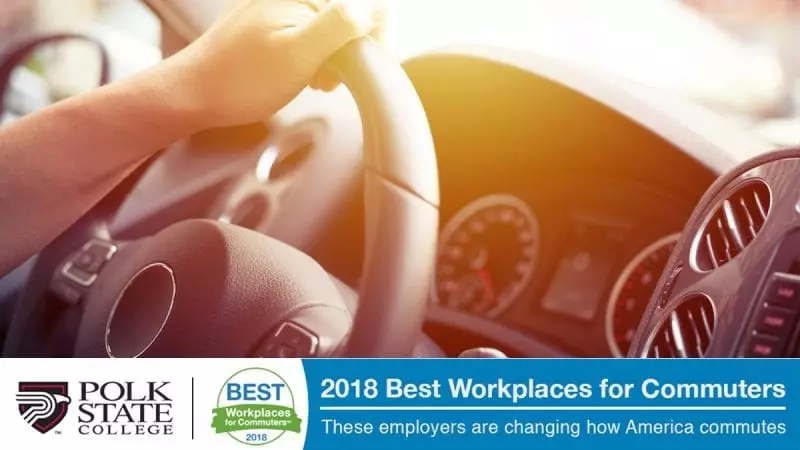 Universal access to public transit, green initiatives, and designated parking spots for carpoolers have earned Polk State College its sixth consecutive Best Workplaces for Commuters award.
The Florida Department of Transportation (FDOT) recently notified Polk State of the award for exceptional commuter benefits the College offers at both its Lakeland and Winter Haven campuses. Of the approximately 200 awardees in the country, Polk State is one of only two state colleges to be recognized.
"We are honored to be nationally recognized once again for our transportation efforts," Provost Steve Hull said. "Polk State's mission is to provide access to higher education, and providing access to free public transit to our employees and students is a huge piece of that."
Through a partnership with CitrusConnection, Polk State employees and students can ride the bus for free with their valid Polk State photo IDs.
Polk State also partners with FDOT Commuter Services to provide commuting resources for carpooling and access to Emergency Ride Home programs. Employees and students who are interested in participating in the program should visit the Polk State Student Activities & Leadership Office (SALO) at the Lakeland Campus in LAC 1239 or visit Commuter Services online.
The Polk County Board of County Commissioners will formally recognize Polk State with the 2018 Best Workplace for Commuters award in April. Commuter Services has coordinated the recognition to take place during Earth Month to coincide with the 2018 Commuters Go Green and Earth Day 2018 Challenge, which Polk State plans to participate in.
Activities include worksite and college campus challenges to try alternatives to driving alone, such as biking, walking, carpooling, taking public transit, working from home, teleworking, and more.  The campaign urges people to use alternative transportation modes and track their trips to win prizes donated by local organizations.
Commuter Services is a free program of the Florida Department of Transportation District One, serving 12 counties including Polk. The program works with local governments, employers, colleges, and transportation partners to help build better communities that offer a wider range of transportation choices, like bicycling and walking, and better accessibility for carpools, vanpools, or transit services.
Best Workplaces for Commuters is a program of the National Center for Transit Research at the University of South Florida. The Best Workplaces for Commuters designation bestows national recognition and an elite designation to employers offering outstanding commuter benefits as set by the National Center for Transit Research (NCTR) and the U.S. Environmental Protection Agency (EPA).