Polk State Music students join internationally acclaimed Heralds of Harmony chorus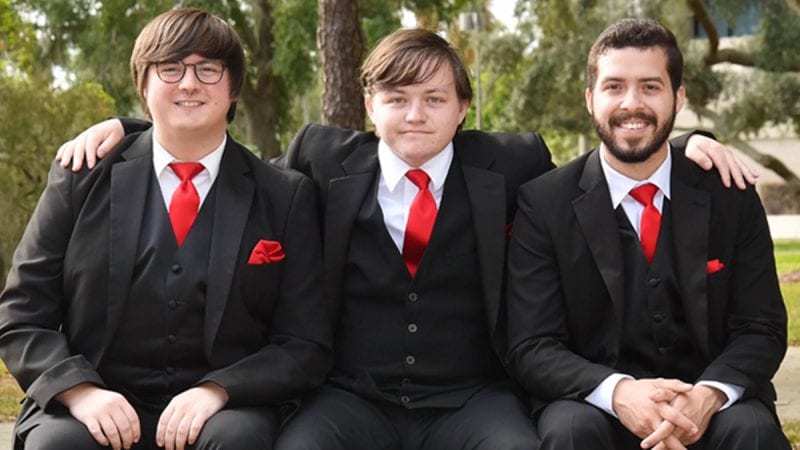 The Heralds of Harmony chorus has entertained audiences for decades, receiving international acclaim and most recently placing sixth at Barbershop Harmony Society's 2018 International Convention. Now two students and a recent alum are singing among the highest caliber of barbershop performers in the world, honing the skills they have developed at Polk State College.
Zyan Busby, Jordan James, and Shawn Klein have taken the next step in their music education and careers as members of the 60-men chorus based in Tampa Bay and will tour with the group across the nation this summer – an opportunity they say would not be possible without the lessons and support they have received through Polk State Music.
"Polk State has taught me healthy singing and made sure I was technically prepared for an opportunity like this," Busby said. "The quality of our professors here is what I enjoy most about the program. They have taught at the university level and have experience in the field. We are getting the exact same quality – if not better quality – lessons as anywhere else."
James and Klein echoed similar sentiments, noting that the Polk State Music experience is enhanced through the affordability, flexibility, and individualized approach of the program. They also credited Professor of Music Michelle Manzi or "Mama Manzi" as they fondly call her.
"There is attention to individual voices here at Polk State that I'm not sure students would get at a larger school," Klein said. "At the same time, we are taught how to function in a group and take our voices to the next level so that we can move on to the university and higher levels."
They landed the opportunity to advance to a "higher level" after networking with members of a capella group Voctave during a holiday concert in 2017. Voctave member Tony De Rosa, who directs the Heralds of Harmony, invited the eager students to rehearse with the group.
While rehearsals are open to the public, individuals are selected to participate in private voice placement exercises before they are asked to audition to perform with the group. Busby, James, and Klein have all earned permanent places with Heralds of Harmony and plan to tour across the country with the group in July.
"Jordan, Zyan, and Shawn have added their excellent musical ability, education, and vocal skill to the Heralds performing chorus and we look forward to their contributions to our success," Heralds of Harmony President David Roberts said.
The students shared that they have already grown immensely from the experience.
"I'm still awed by the group's level of professionalism, willingness to work with us, and feedback that allows us to continue growing as vocalists," James said.
The experience has also been one of self-discovery and confidence building.
James and Busby are currently working toward Associate in Arts degrees. Klein received his Associate in Arts degree in December 2018 and plans to pursue a bachelor's degree in Music Performance and Composition at the university level. Busby also wants to pursue a higher degree, possibly in Musical Theatre, but James wants to "follow in Tony's footsteps" by going straight into the field, learning through more hands-on experience – a route that has proven successful for many performers.
"Working with Tony and the Heralds of Harmony has given me confidence in the path that I'm taking," said James, who added that his encounters with other members of Voctave have been equally encouraging. Voctave performed at Polk State in October 2018. "They remembered who we are and shared their different paths of success, supporting each of us in our different pursuits."
The College supports students in the same way.
"Polk State Music fosters creativity and is attentive to our individual voices while giving students the technical skills they need to succeed in whichever path they decide to take," Klein said. "The professors at Polk State teach you how to find your own voice, make it work in a group, and succeed in auditions."
Leading up to the national tour, the Heralds of Harmony members will rehearse weekly, take master classes with world-renowned vocalists, and participate in contests with the group.
"This experience is going to make us better performers and build upon everything we have learned at Polk State," Busby said. "It's a dream come true."