Polk State Music Presents "Broadway in Concert" and "Fall Spooktacular" in October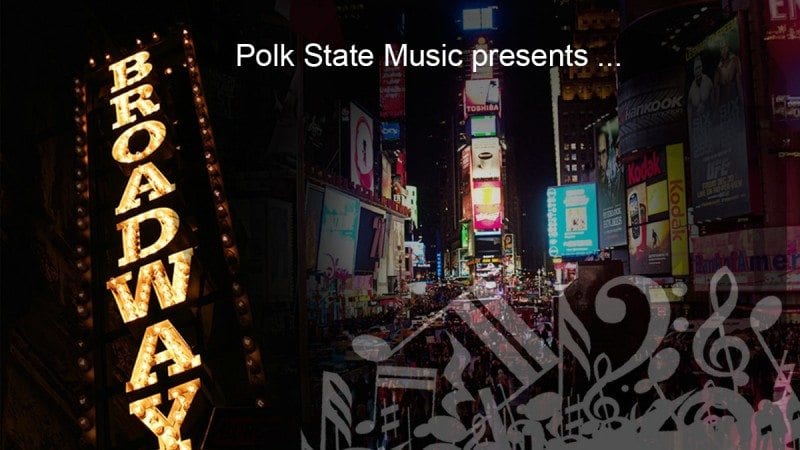 Polk State Music will begin its 2015-16 season with "Broadway in Concert" at 2:30 p.m. on Oct. 18 at the Polk State Winter Haven Fine Arts Theatre, 999 Ave. H N.E.
"This is absolutely the most incredible concert we've ever done," said Polk State Music Coordinator John Anderson.
The repertoire for the concert will include selections from Broadway favorites such as "Porgy and Bess," "Ragtime," "Sweeney Todd, the Demon Barber of Fleet Street," and "Oklahoma!"
While the pieces themselves will be familiar, Anderson said, attendees are in for a unique experience.
"People are all used to Broadway music," he said. "But people are not used to Broadway music being performed in a concert setting, with no makeup and scenery, just voices."
Relatedly, Anderson said:
"On Broadway, you'll have a single voice singing these pieces, but when they're performed by an entire chorus, it takes on a whole new level. Probably a lot of people have heard these pieces, but not in this way."
Example: "Bring Him Home" from "Les Misérables."
"It's a very dramatic piece of music that is performed as a solo in the play. But when you have 25 guys singing it as a chorus, it becomes this big, thunderous sound, yet it's still very gentle. It's hard for me to conduct it without tearing up," Anderson said.
Another reason to attend "Broadway in Concert," Anderson said, is the sheer variety of music.
"One song will bring you to tears and the next one will have you laughing. That's the way we want the concert to be," Anderson said.
Performing in "Broadway in Concert" will be Polk State Music's men's and women's choruses, vocal jazz ensemble and concert choir.
"These students are taking on some very challenging material," Anderson said. "I think it's going to be mind-blowing to hear the things we're doing here."
Tickets for "Broadway in Concert" are $7.
Spooktacular
"Broadway in Concert" will showcase the talents of Polk State's choruses, while a separate event will feature the symphonic band.
"Fall Spooktacular!" will take place on Oct. 27 at 7 p.m. at the Polk State Winter Haven Fine Arts Theatre. Admission is $7, but children in costume will get in free.
Director of Bands Don West said attendees can expect to hear lots of spooky, Halloween-y music, such as "Abracadabra," "Nevermore," and "Pieces Macabre."
"There will be thrills, chills, fun and surprises for all ages in this exciting concert by the Polk State symphonic band. We will have a costume parade and treats for our younger audience members," he said. "This will be a one-of-a-kind family event that will surely get everyone in a Halloween mood."
For more information, visit polk.edu/music.
In addition to Music, Polk State Fine Arts includes Theatre and Visual Arts, all of which enjoy outstanding statewide reputations.