Polk State LSAMP students present plan for safer drinking water at national competition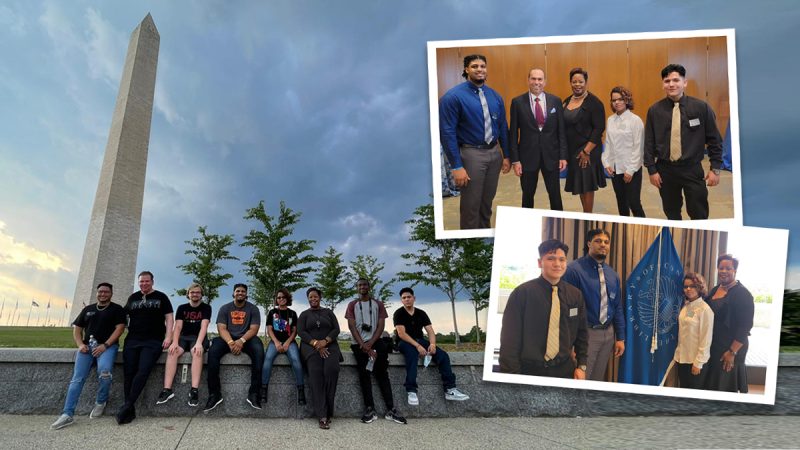 What's the big idea?
For a trio of Polk State College students, the answer was making drinking water safer. Tyrece Frater, Emily Garcia, and Anthony Diaz Ortega presented their big idea earlier this month in suburban Washington, D.C.
"We saw it as an opportunity to solve a local and global issue," Frater said. "There is this stigma that community colleges can't make an impact or a difference. We got to speak at the Library of Congress, so that shows what you can accomplish."
The Polk State trio participated in this year's Community College Innovation Challenge, which took place from June 12-16. The group was tasked with finding an innovative solution to a global problem. The three members of the Louis Stokes Alliance for Minority Participation (LSAMP), a program that assists minority students entering STEM fields, crafted a way to address microplastics in drinking water.
"There's already large-scale filters like in laundry machines to filter out these microplastics," Diaz Ortega said. "Our plan was to use the same technology on a smaller scale to filter out these microplastics."
Microplastics are small pieces of plastic less than five millimeters long. They are filtered out using a process called reverse osmosis. Diaz Ortega said the team's idea was to use polymeric and graphene membranes to create barriers to filter out the microplastics.
"Ultimately, I'd like to be able to make drinking water safer," Diaz Ortega said. "I'd also like to find a way to make that available for low-income communities."
Diaz Ortega and Garcia began researching the issue for a class led by KT Moran, Professor of Earth Science. The two went to local lakes and collected water samples. Using microscopes, the two were able to see high volumes of microplastics.
"Since Anthony and I had experience in this with lakes, we decided to look into drinking water," Garcia said. "I definitely want to do more research into this."
The Polk State trio was among 12 teams selected nationally to participate in the competition led by the American Association of Community Colleges (AACC) in partnership with the National Science Foundation (NSF), which paid all expenses, including airfares, lodging, and meals. Over the week in Arlington, the students had the opportunity to pitch their solutions to members of the AACC, NSF, and a handful of members of the U.S. Congress.
"It was great exposure and a very eye-opening experience," Frater said. "One thing I learned is that even if you're not in business to always be ready to speak. We focus so much on the science but once we got there, it was more about the soft skills – making eye contact, speaking clearly and with confidence…That was very important."
Throughout his journey, Diaz Ortega said Yulonda Bell, Associate Dean of Student Services, served as a mentor for the students. Diaz Ortega will be entering his second year at Polk State and is pursuing his associate degree with plans to transfer to university-level studies in exercise science. He hopes to see Polk State students return to Virginia for the challenge next year.
"It was a life-changing experience," he said. "I learned a lot of things about entrepreneurship and how to sell your idea. I'm interested in doing more research on this. I would really like for other students to get involved in this challenge. This is a great opportunity."
Frater graduated from Polk State with his Associate in Arts degree in December but continued to take classes to satisfy prerequisites for a baccalaureate program in biomedical science. He wants to be either a physician or a physician's assistant.
"You don't need fancy backgrounds or to grow up in a big city," Frater said. "You just have to work hard and be confident and the opportunities will be there."
The Polk State team did not finish in the top three at the Community College Innovation Challenge, but the students were proud of the way they presented.
"The great results of our conference are a direct reflection of the work that (STEM Program Manager) Mr. John Fynn has been doing through the LSAMP program," Frater added. "LSAMP prepared us to be on that big stage."
Currently pursuing her AA, Garcia hopes to major in environmental engineering at a university. For Garcia, finding ways to make drinking water safer is a newfound passion.
"The best part of the LSAMP program is it gives me research and lab opportunities that I never would have had," she said. "We didn't expect to be chosen but we were, and we made the most of this opportunity. The presentations went really well. I think we did amazing."