Polk State Leads State in Graduate Hires, Salaries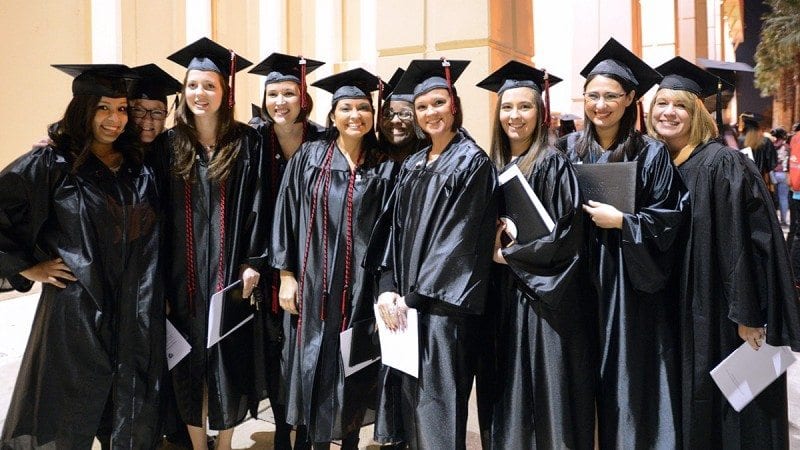 Graduates of Polk State College's Associate in Science degree programs earn more money in their first year of employment than graduates of any other public college in the state, a recently released report shows.
Between the academic years of 2007-08 and 2011-12, Polk State's Associate in Science graduates earned a median first-year salary of $49,026.
Polk State's graduates out-earned the graduates of all other 27 Florida College System institutions and exceeded the statewide median first-year salary by nearly 10 percent.
"Polk State graduates have skills that employers need and are willing to pay top-dollar for — that's what this report says," explained Polk State President Eileen Holden.
"This isn't by coincidence, of course. Polk State is deeply, inextricably integrated with local employers. Our programs are developed and carefully tailored to meet employer demands. The result is that our students get the education that gets them hired and gets them paid. That's been the Polk State way for 50 years."
The report, "Labor Market Experiences After Postsecondary Education: The Earnings and Other Outcomes of Florida's Postsecondary Graduates and Completers," is a product of the Economic Success Metrics Project Completed through College Measures.org, a joint venture of the American Institutes for Research and Matrix Knowledge Group.
The report examined median first-year earnings of graduates and completers from Florida's public colleges, universities and technical centers between the academic years of 2007-08 and 2011-12. The report is based on information from the Florida Education and Training Placement Information Program, the Florida Department of Education, the Wage Record Interchange System 2 and the Florida Department of Education's Office of Student Financial Assistance.
Polk State's two-year Associate in Science degree is designed to lead directly to the workforce. The College offers the degree in areas including business, the health sciences and public safety.
Polk State College Vice President for Academic Affairs Ken Ross said that what puts Polk State at the top of the heap for earnings is that eight of the College's Associate in Science degree programs are in high-paying health sciences fields, such as Nursing and Diagnostic Medical Sonography. For example, the U.S. Bureau of Labor Statistics reports the 2012 median salary for registered nurses was $65,470, nearly twice the median annual wage determined for all other occupations. The median salary for sonographers is similarly high, according to the BLS.
"We're the leader in earnings because such a large proportion of our Associate in Science degrees are delivered by top-quality programs that lead students into high-paying careers," Ross said.
Polk State also achieved high marks for its employment of Associate in Science graduates, with 89 percent of graduates being hired within one year of completing their degrees. Polk State College ranked second in the state, behind only South Florida State College, in Associate in Science graduate employment, and was well ahead of the statewide median of 79 percent employment.
There was more good news in the report for Polk State, particularly for its baccalaureate degree offerings. According to the report, those who complete bachelor's degrees at FCS institutions such as Polk State earn a statewide median first-year salary of $41,000, 22 percent more than those who receive baccalaureate degrees from institutions within the State University System.
Earnings data specifically for Polk State were not available in the report because the College launched its first baccalaureate degree, the Bachelor of Applied Science in Supervision and Management, in 2010, near the end of the time period used to compare institutions.
Polk State has since launched baccalaureate programs in Nursing, Criminal Justice and Aerospace Sciences, which, like the Bachelor of Applied Science in Supervision and Management, all target local labor needs.
There was more good news in the report with regard to students' financial burden.
In 2011-12, the report showed that the average federal student-loan debt for a Polk State College graduate was $2,800, the sixth-lowest debt load of all FCS institutions, and less than half the average debt of state university graduates during the same time period.