Polk State Lakeland Marks New Chapter of Phi Theta Kappa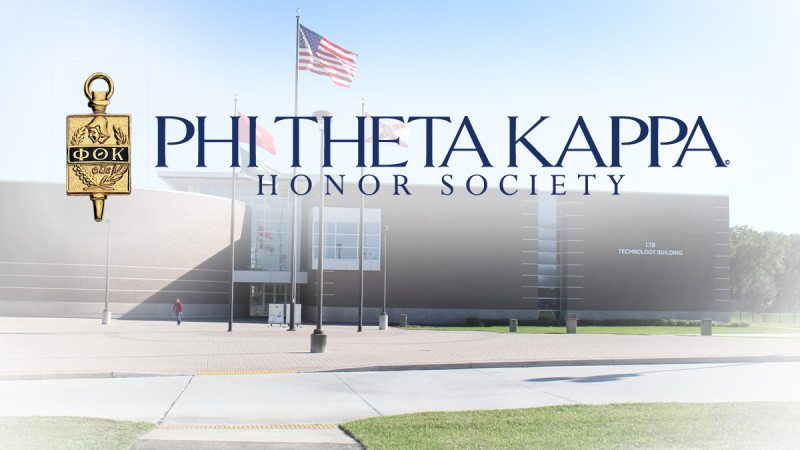 Polk State College on Sunday marked the establishment of its second chapter of Phi Theta Kappa, the international honor society of two-year colleges.
Polk State has for decades had a single chapter — the Xi Pi Chapter — of Phi Theta Kappa, which served students on both the Lakeland and Winter Haven campuses. Xi Pi had grown to serve more than 200 active members as of earlier this year.
With such a large — and ever-expanding membership — and the logistical challenges of alternating meetings between the two campuses, Xi Pi leadership earlier this year decided to explore forming a Lakeland-based chapter.
That chapter has now become Beta Upsilon Upsilon, the 78th Phi Theta Kappa chapter in the state.
Beta Upsilon Upsilon became official on Sunday evening, during a chartering and induction ceremony at the LTB building, an event attended by inductees, their families and members of the Polk State administration.
Polk State Vice President for Academic and Student Services Kenneth Ross welcomed the attendees and described the new chapter as a significant milestone in the College's history.
"This is an exciting day," he said. "Polk State in the last several years has grown dramatically. With that growth comes this new baby, this new chapter of Phi Theta Kappa."
Also speaking at the event was Connie Lamarca-Frankel, Florida regional coordinator for Phi Theta Kappa.
"As I've seen how your college has grown, I knew it was just a matter of time before you'd have another chapter," she said.
Lamarca-Frankel lauded Polk State's Phi Theta Kappa members for their dedication to their studies, even while many of them juggle work, families and myriad other responsibilities.
"You are being honored tonight for your academic excellence," she said. "I know it's not something you haven't had to work for — excellence is work."
Lamarca-Frankel presented Polk State Lakeland Provost Stephen Hull with a commemorative plaque to mark the formation of Beta Upsilon Upsilon. In accepting the plaque, Hull also offered his congratulations to the students of the new chapter for their academic achievements.
Members of Phi Theta Kappa must have completed 12 college-level credit hours and have at least a 3.5 grade-point average.  Members must maintain a 3.0 grade-point average.
Advisers for the Beta Upsilon Upsilon include Penny Morris, who had previously been co-advisor of Xi Pi and a mathematics professor at Polk State Lakeland, and Paula Celestey, who has worked at the College in several capacities, including as a tutor.
Elected officers for the Beta Upsilon Upsilon chapter include:
President, Donna Grant, Lakeland
Vice President of Scholarship, Jennifer Freijomel, Lakeland
Vice President of Leadership, Robert Gerber, Bartow
Vice President of Service, Olivia Gerber, Bartow
Vice President of Communications and Historian, Michael Grant, Lakeland
Newly inducted members of the Beta Upsilon Upsilon chapter include:
Joseph Ash, Lakeland
Dennis Autrey, Winter Haven
Hannah Ball, Lakeland
Charles Birge, Lakeland
Richard Caron, Lakeland
Jessi Clayton, Lakeland
Robyn Dearth, Plant City
Eduardo Frias, Lakeland
Marley Garcia, Auburndale
Olivia Gerber, Bartow
Michael Grant, Lakeland
Mckenna Hellein, Ona
Zoe Holmquist, Lakeland
Jessica Hosegood, Lakeland
Danielle Kinstetter, Winter Haven
Megan Lalonde, Auburndale
Jennifer Lassiter, Lakeland
Dustin Latner, Auburndale
Emily Leedy, Lakeland
Molly Leopold, Mulberry
Matt Lewis, Mulberry
Gillian Moering, Plant City
Animesh Patel, Lakeland
Arianna Reinberg, Lakeland
Antoinette Rich-Payne, Auburndale
Corey Rose, Lakeland
Aubrey Salamin, Lakeland
Bryce Schiebel, Mulberry
Jonathan Skinner, Mulberry
Ryan Sloan, Lakeland
Laura Springer, Mulberry
Stephanie Stanley, Lakeland
Julie Storm, Lakeland
John Taylor, Lakeland
John Traas, Lakeland
Michael Troller, Lakeland
Brooke Ward, Lakeland