Polk State Lakeland HOSA qualifies for internationals in its first year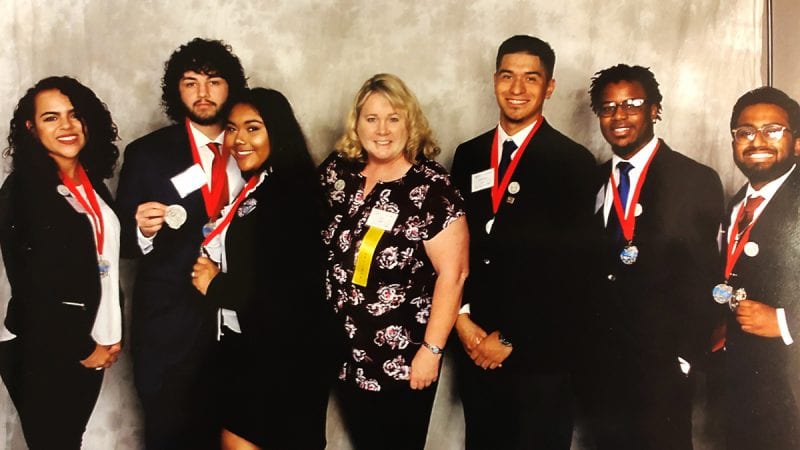 Students part of Polk State College Lakeland's Health Occupations Students of America (HOSA) – Future Health Professionals will participate in the organization's International Leadership Conference in Orlando this June after placing in their categories at the HOSA Florida State Conference.
Polk State Lakeland's HOSA post-secondary chapter, which is in its inaugural year and launched after students expressed interest in the opportunity, hosted 10 student competitors at the HOSA Suncoast East Regional Competition in January at Winter Haven High School.
Francesca Ancaya, Naylis Cruz, Kael Davis, Abigail Garcia, Blessen Jacob, and Christian Lara participated in the Public Health category; Victoria Fisher and Angelica Luna competed in Nursing Assisting; Randon Arce participated in Clinical Nursing; and Lilianna Ponce participated in Health Career Photography.
Arce, Davis, Cruz, Garcia, Jacob, and Lara went on to compete at the HOSA Florida State Conference on March 28 in Orlando, where they achieved second place in their categories, making them eligible to compete in the upcoming HOSA International Leadership Conference.
"[Students] approached me with the idea and after doing some research into the organization, I realized that starting a HOSA chapter on campus would provide students pursuing occupations in the health field some exciting, beneficial, and experiential learning opportunities," said Kari Sabin, Professor of Wellness and Polk State Lakeland HOSA Advisor.
Students who are interested in participating in the Polk State Lakeland HOSA chapter may contact Sabin at ksabin@polk.edu or 863.669.2869.