Polk State Lakeland Gateway to College Collegiate celebrates first National Merit Scholar in school's history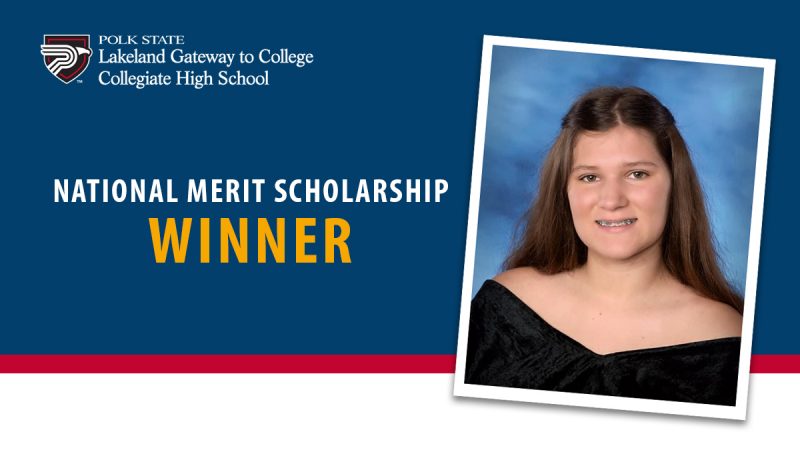 Polk State Lakeland Gateway to College Collegiate High School is celebrating its first National Merit Scholar in the school's history.
Abigail Matta is one of only 1,000 distinguished high school seniors nationally to be awarded a corporate-sponsored National Merit Scholarship award for the program's 66th year. Her award is sponsored by FedEx as she is the daughter of a FedEx employee.
More than 1.5 million juniors in about 21,000 high schools entered the 2021 National Merit Scholarship Program by taking the 2019 Preliminary SAT/National Merit Scholarship Qualifying Test. Of those students, only 15,000 reached the finalist pool and about 7,500 will receive National Merit Scholarships.
Along with the Florida Academic Scholar Bright Futures Scholarship and the University Freshman Scholarship, Matta will continue her higher education at Florida State University in the fall to study Business Management.
"I am very fortunate and grateful for these opportunities," Matta said. "Gateway is great and has provided me with the opportunity to grow, not only through my high school classes but also by allowing me to achieve my associate degree at the same time."
Polk State College's three collegiate high schools serve juniors and seniors and allow students to fulfill high school requirements while also earning college credits. In most cases, students graduate with both their high school diplomas and Polk State associate degrees at no cost to them.
While at Gateway, Matta has participated in the National Honor Society and is salutatorian of her graduating class with a grade-point average of 4.667.
She said that while going to school during the COVID-19 pandemic has been challenging, Polk State Lakeland Gateway to College Collegiate High School has provided the support students need to succeed.
"The professors, counselors, and administrators have all be great, supportive, and communicative," she expressed.
Matta offered some words of motivation and advice to her peers and future students.
"Stick to the hard work and it will pay off," she said. "It can be hard sometimes but if you put your best foot forward each time, you can overcome and achieve anything."