Polk State KCTIPS recruit receives Michael Callin Memorial Scholarship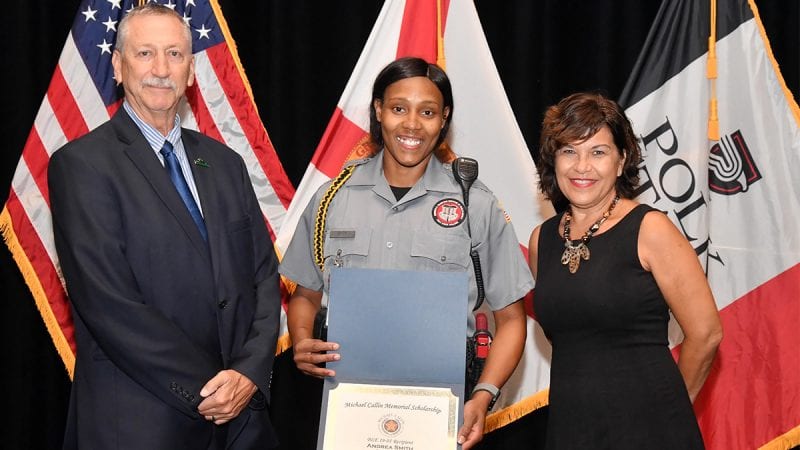 One ambitious Polk State College Kenneth C. Thompson Institute of Public Safety (KCTIPS) recruit recently received the Michael Callin Memorial Scholarship for her commitment to serving the community and doing so with integrity.
KCTIPS recruit Andrea Smith was surprised when the parents of the fallen Orange County Sheriff's Office motors deputy visited Polk State's Center for Public Safety to present her with the scholarship in their son's memory.
Recipients of the scholarship must be enrolled in Polk State's KCTIPS, the Criminal Justice Institute at Valencia College, or the Criminal Justice Academy of Osceola.  Applicants must submit their grades, letters of recommendation, and an essay illustrating their integrity and service to the community.
"We look for someone who has demonstrated great community service – that's a big thing that was near and dear to Michael's heart," Anna Callin said.
Smith wrote about her passion for serving as an assistant basketball coach and mentor to young students.
"All of these roles may have required different duties, but each of them required me having integrity. With the numerous leadership roles I have possessed, standing on what I speak has been something required of me," she wrote. "You can talk about what it is to have integrity, but if you are not living it, your definition is invalid."
David Callin echoed a similar sentiment.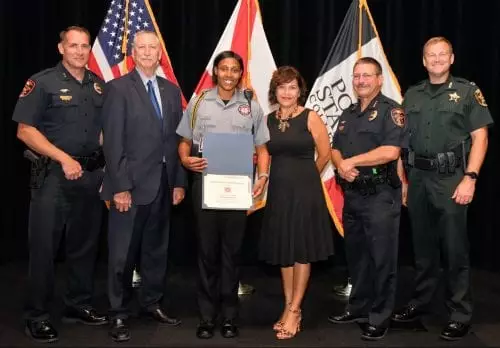 "You hear the mantra to protect and serve," he explained. "This scholarship puts an emphasis on protecting yourself and your community. Serve your community and fellow officers – that's true service."
The Callins presented Smith with the $2,500 scholarship in front of her class alongside KCTIPS Director Captain Bart Davis and Lakeland Police Chief Ruben Garcia.
Smith has accepted a conditional job offer with the Lakeland Police Department.
"Her enthusiasm is contagious…. Her face lights up when she speaks about her… ambitions for the future as a law enforcement officer," wrote Sgt. Emma Henderson with the Lakeland Police Department who serves as Coordinator of the KCTIPS Law Enforcement Academy. "I personally feel that the Michael Callin Scholarship should go to someone who possesses strong leadership qualities and a genuine concern for their community. Ms. Smith fits these guidelines perfectly."
Callin was killed in the line of duty in 2006. To honor his life, the Callin family established the Michael Callin Memorial Scholarship Fund, which has provided scholarships for nearly 30 individuals since 2007.
Smith is the second Polk State KCTIPS recruit to receive this scholarship, following recruit Kaitlyn Gladhill's award in 2017.