Honor and Sacrifice: Public Safety Student, Kaitlyn Gladhill, Awarded the Michael Callin Memorial Scholarship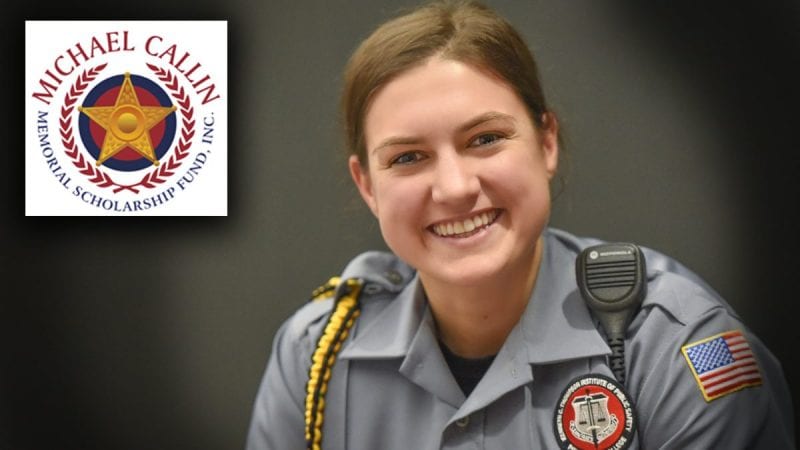 The legacy of Michael Callin can be summarized in two words: honor and sacrifice. Michael, a deputy with the Orange County Sheriff's Office, was killed in the line of duty in 2006. To honor his life, the Callin family established the Michael Callin Memorial Scholarship Fund to provide educational funding for students and police academy recruits who represent the stellar example of service shown through Michael's passion and commitment.
Since 2006, the Callin family has provided 21 scholarships to recruits in Seminole, Osceola and Orange counties. For the first time, the scholarship has been awarded to a Polk County recruit: Kaitlyn Gladhill of the Polk State College Kenneth C. Thompson Institute for Public Safety.
Kaitlyn, who graduated in 2014 with a bachelor's in Criminology from Florida Southern College, is in her fourth month at the Institute for Public Safety. In being awarded the scholarship, she says she feels shocked, surprised, and honored.
"This is more than financial assistance; this is about representing the life of a person who gave so much," she said. "To have the opportunity to live out Michael Callin's legacy is an honor and a dream. I am so grateful and truly touched by this award."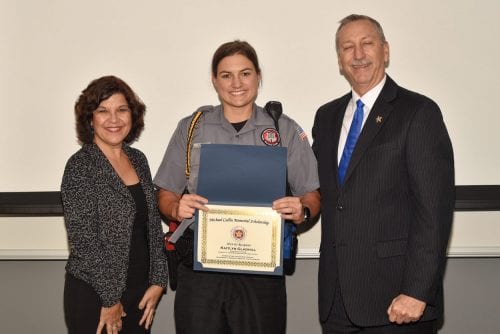 Criteria for the scholarship includes character references, transcripts, academy acceptance and an essay demonstrating the applicant's integrity and commitment to community service. Kaitlyn focused her essay on her passion— health and wellness. As an avid sports fan, Kaitlyn has donated both time and resources to planning CrossFit events, 5K runs, and student athletic competitions benefitting community organizations such as the Winter Haven Hospital Foundation and Polk State College.
"As a young person, I learned so much about myself—and people in general—from participating in sports and wellness programs," she said. "I love being part of a team that works together to achieve a goal. The opportunity to share that philosophy with students and adults is a big plus for me."
This team mentality is also what prompted Kaitlyn to join the police academy. Her dream is to join an agency where collaboration, teamwork, and service are essential to the fabric of the organization.
At Polk State College, Kaitlyn has found a new home. A native of Maryland, she moved to Polk County to attend college, leaving behind a family with whom she is very close. While she has now lived in Polk County for a few years, she has been impressed by, and benefitted from, not only the incredible facilities at Polk State, but also the support of instructors, administrators, and her fellow classmates. In her words, she is experiencing the "best of the best" in her journey at the Polk State College Kenneth C. Thompson Institute for Public Safety.
As the life of Michael Callin was taken much too soon, his legacy of service lives on through students such as Kaitlyn Gladhill who dedicate themselves to the well-being of the community. Most importantly, the community will gain a deeply committed and passionate public servant who will honor the sacrifice of men and women such as Michael by their service.
"This scholarship gets me one step closer to my goals," she said. "I want to serve others, and today, I am well on my way to doing that. "