Polk State Human Library™ events will bring stories to life, break down stereotypes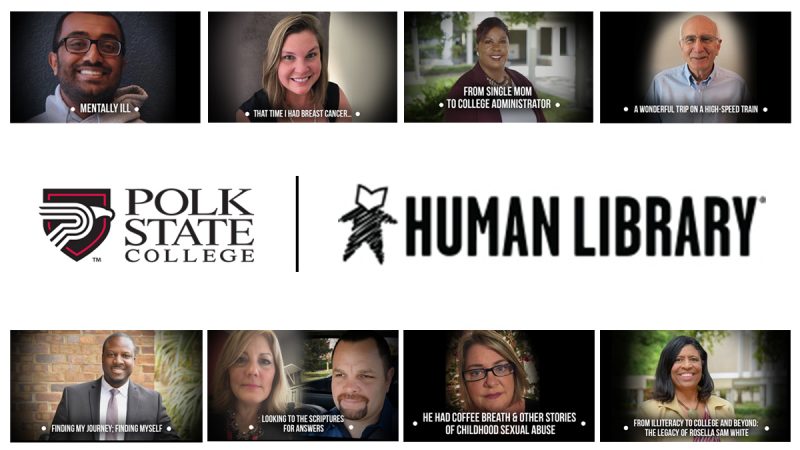 They say you shouldn't judge a book by its cover, and in April, Polk State College students, faculty, and staff will promote this idiom by participating in Human Library™ events to encourage dialogue, challenge stereotypes, and foster understanding by "borrowing" people who will share their stories.
More than 20 faculty and staff members will be available for "check out" in the Lakeland Campus Library April 3 and in the Winter Haven Campus Library April 4. Both events will take place from 1 p.m. to 4 p.m. and allow participants to engage in conversations with "human books" covering topics from mental illness and human trafficking to spirituality and experiencing other cultures.
"I am getting questions and hearing comments from faculty and staff that tell me folks are curious about the event. No one knows what to expect, so that is a little nerve wracking but also exciting. It will be especially fun to see how it is received by students," said Chris Fullerton, Director of the Winter Haven Campus Library and Teaching Learning Computing Center (TLCC).
The Human Library™ was developed in 2000 in Copenhagen, where the original event was open for eight hours a day for four consecutive days during the Roskilde Festival with more than 50 human books and 1,000 readers.
The Danish music festival's director charged youth organization Stop The Violence with developing an activity for the festival that would promote anti-violence, encourage dialogue, and build positive relationships among festival goers. Thus, the Human Library™ was born.
Since then, it is estimated that the event has reached more than 70 countries – most of them put on by local organizers, like Polk State's Fullerton and Courtlann Thomas, Director of the Lakeland Campus Library and TLCC.
"The Human Library is important because it is an up-close and personal way to celebrate diversity," Thomas explained. "At these events, instead of books, you can 'borrow' people – people with unique life stories that may address prejudice, social exclusion, or stigma. And for 20 minutes participants can have a conversation to better understand our differences."
Students, faculty, and staff will have a selection of books to pick from on each campus and are encouraged to engage in meaningful dialogue with the titles during the events. Refreshments will be available.
Click here to browse Polk State's 2019 Human Library™ books.