Polk State Hosts Girls Inc. Awards, Two College Employees are Honored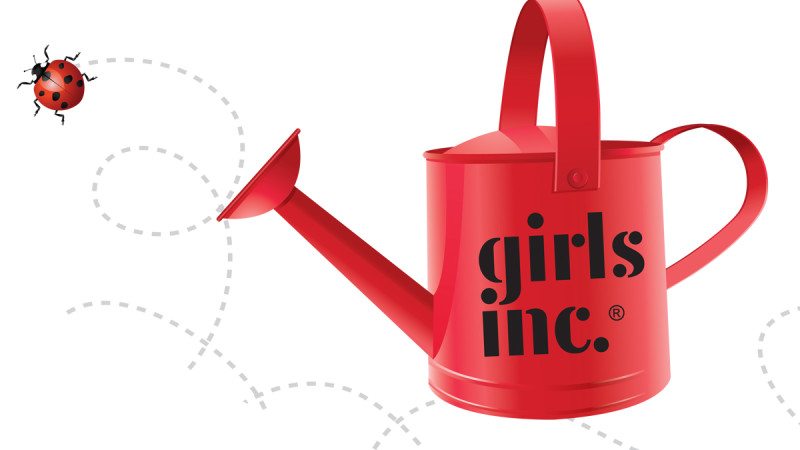 There was an unmistakable Polk State theme at the 22nd Annual Girls Inc. of Winter Haven She Knows Where She's Going awards, an event that drew nearly 250 attendees to the College's Winter Haven Student Center on Thursday.
Girls Inc. is a national nonprofit organization that provides educational programs to girls in high-risk, underserved areas. Each year its She Knows Where She's Going awards honor women who serve as positive role models for girls and young women.
Among the four honorees on Thursday were Polk State Winter Haven Provost Sharon Miller, who received the Julie Pope Award, and Polk State Foundation Executive Director Tracy Porter, who received the Virginia Snively Award.
In presenting Miller's award, event emcee Cindy Price cited her work in creating My Brother's Keeper at Polk State Winter Haven, a service that provides homeless and needy students with food and other necessities.
Price also pointed to Miller's work in attracting both world-renowned author Maya Angelou and award-winning musician Wynton Marsalis to Polk State in recent years for engagements that benefitted Winter Haven's Women's Resource Center.
"Sharon Miller is not the splash and flash in a room. She is the quiet, sturdy, brilliant person in the room," Price said.
In accepting her award, Miller shared what she described as her life's guiding principles, including loving others, accepting change and working to create a better future for younger generations.
"Life is really not about me and you, but about the path we cut for those who come behind us," she said.
In introducing Porter's award, Price pointed to her tireless work in creating new events, including Wise & Witty Women and Many Magnificent Men, and Wine for Wisdom, both of which benefit students scholarships. Thanks to such events, the Polk State Foundation's assets have grown to more than $36 million since Porter joined the College in 2006.
In addition to her work at the College, Porter is an active supporter of breast cancer research and other causes.
"She is a dynamo. More than anyone else in this community, she knows what fundraising is about and how to do it," Price said.
In her emotional acceptance remarks, Porter said her first reaction to learning she'd been selected for the award was a feeling of unworthiness because, "I don't know where I'm going," she said.
"Then I had a revelation, that I do know where I'm going — wherever God wants me to go," she added.
Porter continued:
"This award reinforces the work I do at Polk, which makes a genuine difference in the lives of others," she said.
Porter thanked her colleagues within the Foundation and throughout the College, as well as those who contribute philanthropic support.
Also honored with awards were Marilyn O'Shea, a Polk State College alumna and paralegal with Peterson & Myers, P.A., who received the Ralph & Alice Thompson Award. O'Shea's contributions to the community includes serving as a retreat coordinator and governing board member for the Christian Cursillo movement, serving as a lector for St. Matthews Church, preparing meals for the homeless and numerous other efforts.
Receiving the George Jenkins Award was Merissa Green, a reporter for the Ledger Media Group who mentors girls through the Polk County Chapter of the National Coalition of 100 Black Women and serves as a Reading Pal through the United Way of Central Florida.
Closing Thursday's luncheon was Polk State President Eileen Holden, whose address encouraged attendees to make a difference in the lives of others each day. Holden began with an adage a friend of hers is fond of sharing: "When you see a turtle sitting on top of a fencepost, you know she didn't get there by herself."
The insight, she said, is profound, even if humorous.
"We all have opportunities every day to lift up turtles. We are surrounded by girls, young women — even 'grown women' who give the impression of being on the home stretch — who have not yet had the best view they can have of this world. They long for the opportunity to look back with insight and pride and to look forward with confidence and hope.
"You and I have the opportunity to lift up those girls and those women. We have the opportunity to put them on a fencepost, even if for a moment, to say, 'You've done it, but you're not alone.
"My challenge to each of us today is to commit to doing all we can do to put more turtles on fenceposts. Every night, as we prepare for bed, let's look in the mirror and ask ourselves, 'Did I lift someone up today?' And if the honest answer is, 'No, not today,' then let's not go to sleep until we have.
"We are all — women and men alike — the beneficiaries of so many who have gone before us, changing their worlds and changing ours … This is our time to settle up that debt. This is our time to 'pay it forward.' Thank you so much for joining me in this commitment."