Polk State Hosts Florida Chamber of Commerce, Florida Trade & Logistics Institute; Roe Highlights Supply Chain and Logistics Education Pathways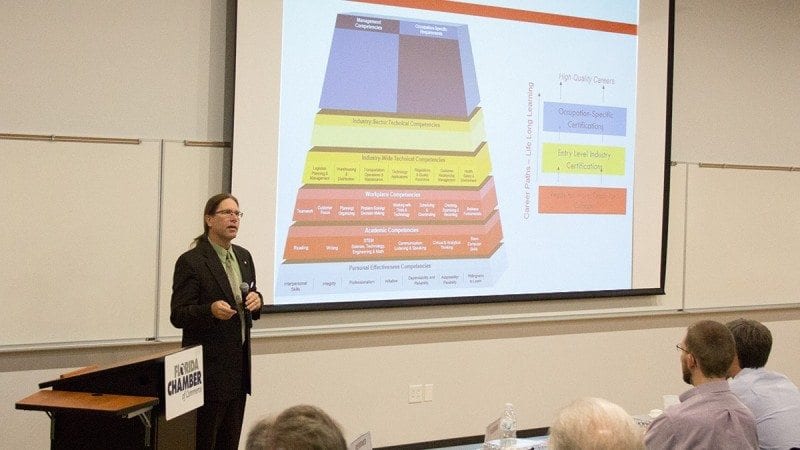 After celebrating the grand opening of CSX's Central Florida Intermodal Logistics Center on Thursday, members of the Florida Chamber of Commerce  gathered at the Polk State Clear Springs Advanced Technology Center.
There, they learned how Polk State, by creating training programs that link industry certifications with college degrees, supports not only CSX, but also the manufacturers who fill its shipping containers.
David Hart, executive vice president of governmental affairs and political operations for the Florida Chamber of Commerce, began the lunchtime meeting by thanking its host.
"I'm from Winter Haven, and I remember when Polk State just had the one campus on Lake Elbert," Hart said. "To come here and see the growth that has happened is tremendous."
After a welcome from Polk State President Eileen Holden and an introduction from Florida Chamber Director of Global Outreach Alice Ancona, Eric Roe began his presentation on the College's efforts to create a more highly trained trade, logistics and manufacturing workforce.
Various national studies have shown that there are hundreds of thousands of jobs in manufacturing and related industries that cannot be filled because of a shortage of skilled workers, said Roe, the College's director of applied technology.
The dearth of skilled workers is particularly acute here in Florida, a hub for manufacturing and the related industries of logistics and supply chain management — and it's only predicted to grow worse. In coming years, many employers in these sectors will face the dual challenges of  increasing technology in the workplace and a "people cliff,"  when many of their employees will retire, Roe explained.
Hence the need, Polk State recognized several years ago, to build both a supply chain/logistics and manufacturing education pipeline.
"We want to grow the workforce for the manufacturing, logistics and supply chain industries. To do so, we've created pathways that you can take back and build in your own communities," Roe said.
Polk State's pathways incorporate high schools and technical centers, associate's and bachelor's degrees, competency-based apprenticeships and non-credit training. What ties it all together is the concept of allowing workers to earn industry certifications that are immediately applicable to the workforce, and then awarding college credit for those certifications should they choose to pursue higher education.
Roe added that a statewide articulation program means that students will receive the same number of college credits for their industry certifications at any institution that offers a related degree. In another key development, this fall the College transitioned its Engineering Technology degree program to an open-entry, open-exit format, allowing students to complete coursework in a hybrid competency-based program at a pace that that matches their work schedules.
"Through these pathways, we can meet the immediate needs of employers, because students earn industry certifications aligned with the competencies employers require, but we've also created a system that promotes lifelong learning by awarding college credit for certifications and creating degree programs accessible to the working learner," Roe said.
Following Roe, CSX Intermodal Terminals President Wilby Whitt commended the College on creating an education system that so seamlessly aligns with the needs of manufacturing and its related industries.
The new CSX terminal in Winter Haven is far more advanced that similar facilities already in operation, Whitt said, and as such, it requires employees with higher levels of training.
"Education is the key," he said.
Polk State's Engineering Technology associate's degree prepares students for employment and provides additional training in advanced manufacturing and high- technology industries. Polk State also houses the Manufacturing Talent Development Institute, a statewide resource that develops industry-driven training strategies, educational programs and certifications for the advanced manufacturing industry.