Polk State Hosts Best-Selling Educators Harry and Rosemary Wong; More than 1,000 Teachers and Administrators Attend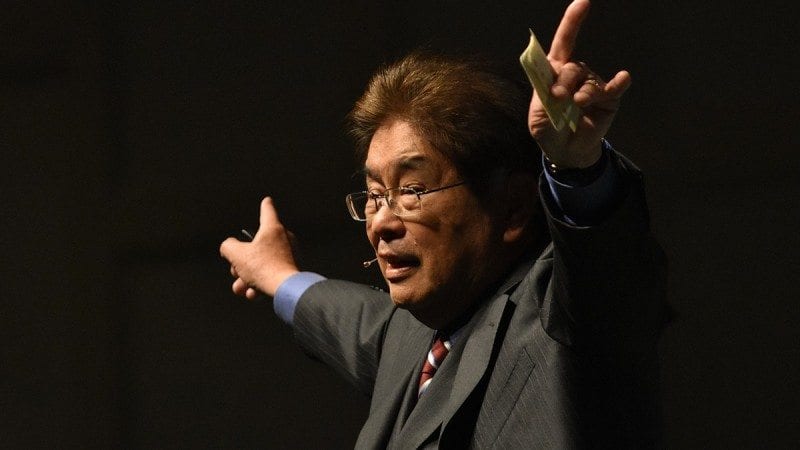 They seem like inconsequential details in the grand scheme of a school year: Greeting students at the classroom door each day, giving them an assignment to do as soon as they take their seats, explaining what they will be expected to learn before the final bell rings.
Yet when teachers take these small steps, they eliminate distraction and wasted time, they are able to focus on teaching, and they learn the power of classroom management.
"Classroom management is the secret sauce in education," said Harry Wong.
Wong and his wife, Rosemary, are internationally sought-after education experts, and on Thursday they spoke to more than 1,000 Polk County teachers and administrators at Lakeland's Victory Church. The event was hosted by Polk State College, Victory Christian Academy and Polk County Public Schools.
The Wongs are the authors of the bestselling book "The First Days of School," which to date has sold 3.9 million copies. In the book, the Wongs provide teachers with step-by-step instructions for effectively organizing and structuring their classrooms.
On Thursday, during their three-and-a-half-hour presentation, the Wongs shared insights from their teaching careers, their books, which also include "THE Classroom Management Book," and their interactions with teachers across the country.
First and foremost, the Wongs said, teachers must begin the school year with detailed classroom procedures.
"Coaches don't go into a game without a game plan," Harry Wong said. "Pilots use flight plans. Wedding planners use wedding plans. All teachers should have a plan. Starting today, start planning."
Classroom procedures should cover every second of the school day, the Wongs said, including what students are to do as they enter the classroom, how they are to be dismissed, and how they are to label and turn in their homework.
"If kids ask you how the day will begin, they are lost," Harry Wong said.
Next, teachers must communicate the classroom procedures to the students. The Wongs suggest showing a slideshow presentation on the first day of class. Then, every day afterward, teachers must consistently follow their procedures.
"Kids' lives are inconsistent," Harry Wong said. "You can give them consistency. You can make it so they know that is going to happen at every minute in your classroom, and if you are absent, they will even be able to tell a substitute what is supposed to happen while you're away."
Added Rosemary Wong:
"Classroom management brings order to chaos, logic to confusion, and calm to anxiety."
The Wongs repeatedly stressed the need for "bell work," or short assignments posted on the board prior to the start of each day. Bell work, even if it's something as simple as silent reading, gets students into work mode right away.
They also encouraged teachers to post a daily agenda, thereby eliminating questions like "Are we doing art today?" and "What are we doing next?"
"They become responsible for answering their own questions," Rosemary Wong said.
Another strategy for effective classroom management is to greet each individual student every day. Rosemary Wong showed a short video of a teacher in Nevada whose students choose one of the "three H's" every morning:  a handshake, high-five or hug.
"Your smile, your handshake may be the only warm greeting a child receives all day," she said.
Rosemary Wong continued, citing research that shows greeting students increases classroom engagement by 27 percent.
Other research, the Wongs said, shows that simply telling students what they are expected to learn each day — or better yet, writing the objectives on the board— will substantially increase learning.
"Students need to know what they are aiming for," Harry Wong said.
Among the teachers in attendance Thursday was Valerie Clark, who teaches science at Tenoroc High School in Lakeland. She will use the Wongs' wisdom when school starts again Aug. 24.
"It reaffirmed for me a lot of the things I am doing, but it also showed me things I can be doing differently," she said.
For instance, rather than standing in the hall during class changes just to keep an eye on students, Clark will use the time to wave and say hello, giving as many students as she can a moment of recognition. Also, rather than referring to state standards in her classroom, Clark said she will post easier-to-comprehend learning objectives that, she hopes, will keep students moving toward a common goal.
Jennifer Wiedenman is entering her 11th year of teaching at Lakeland's Rosabelle W. Blake Academy. After hearing the Wongs, Wiedenman was thinking of new ways to approach the coming school year. She plans to go back through her first-days-of-school plan to make sure it's airtight, and:
"I really like the three H's — handshake, high-five and hug. A lot of kids don't get love, acceptance and belonging at home," she said. "But just by standing at the door, I can give that to them."
Polk State College offers an associate's degree in Early Childhood Education and Management, as well as the Educator Preparation Institute, an accelerated training option for anyone who has a non-education bachelor's degree and wants to become a teacher.