Polk State Hosting Wheelchair Basketball Players for Entertaining, Inspiring Exhibition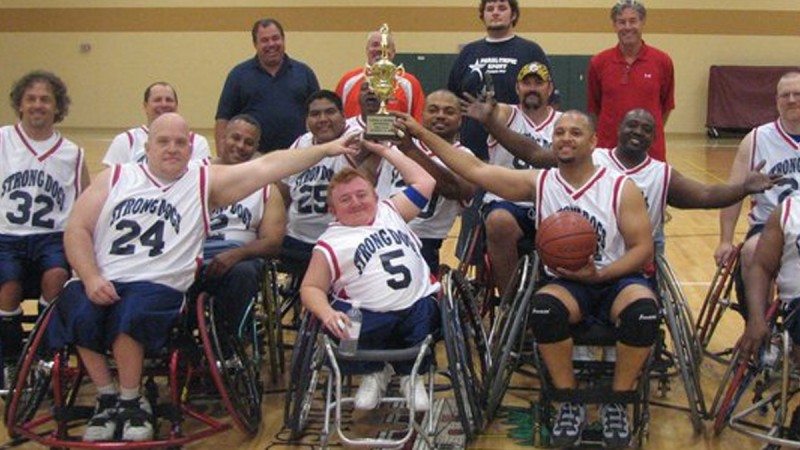 Polk State College will host the Tampa Bay Strong Dogs, a semi-professional wheelchair basketball team, for an entertaining, inspiring performance on Nov. 14.
The Strong Dogs will perform during halftime of the College's basketball matchup against Daytona State College; tipoff is at 7 p.m. at the Polk State Winter Haven Health Center, 999 Ave. H N.E.
The game and Strong Dogs exhibition is free and open to the public.
The Strong Dogs, a Division III squad, first performed at the College in 2012 as part of its annual Disability Awareness Month activities. The response was so positive — and overwhelming — that the College was glad to invite the team back to campus this year.
"They got a standing ovation last year," said Kim Pearsall, an academic success counselor at Polk State Lakeland and member of the Disability Awareness Month planning committee.
"They're such a great example of what the whole month is about — not letting your disabilities stand in your way of what you want to achieve. Everyone, athletes and non-athletes alike, can find inspiration in the Strong Dogs."
Last year, Polk State Basketball Coach Matt Furjanic had his players remain on the court to watch the Strong Dogs, sacrificing his usual half-time talk with the team.
It was worth it, and he'll do it again this year.
"The players realize that just because you have a setback, that doesn't mean that you have to stop doing what you love in life," he said. "Our players were amazed. You could tell by the looks on their faces."
Added sophomore guard Ty Burno, who is looking forward to seeing the Strong Dogs again:
"When we were first told we were going to see them, I thought: 'What can they possibly do?' But it was amazing. It's motivating. You really can do anything," he said.
During Thursday's event, donations will also be accepted to benefit Tyler Ewles, a Polk graduate recently injured in a traffic accident. Money raised will go toward the cost of a prosthetic foot for Ewles.