Polk State Honors Orlando Nightclub Shooting Victims During Pair of Events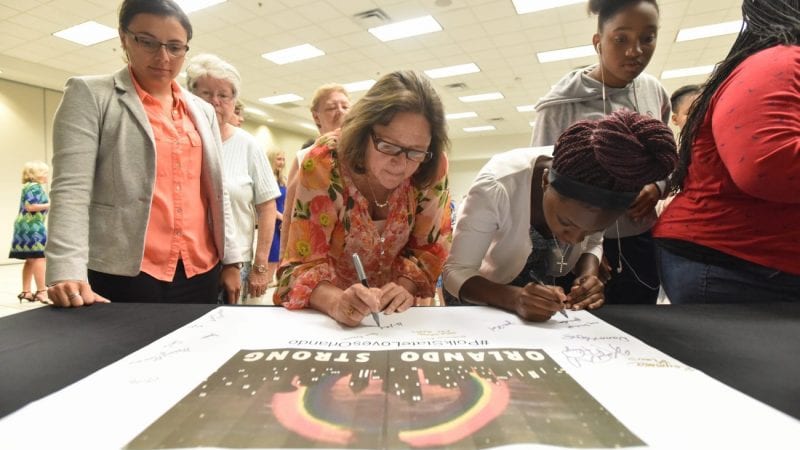 More than 150 students, employees and community leaders gathered at Polk State's Lakeland and Winter Haven campuses on Monday to honor the victims of last week's Orlando nightclub shooting.
"It is important that we take the time today to pause and reflect on what our core value of diversity means. 'Inclusion' means all of us," said Polk State President Eileen Holden in her remarks to attendees gathered during the morning event at the Winter Haven Student Center.
"Those of us in education believe more than anything that when you can educate people and explain things to them, tolerance of many types of diversity becomes a way of life … Judging and hatred and violence are never the ways to anything. Acceptance, tolerance, patience and understanding of different lifestyles will make this world a better place."
In addition to Holden, attendees of the events also heard from Coordinator of Student Activities and Leadership Allison Walker, who said:
"The recent attacks hit too close to home for us all, in a city that is full of hope, diversity and spirit. Orlando is not just a tourist attraction. It's a place that, no matter who you are, or where you came from, you feel accepted and free to express yourself without fear or prejudice."
After words from Holden and Walker, attendees of the two events took part in moments of silence and signed their names on banners that will be displayed in the student centers of both campuses. They also took time to view the artwork of Polk State alumna Jenny Nguyen. Nguyen's painting, bearing a rainbow, the Orlando skyline and the words "Orlando Strong," was used to promote Polk State's Monday memorials. The painting continues to garner attention via social media; on Saturday, the GLBT Community Center of Central Florida shared a photo of the painting on its official Facebook page.
The events, attendees said, served as moments of solace amid a tragedy many are still struggling to comprehend.
"I came to show my condolences to those who lost their lives," said student Deronte Webb after the Lakeland campus event. "It's important that Polk State did this to show we care about our community. If (the shooting) had happened in Polk County, we would want someone to show their support of us."
Added English Professor Rebecka Sare, who attended the event in Winter Haven:
"As a professor who focuses on diversity and tolerance in the classroom, this tragedy has hurt us, but also allowed us to have open conversations about tolerance."
For those who need someone to talk to about the Orlando nightclub shooting, staff members from the College's Help Center are available. Make an appointment by emailing help@polk.edu. Employees should consider the Employee Assistance Program as a resource for themselves and members of their families.