Polk State graduate trades public relations for the sky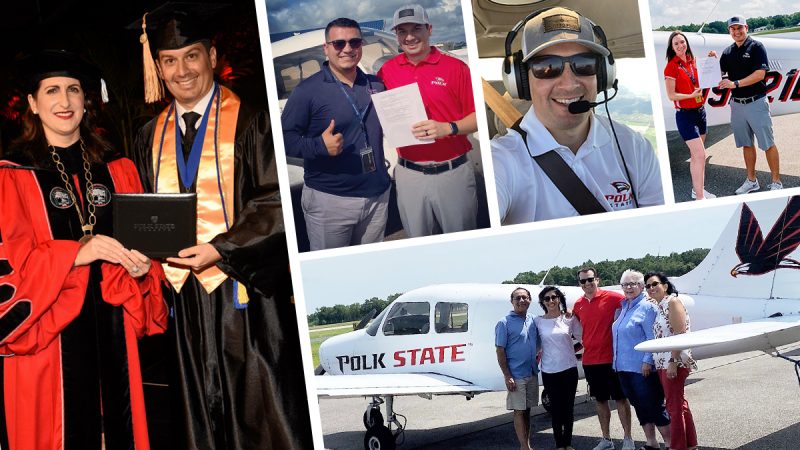 As a teenager and young adult, Tyler Koonce had two passions – sports and aviation. He began his professional career in the former and plans on finishing it working in the latter.
After 15 years in public relations, Koonce has completed his Associate in Science for Professional Pilot Science at Polk State College in May. Koonce, 35, finished his flight lab to ultimately become a commercial pilot this month.
During his time in public relations, Koonce worked for two NFL teams, one Major League Baseball team, a Power 5 collegiate program and a national engineering firm. Following internships with the Baltimore Ravens and Kansas City Royals, Koonce worked for the Kansas City Chiefs, the University of Missouri and Henderson Engineers.
"I've always wanted to be a pilot," Koonce said. "Initially, I was intimidated by the cost of training. I had a similar passion for sports, so I went that direction."
A 2009 graduate of Southeast Missouri State University, Koonce earned his bachelor's degree in general studies with an emphasis in public relations and sport management. It was ultimately a Christmas gift from Koonce's now wife, Chandni Dargan, that prompted him to seriously consider a career in aviation.
"My wife has been incredibly supportive," he said.
That gift was a discovery flight, his first private flight lesson.
"I had been doing a little bit of research on the nationwide pilot shortage," Koonce said. "It took one flight, and I was hooked."
For Koonce, the next step was finding a well-respected program.
"One of the neat things about the Polk State program is it's (Federal Aviation Administration Part 141)-accredited," Koonce said. "Ultimately, I was looking into a place where I could fly year-round – with the weather. I met with our program director and realized Polk State was the place for me."
Koonce began the Polk State Aerospace Program in January 2021. During his time in the program, Koonce has earned his Private Pilot Certificate, Instrument Rating and Commercial Pilot Certificate. He also served as the Flight Team's first officer for ground events, team secretary and social media director.
"It's an excellent group of people," Koonce said. "The camaraderie throughout our team was great. It was a great experience all around, capped off by qualifying for (National Intercollegiate Flying Association) nationals for the first time in our program's history."
As a member of the Polk State Flight Team, Koonce said Carl Valeri, the team's coach and a commercial pilot with more than 20 years of experience, served as a mentor. Even before meeting him in person, Koonce had listened to the "Aviation Careers Podcast," hosted by Valeri, which sparked his interest in Polk State.
"From a mentoring standpoint, Carl has been absolutely incredible," Koonce said. "He's doing what a lot of us dream of. He's so selfless, cares so much and puts so much into it. Without Carl, Polk State doesn't have a flight team."
In addition to the Flight Team, Koonce served as a member of the Polk State Aerospace Safety Team and the Phi Theta Kappa Honor Society. Despite leaving the public relations field, Koonce's skills in that area remain prevalent, according to Valeri.
"He's amazing at networking," Valeri said. "Whenever Tyler walks in a room, he's someone who everyone engages with. He knows how to listen; he knows how to respond. He speaks well and he really knows his stuff. He's going to be very successful."
To ultimately become an airline pilot, Koonce will have to complete 1,250 flight hours to qualify for Restricted Airline Transport Pilot (R-ATP) minimums – a number that is reduced from the standard 1,500 hours with Polk State's Part 141 certification. That's an endeavor he's ready to take on with more than 300 flight hours already in his logbook.
"I feel like I was properly prepared at Polk State," he said. "The results are there professionally for our alumni. We have a lot of people from the Polk State Aerospace Program doing great things in the aviation industry."
According to the U.S. Bureau of Labor Statistics, the median annual pay for commercial pilots is about $100,000. The number of needed commercial pilots is expected to grow by 13% from 2020 to 2030 – faster than the average for all occupations.
"I would encourage anyone who has ever thought about being a pilot to give Polk State a serious look," Koonce said. "It's affordable and an all-around great program. Our staff and instructors will help you achieve your flying goals. From there, the opportunities in aviation are endless."