Polk State grad says Lakeland Collegiate High School gave her tools and room to grow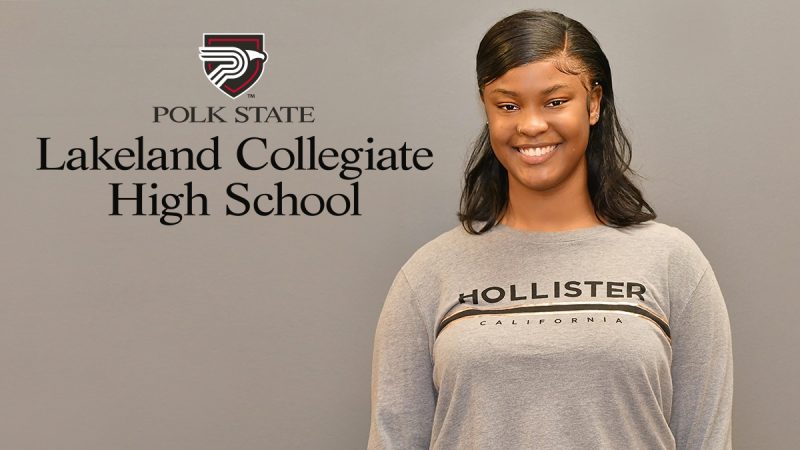 For Adeika Looby, Polk State Lakeland Collegiate High School benefited her in a variety of ways, from graduating high school with a college degree for free to accelerating her path to a career in criminal justice.
She began taking college prep classes at Polk State College in 2014 when she decided to enroll in one of Polk State's three collegiate high schools "sounded even better," Looby said.
"It was extremely beneficial to not have to pay for classes or textbooks," she added, "and by the time I enrolled at Lakeland Collegiate, I had finished all my high school classes and was taking college courses full time."
Polk State's three collegiate high schools serve 11th and 12th graders in fulfilling requirements for their high school diplomas while simultaneously completing college courses. Most students, like Looby when she graduated in 2016, achieve their Polk State Associate in Arts degrees along with their high school diplomas.
"It's the perfect opportunity to get ahead if you are willing to put in the work," Looby said.
She was also working part-time at LEGOLAND Florida Resort, playing basketball at her zoned high school, and volunteering through student organizations she was involved in at the College while attending Polk State Lakeland Collegiate.
She liked the freedom Collegiate gave her to create her own schedule and learn the importance of time management, she explained.
"Polk State helped me create my work ethic and develop discipline," Looby said. "Plus, with the flexibility of my schedule, I was able to work while I went to school, which allowed me to save up enough money to get a car and become more independent."
While she was working hard, the College atmosphere provided Looby with a variety of social opportunities to balance her job and school with her personal life.
"The Student Activities Board was a lit time with events like Suds 'n' Glow and activities around midterms and finals that would help us to relieve stress," she said. "There are also opportunities to complete community service hours right here on campus."
"It's very easy to succeed here," Looby added. "Everything I learned and experienced at Polk State I took with me to my university which helped me with the transition to college."
Criminal Justice courses she took at Polk State inspired her to major in the discipline at St. Leo University, where she achieved her bachelor's degree in 2018.
She has worked for the State Attorney's Office in Tampa and aspires to serve in the field at the federal level.
"Polk State Lakeland Collegiate gave me the foundation to reach my goals quicker," Looby said. "By accelerating my education, I have been able to do a lot more things, and I recommend that to anyone looking for an opportunity to further reach their goals."
Polk State Lakeland Collegiate High School and Polk State Chain of Lakes Collegiate High School will host information sessions in February for students interested in attending for the 2021-2022 Academic Year. More information is available here: www.polk.edu/news/polk-state-collegiate-high-schools-will-hold-info-sessions-in-february.