Polk State Golden Key Students Counting Down Hours to Cape Town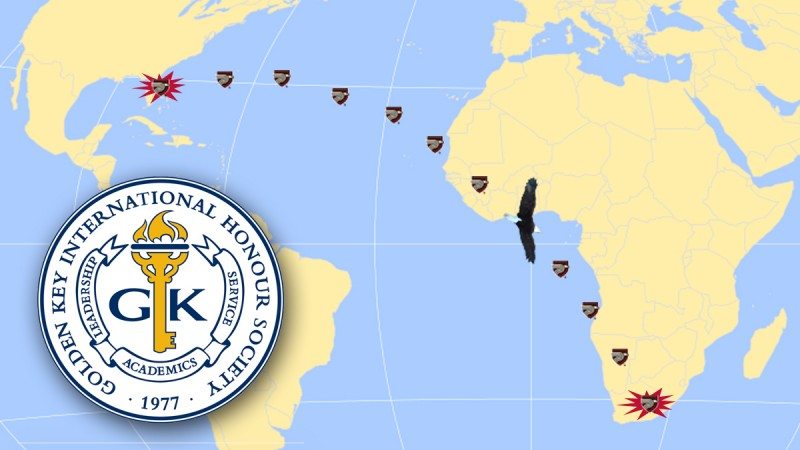 Polk State students Melissa Altamirano, Janis Davis, Joshua Moore and Debra White, as well as Business Professor and Golden Key International Honour Society Adviser Herb Nold will be traveling this week to Cape Town, South Africa, to attend Golden Key's South African Conference. Golden Key International Honour Society is the world's largest collegiate honor society. Polk State's chapter was chartered in 2011, and membership is limited to high academic performers in the College's bachelor's programs. The Polk State contingent leaves for Cape Town on Tuesday. News@Polk will be posting regular dispatches from the students and Dr. Nold during their trip.
Here, White, a Lakeland resident studying toward her Bachelor of Applied Science in Supervision and Management, lets us in on the pre-departure excitement and preparations.
Wow! I can't believe that the day is almost here. After months of planning and work, Janis, Melissa, Josh, Dr. Nold, and I will be heading for Cape Town, South Africa … tomorrow.
We have been meeting on Sundays for the past month to prepare for the trip and the workshop that we will be conducting at the conference. We have all learned that there is a lot to think about when planning a trip halfway around the globe — beginning with getting passports. None of us had passports three months ago, and just getting them was an exercise in patience for several of us, including me.
It will take us 24 hours of travel time to get to Cape Town. We will  go from Orlando to Washington, D.C., to Dakar, Senegal, to Johannesburg, South Africa, all before finally arriving in Cape Town. I am packing plenty of reading material and dressing comfy.
When we get to Cape Town, we will be joining several hundred other Golden Key delegates from around the globe, which will be an experience all by itself. The thought of standing and speaking in front of a group of scholars from numerous countries is a little intimidating, but Dr. Nold has been coaching us and helping build our confidence, so it will be good.
All of us have will have a busy Monday as we make last-minute preparations. The weather report for Cape Town predicts temperatures in the 40s and 50s, since it is actually early spring below the equator.
I will send periodic reports as the trip goes on. We are excited to spread the Polk State College name on the other side of the world.
Soar, Eagles!